Here are a couple of places that I love to eat lunch at in downtown Los Angeles while at work (and beyond). There are two notable favorite places of mine that are missing, which I hope to get photos of someday: Papa
Christo's
(
greek
) and Phillipe's:
Langer's
is one of my favorite places to eat lunch at, but only if I have a lot of time - they don't really go fast at this deli.
Langer's
is one of the classic downtown places that I think everyone should try at least once!
Here is the sandwich that I love from there - they make a killer pastrami and coleslaw on rye, with
russian
dressing. The combination is absolutely great for me - especially the saltiness of their pastrami with the
cole
slaw. And of course, no deli sandwich is complete without a pickle.
If you order fries at
Langer's
, you get the classic
krinkle
-cut french fries - it personally reminds me of memories from my elementary school cafeteria!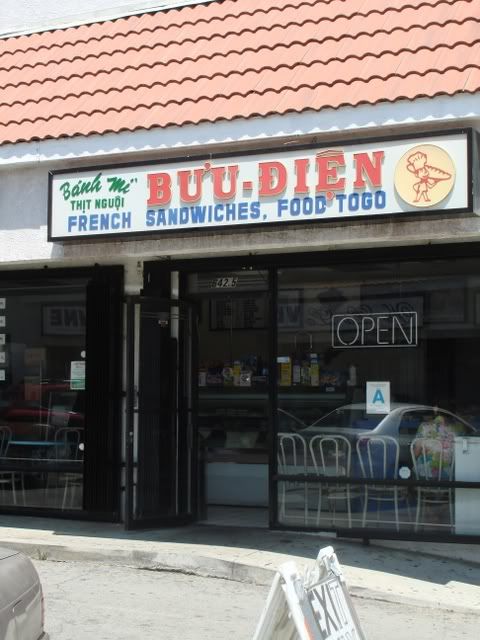 Next place on the list - a
vietnamese
sandwich (
banh
mi) place named Buu Dien - the only one I know of in downtown Los Angeles. It is in Chinatown, and is really kind of hard to find - the official address is 642
broadway
, but it is a definite hole in the wall.
Funny note: "Buu Dien" literally means "post office" in Vietnamese. The restaurant is named after a very famous banh mi restaurant in Vietnam that is actually next to a post office (although the one here isn't, as far as I know).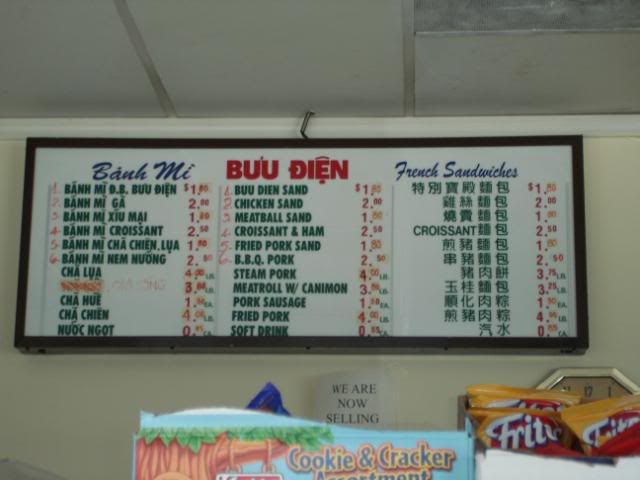 So, this is what they offer - for all us non-
vietnamese
, it doesn't help very much,
lol
. And no
english
spoken. I always order the #1, which I think is the special? A new note: So, my Vietnamese friend Huong took a look at this post, and pointed out to me that the menu is in three different languages - vietnamese (on the left), english (center), and chinese (right), but it is all the same kinds of banh mi. Ah!
Anyway, so it has all the normal stuff for a special combo
vietnamese
sandwich - pate, various meats that I am never able to identify, pickled vegetables, and cilantro. When the french bread is fresh, this is one of the tastiest
vietnamese
sandwiches I have ever eaten. When it isn't, it is only
ok
=P. But, still better than driving out to the San Gabriel Valley just to get a
banh
mi.
The next place on my list of favorite lunch places in downtown LA is Angelique Cafe. It is a cute little french cafe in the Fashion district, and has lots of great french dishes, as well as salads and sandwiches. The photo above is of my favorite sandwich - a chicken salad sandwich, for those of you that know me well. Their fries are excellent for those that like thin crunchier fries ( as opposed to the thick, soft steak fries).
Here is another sandwich from Angelique Cafe that my friend Chris likes to order - a pate sandwich.
Ok
, so these two last photos aren't from a place in downtown LA, but since my work friend Chris first introduced me to this place, I figure this is as good place as any for the posting.
There is a sushi place in Beverly Hills that is a favorite of Chris's named
Mako
- it is Japanese/Mediterranean fusion cuisine. It is very good, and I suggest going there if you have the opportunity. The first time I went there, I had an excellent meal, and one of the best desserts I have ever had - it was a dessert
bento
box, with 5 different desserts that I could eat. What a great idea!!! Anyway, so we went back this past summer.
The photo above is of their special lunch
bento
box. Sorry, I didn't write down what the various dishes were - although I can tell you that I personally thought that the first lunch
bento
box I had was better, because it had less meat, and more fish. This
bento
box seemed geared towards a more
americanized
palate this time - two different kinds of meat and noodles - the
kobe
meatballs were good, and the other one was
ok
. I didn't really like the noodles - they were
completely
ordinary, and not something I would expect from
Mako
, because he is a really good sushi chef - maybe the cook who made this messed up? Anyway, it was still a good
bento
box overall.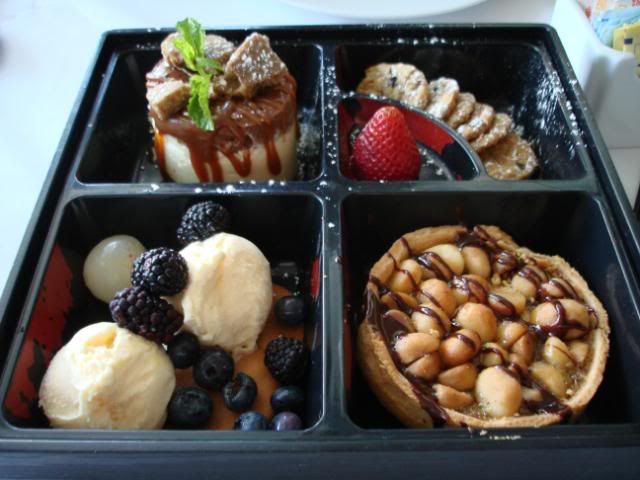 And here is our desserts. Not as great as the first dessert
bento
box I got (I think probably because my friend Chris knows
Mako
well), but it still had a lot of delicious desserts to choose from. We ordered two desserts, and they provided two more - the ice cream with fruit, and the cookies. They have really great desserts here, especially for a Japanese place, which is why I like coming here.