We flew out to Vancouver for this past Labor Day Weekend. Our first night in Vancouver, we unknowingly ate at the top seafood restaurant in Vancouver (at least according to
Zagat
Guide), C Restaurant - "A Contemporary Fish Restaurant". We were lucky to have the opportunity to eat here, as it was a great find and an excellent culinary experience.
I should note before I start this post that this restaurant is different from a lot of seafood restaurants out there because the chef is committed to using local seafood only, because it is more environmentally sustainable than flying out seafood from far away places in the world. Hooray! =)
So here is a small story for those of you that are interested (or bored): We didn't know where we were going to eat, but our hotel provided a list of places to eat in the hotel room. Among the seafood restaurants was C Restaurant, so we just decided to go on a whim. When we arrived, I walked in and asked the
maitre'd
for a table, and he looked
surprised
(looking back on it, probably because no one in Vancouver is clueless enough to attempt to even go there without a reservation). He checked the night's schedule, and asked if we could finish the meal within 2 hours. We said yes - little did he know that we finish even long expensive meals within the hour ;). So, he gave us a really nice table, the only one that was free that night. I think we were fortunate because we arrived there pretty early - later, and we probably would have been politely kicked out.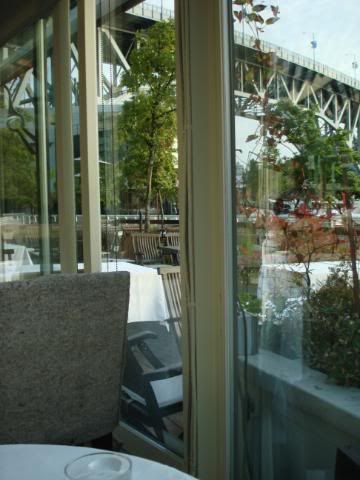 Here is a view of the outside of the restaurant from our table. From the decor of the restaurant, I never would have guessed that it was one of the top restaurants in Vancouver. Unlike the U.S., where all the top restaurants have lots of glitz in its decoration, this restaurant was really understated in its decor - it looked like a nice riverside restaurant to have a meal, but not one of the top restaurants in the city!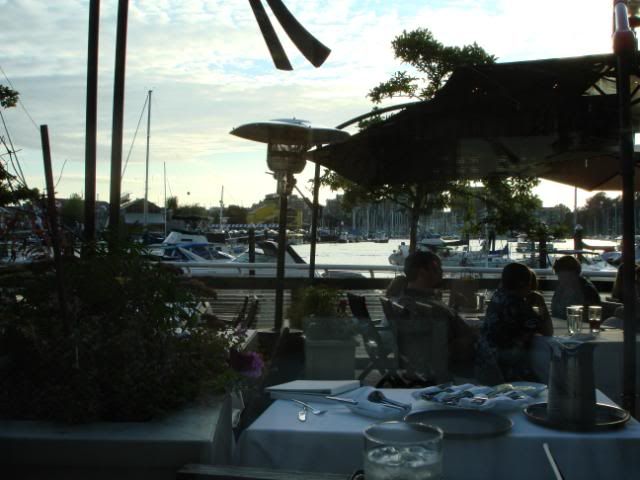 Another photo taken from our table, looking out onto the river. They have a very nice view - I think that almost all the tables in the restaurant have a view of the river.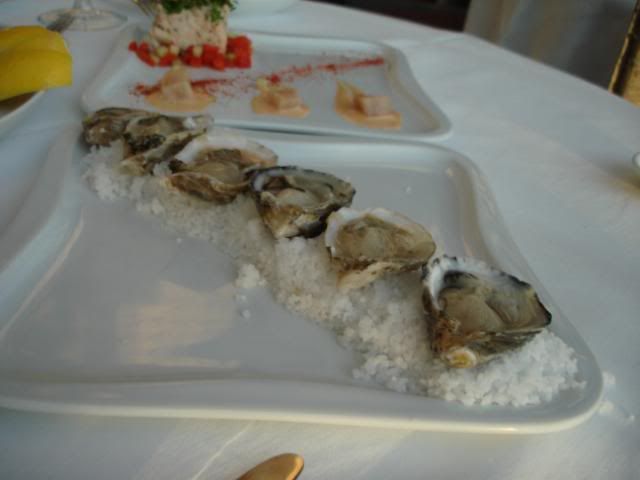 Our first dish were some freshly shucked oysters from British Columbia. Delicious, of course, because they were from the source.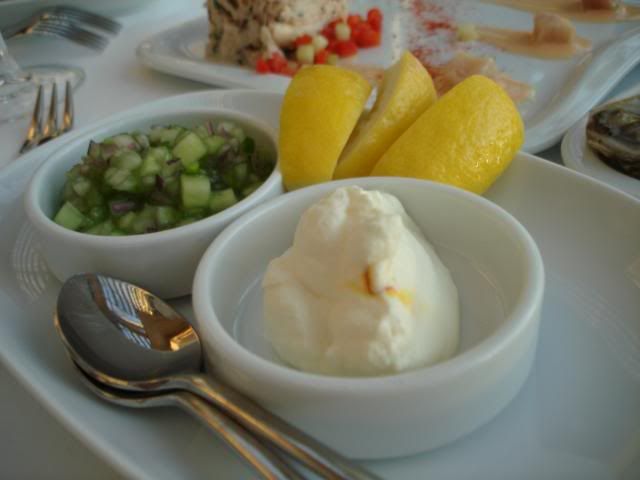 They provided us with two sauces for the oysters: jalapeno and cucumber juices, and a saffron anise cream.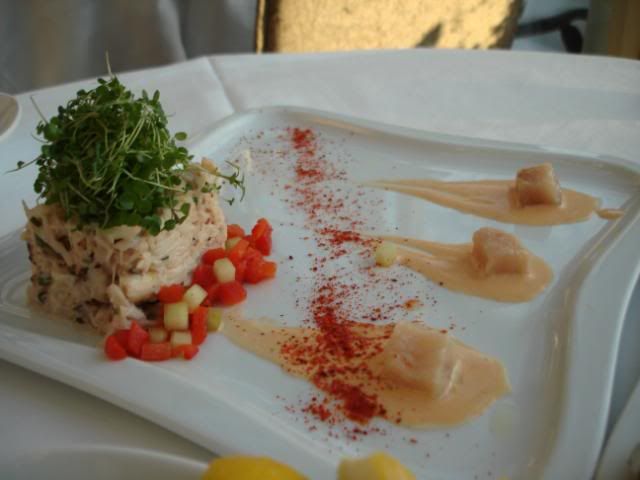 We ordered a second appetizer: a trout
tartare
(with rainbow trout from Langley, Canada), with smoked
steelhead
roe, and minted organic yogurt. When this dish was served, we immediately started to notice that the chef at this restaurant was very creative in his presentation and use of ingredients.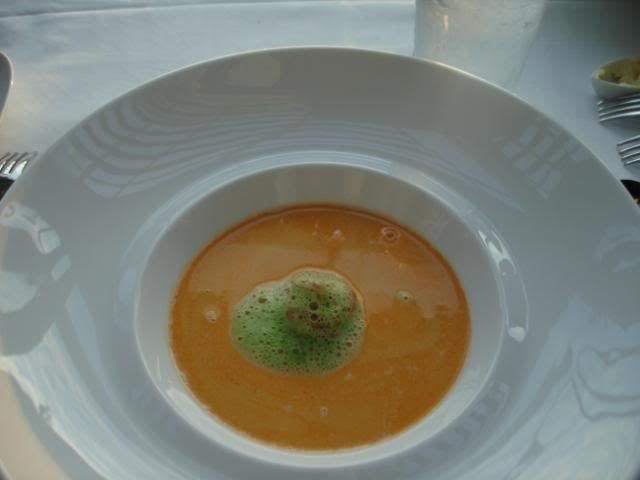 The soup was a lobster bisque (the lobster was from Nova
Scotia
), with citrus cured salmon and bay laurel froth.
The froth was fascinating for me - I had seen the technique being used on Iron Chef, but I never really thought I would get to try something like it (from what I remember, the froth is made through a combination of the sauce with air in a can of pressurized/compressed air to puff out the sauce with air bubbles, or something like that =P). The lobster bisque had a depth of flavor and smoothness that I really have never encountered in any lobster bisque I've had before - honestly, it was about as good of a lobster bisque as I've ever had, and I don't usually like lobster
bisques
!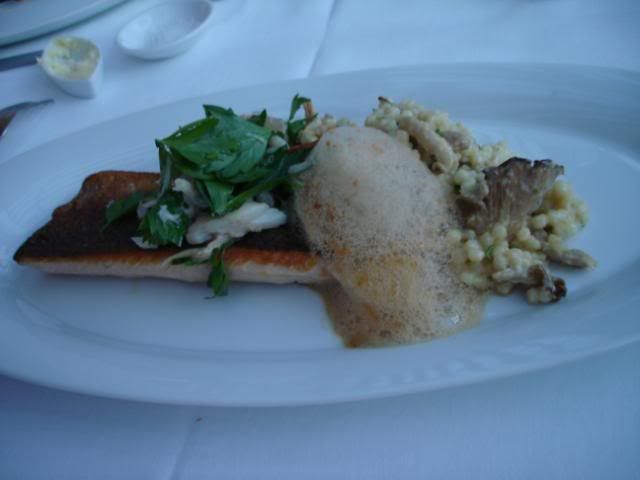 Another trout dish, except this time, it was the main course. It was a crispy trout, with
dungeness
crab, grapefruit and summer truffle (I think the froth in the photo was this flavor, I am not sure), and creamy
Isreali
cous
cous
.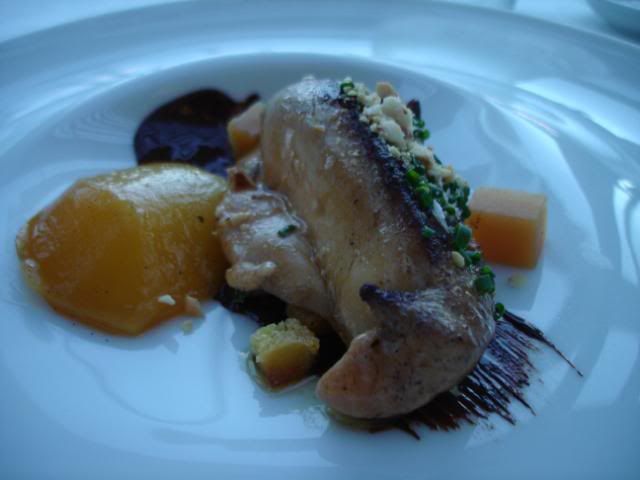 Next, we had a seared
foie
gras
dish, with poached
Okangan
peach,
hazlenut
, and a bitter chocolate sauce.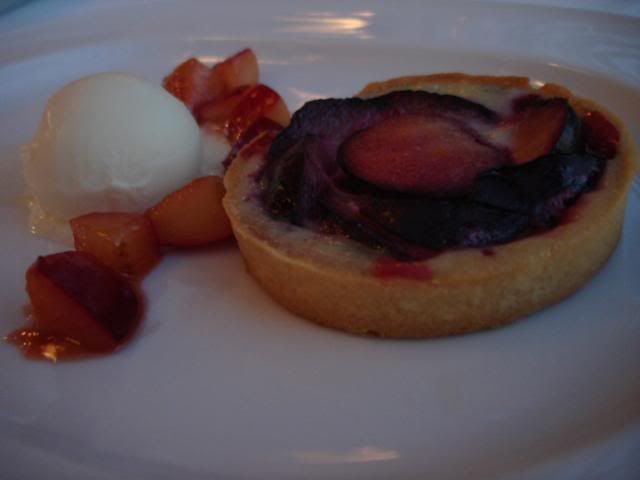 Because I love desserts, we ordered two. =) The first was a plum tart, with vanilla ice cream a la mode.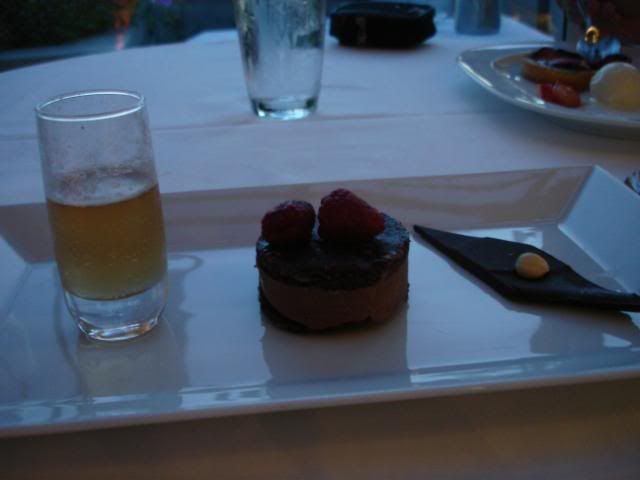 The second was interesting - it was a chocolate trio, with a chocolate soda on the left, and two other chocolate desserts as well (sorry, I didn't write it down) =P.