My favorite Vietnamese place in the
OC
definitely
deserves its own post! It has the best rolls I have ever tasted...if God made a Vietnamese roll, and gave it to the world to eat, it would have to be the rolls made by this restaurant.
Ok
, I'm drooling, let's get to the food!
Note: This place is really hard to find unless you know what you are looking for - it is in a plaza that is on the back end of a 99 cent store on the corner of
Brookhurst
and Westminster. Enter the parking lot in the back of the 99 cent store, drive past it, and when you see the photo above, you've arrived! =)
Second note: For those of you visiting for the first time, if it is a really busy time of the day, the maitre'd obviously cannot seat you immediately; he reads names off a notepad that is located on a stand that he stands near, so remember to write your name down when you first enter, otherwise, he will pass you by.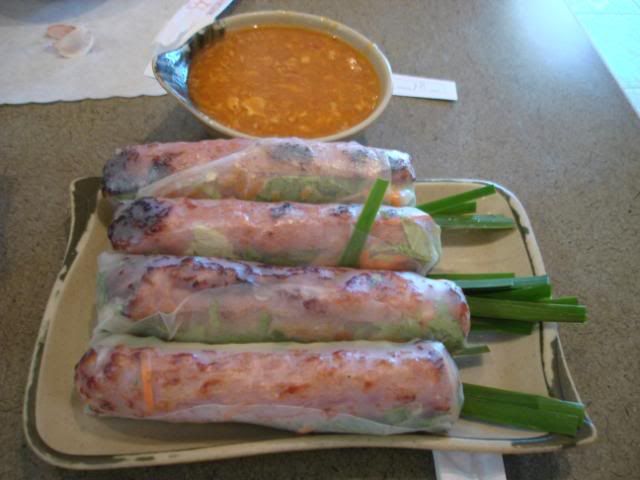 Here are the rolls which
Brodard
are famous for, and which are their specialty: "
Nem
Nuong
Cuon
", or pork spring rolls. The rolls are perfectly made, but they don't achieve their godly status unless eaten with their house special sauce (it is a warm sauce, in the bowl at the top of the photo). With the sauce, it is perfect. And I don't know what the sauce is, other than it has lots of garlic - you don't come out smelling the best, but your taste buds are happy!
A close-up shot of the pork spring roll: at the bottom, there is grilled pork paste, a piece of rolled-up and fried
wonton
skin, lettuce, mint, cucumber, green onion, and pickled vegetables -
daikon
and cucumber, all rolled up in rice paper.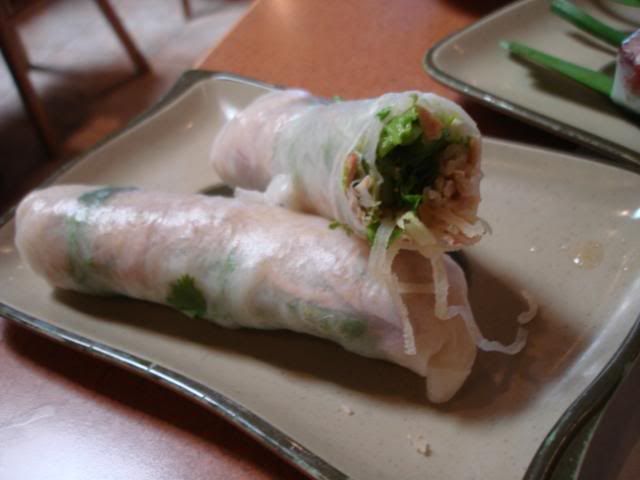 Another roll that we have tried -
definitely
not as good as the pork spring rolls, but it always good to try different things. It is a "Bi
Cuon
"; a roll with crunchy shredded pork skin, lettuce, and cucumber, rolled in rice paper, and served with fish sauce.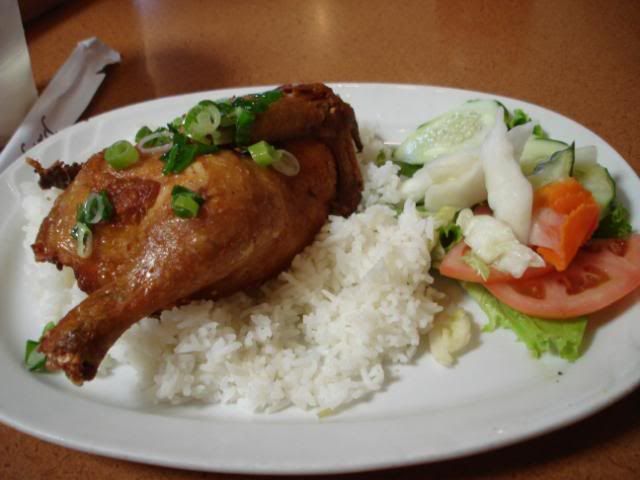 Brodard
does have a lot of other dishes: this is a typical dish that I often order in different Vietnamese restaurants - it is a a fried
cornish
hen, served with rice and salad.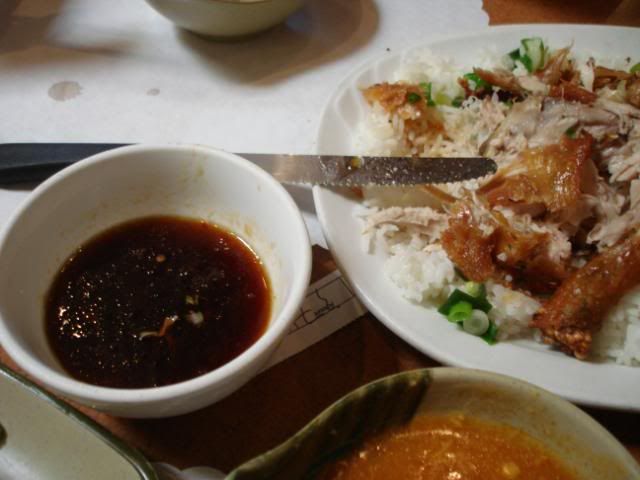 For me, the chicken is only good with the sauce that comes with it - a soy sauce that has garlic in it.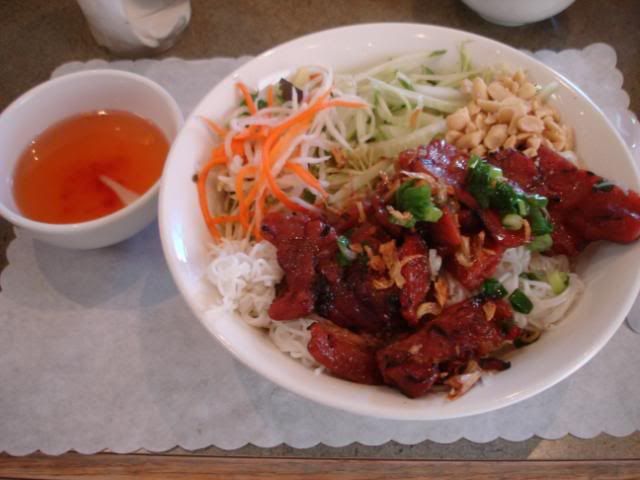 Another dish that I also order, depending on my mood: a pork vermicelli bowl, or "bun
thit
nuong
". It has
bbq
pork, sauteed green onion, pickled vegetables (the usual
daikon
and carrots - my
favorite
, I love eating Vietnamese food with them), peanuts, all on a bed of vermicelli. I usually pour the fish sauce all over the food, but I have no idea whether or not that is the correct way to eat it, but I like it that way.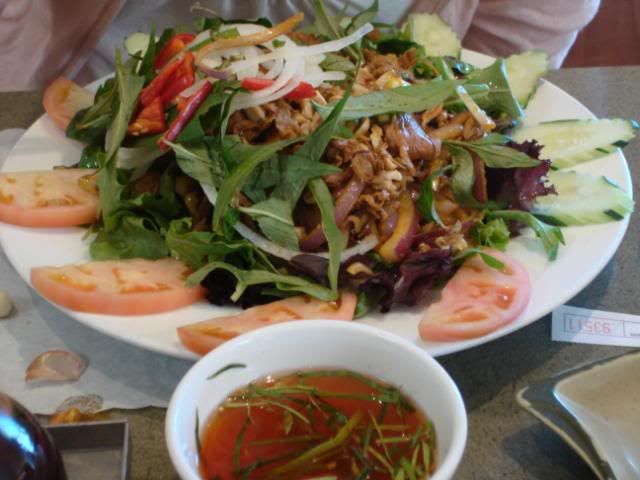 This is one of the two salads that
Brodard
offers - it is under the section of
Brodard
Specialities. It is a spicy beef salad, or "
Goi
Bo". The description by the restaurant - grilled beef marinated in Thai spices over lettuce, cucumber, tomatoes, and onions in house vinaigrette dressing - doesn't do the salad justice. It is a warm salad (because of the grilled beef), and is very good because it has a lot of different layers of flavor: spicy, smoky, a little bit sweet, and other flavors which make the taste complex, but great to eat.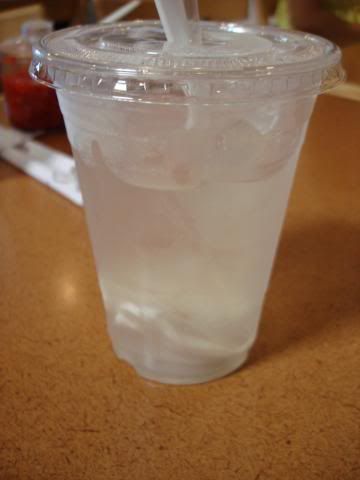 A drink that Jen and I like to order - coconut juice. It is lightly sweet, and is a refreshing mix for us, especially with the other highly flavored Vietnamese dishes.