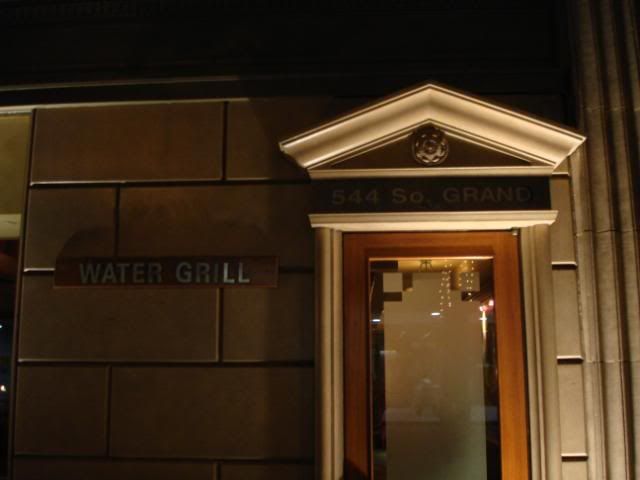 Water Grill has been on my list of restaurants to eat at for a long time, and after going there, I wish I hadn't waited so long! I had heard already heard a lot of good things about the food here, but after enjoying a truly wonderful meal there, I think this place is near the top in Los Angeles for creative, high-quality seafood presentation and preparation. And although I don't usually comment on the service at a given
restaurant
, I had such a good experience with the entire staff at the meal that I couldn't go without commenting about it; everyone was incredibly polite, pleasant, AND very efficient - it was a quite impressive orchestration of the service aspect of restaurant dining.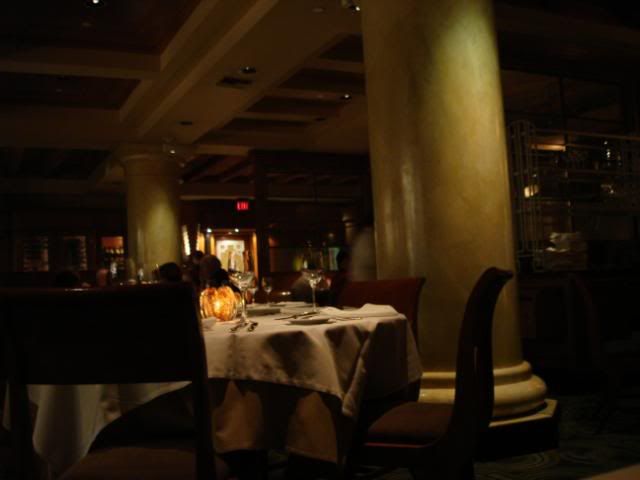 A photo of the inside of our restaurant, specifically a view from our booth. I don't usually take photos of the interior in restaurants, but you can thank Jen for doing so. The atmosphere is warm and private, without being overly pretentious; it is very easy to enjoy a good meal here.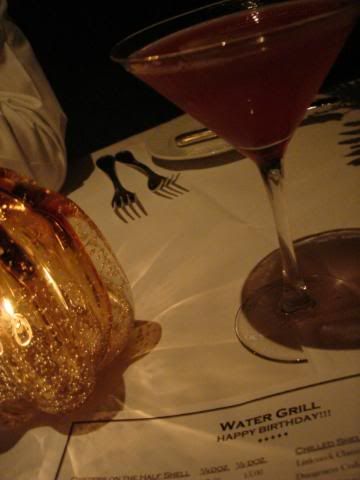 We went to Water Grill for Jen's birthday, and they printed out a more personalized menu for us. A very nice touch...sometimes, it is the small details about a place that really distinguish it from the rest. I should also note that they allowed us to keep the menu from that night, which really gives it extra pluses from me as a foodie.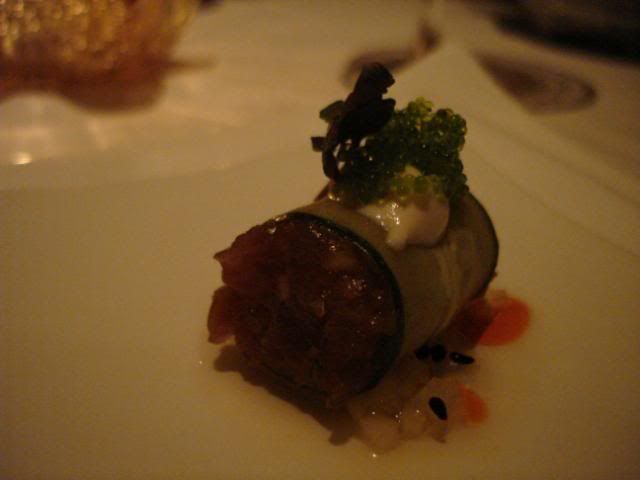 I've probably said this before, but I always love to order the tasting menu to really see how creative a chef can be. Some places just present the same dishes as on their a la carte menu, but not at Water Grill, something which I appreciated very much. The prices were very reasonable for a six-course tasting menu as well.
The dish above was our first dish for the tasting menu, an amuse bouche: a tuna tartar wrapped in cucumber with a sprinkling of caviar on top; a light and refreshing way to start off the meal.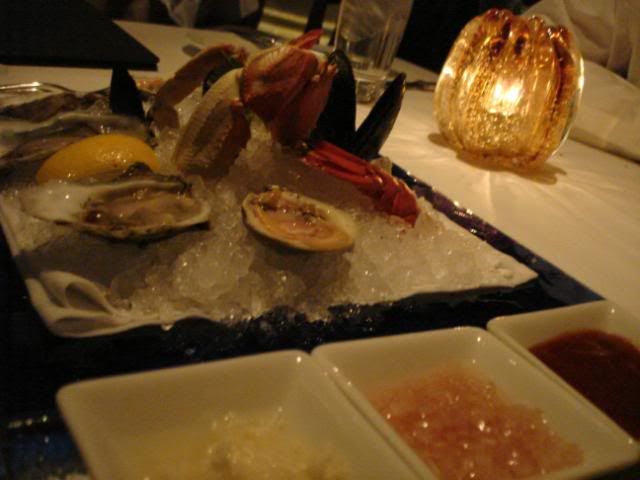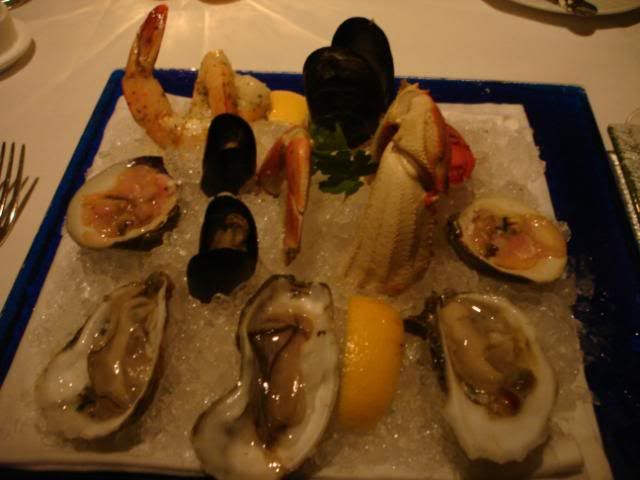 The two photos above are of Water
Grill's
"Fruits of the Sea" platter, not included in our six-course tasting men, but since Jen loves seafood and it was her birthday, there was no way we would leave the restaurant without trying it. On the platter was a choice of oysters, Prince Edward Island mussels,
littleneck
clams,
dungeness
crab,
mexican
white shrimp, and
maine
lobster.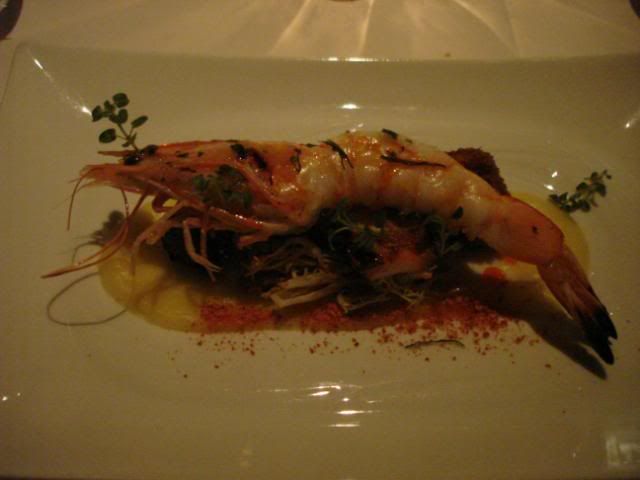 Onto the next dish of the tasting menu; a marinated
Hawaiian
blue prawn with charred octopus, lemon curd, and smoked paprika oil. And it tasted as good as it looks.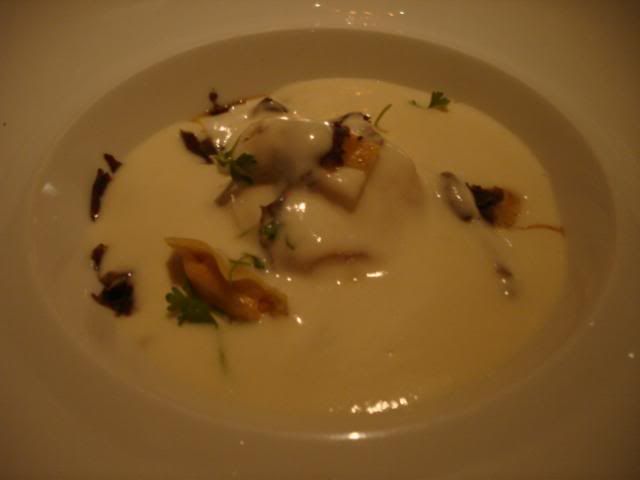 I probably should have taken two photos of this next dish, but I didn't =P. The description of the dish is a "
european
turbo with
sunchoke
-truffle soup and spiny lobster
angalotti
". The
angalotti
, basically a lobster-filled pasta at the bottom of the bowl, isn't visible in the photo, unfortunately (it is the lump in the middle of the soup). The bowls were brought to our table first with just the
angalotti
, and they poured the soup over the
angalotti
at the table. I think this soup was one of the better ones I've had so far in my life; I loved the texture - very smooth and warm, and eating the
angalotti
at the bottom with the soup brought an extra layer of lobster flavor to combine with the rich truffle soup. It was quite delicious, and one of the highlights of the meal.
Next were grilled diver scallops, braised in red wine and fennel, with a
confit
pork belly, coco beans, and tiny carrots.
Jen loved the oysters so much that we ended up ordering more of them; since we love oysters from the West Coast, we tried some
Tottens
(from
Totten
Inlet, WA), Raspberry Points (from Prince Edward Island), and our favorites,
Kumamotos
(Puget Sound, WA).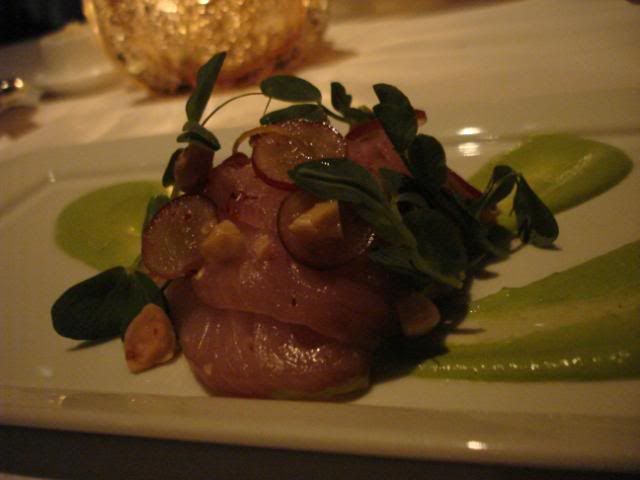 We were sent an extra dish not included on the tasting menu from the kitchen - hey, I never complain about free food sent to me! =) - although I didn't write down what dish this was, I think it was one of the appetizers off the a la
carte
menu: Japanese
hamachi
crudo
with grapes,
meyer
lemon, and
english
pea puree. It was nice to have a light dish to clean the palate between heavier foods.
Back onto the tasting menu course again: A veal loin and breast with red wine risotto,
chanterelle
mushrooms, and sage. Although Water Grill is known in L.A. for their seafood, I have to say that the chef cooks veal equally as well.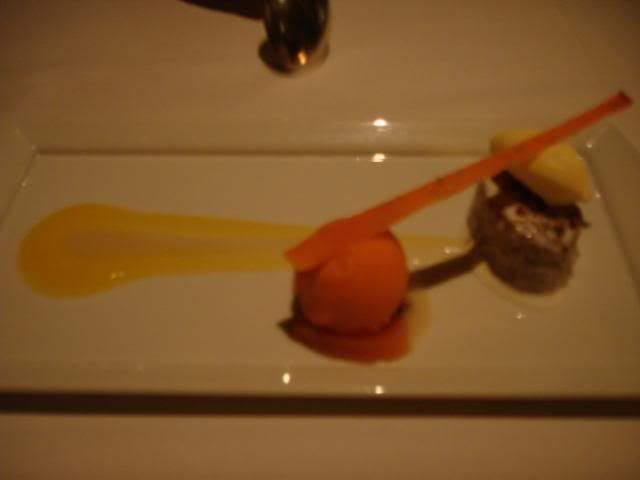 Finally nearing the end of the meal! Apologies for the bad quality of this photo; we were served a cardamom and cinnamon carrot cake with candied walnuts, and ice cream - the flavor was orange
soursop
and cream cheese. A whimsical presentation also.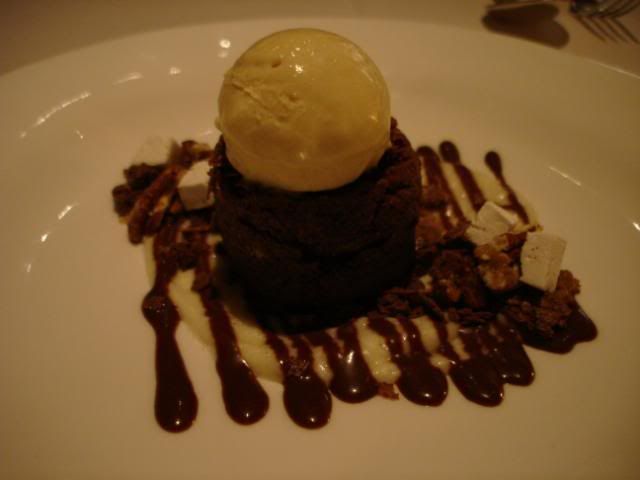 The last dish of the tasting menu was a chocolate
broiche
pudding with coconut cream and
marshmallows
, candied pecans and maple brown butter ice cream.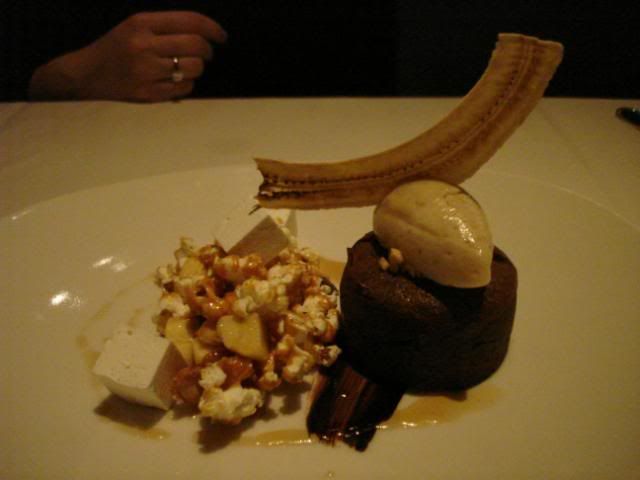 But we weren't done yet; Since I am a dessert glutton, I ordered another dessert off the menu that I was very intrigued by: a chocolate and peanut butter
coulant
, served warm with cracker johns, vanilla marshmallows, and banana. Loved the presentation and flavor of this dessert - especially the reinterpretation of "Cracker Jacks", a childhood favorite of mine at baseball games, as "Cracker Johns" (renamed by Pastry Chef John Park).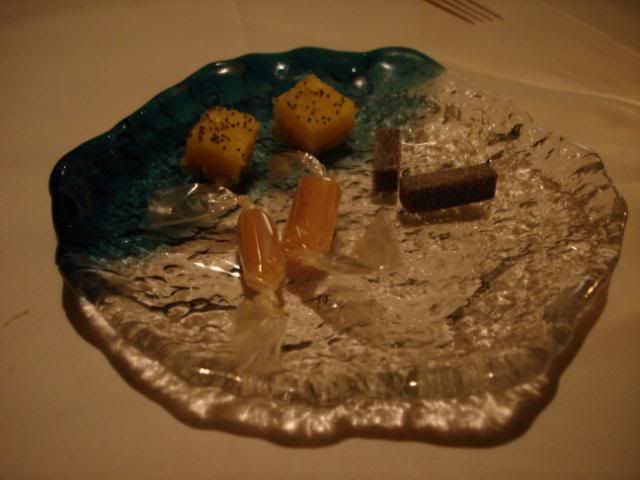 And finally we are at the end of our meal at Water Grill...a couple of small desserts to finish with. My experience at Water Grill from beginning to end was one of the more consistently delicious and beautifully presented meals I've had so far. And not only was the food excellent, the service was top-notch; with our own dishes added on, we basically had a eleven-course meal that night, and it was under two hours. They were paying attention to our eating pace that night very closely...Jen and I do eat very fast, and we never had to wait very long in between dishes, which means that the timing by the waiter and chef was impeccable. An all-around wonderful experience!