Kate
Mantilini
is one of my standby favorites when I am around the Beverly Hills area. It is a restaurant that offers traditional American diner food (and also trendier foods, like seared
ahi
, although I think their other food is much better). However, unlike your regular
ol
' American diner, the quality of the ingredients are top notch, and the setting is a lot nicer too (lots of booths, clean minimalist decor).
The restaurant's sign is lit up at night, although you can always see it when you are driving on Wilshire even in the daytime. Fortunately, it isn't right in the Rodeo Drive area; otherwise, I have a feeling that they would be paying a lot more rent money.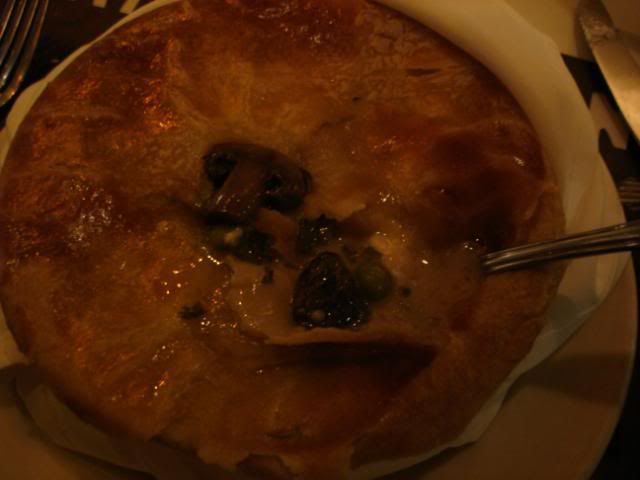 We first started coming to Kate
Mantilini's
for their chicken pot pie, supposedly one of the best in Los Angeles. It seems to be only offered on the weekends though. It is quite delicious; the crust of the pie is light and flaky, and the pot pie is filled with lots of peas, mushrooms, carrots, and chicken, and fresh rosemary and other herbs are added in.
I am a sucker for simple rotisserie chicken dishes, and this is no exception. They prepare it especially well here, it is juicy with a lot of garlic. Yum. And also tasty bistro-style french fries. I usually order this or their hanger steak, both prepared very well.
This dessert is one of our favorites in Los Angeles. It is a simple fruit cobbler, but they get the texture and sweetness of the dessert just right. It has just the right amount of crunchiness in the cobbler itself, and they add cinnamon into the sauce and the ice cream to add a nice counterpart to the fruit.