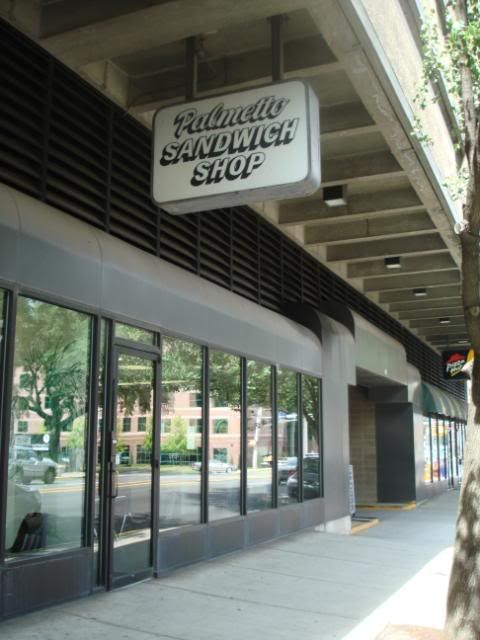 For no reason in particular, we chose Palmetto Sandwich Shop as our first inaugeral place to start off this cheeseburger crawl. Palmetto Sandwich Shop definetly fits the bill - it is a random hole-in-the-wall that is pretty easy to miss on Sumter St. (between Hampton St. and Washington St.) in downtown Columbia. We heard they had decent pimento cheeseburgers, so of course, we had to try it out! They do serve sandwiches, but everyone I saw in there ordered their burgers, so their name is a bit of a misnomer.
And here is the burger all of us ordered: The Palmetto Cheeseburger. It is a cheeseburger with pimento cheese, which can be ordered all-the-way (with lettuce, tomato, onion, and mustard). You have to add the ketchup separetly.
-Some overall comments from everyone about the cheeseburger:
"A solid, if simple and unassuming, burger. Its strength is also its weakness; the burger doesn't stand out, but it also doesn't get anything wrong either. A tiny bit on the smaller side. It's offered with a bit shredded lettuce, not too much (good or bad, depending…), and two smaller tomatoes (would have maybe liked bigger tomato slices?). No pickle."

-Here are our ratings on the cheeseburger and fries:
Average Rating: 3.0

Epicurious E.: 3.0
Andy: 3.0
Flarké: 2.5
Betsy: 2.5
Hambone: 4.0

-And a breakdown of each of the components of the cheeseburger:
Bun: The bun is a normal cafeteria-style thicker white bun, which they press down a bit before serving (for easier eating). But they do not toast it. =(.

Meat: The meat was a tiny bit thin (I would have liked it just a bit thicker, to enjoy the meat flavor a bit more), although it was cooked well (not dry, it was cooked completely through and juicy). Would be nice if they flavored the meat, though, because the flavor of the meat was a bit light, IMHO. Also would have been nice if the meat had a bit of a grilled crust on it, for better texture.
Cheese: The pimento cheese was good – just enough to enjoy the flavor, without overloading on the cheese. It was a more mild pimento cheese, shredded.
Presentation and condiments: Why can't they serve it on a plate? The small little paper container only holds the burger and fries (if barely), and there is no place to put your ketchup. But, the condiments were provided on the table, that was convenient, thanks!