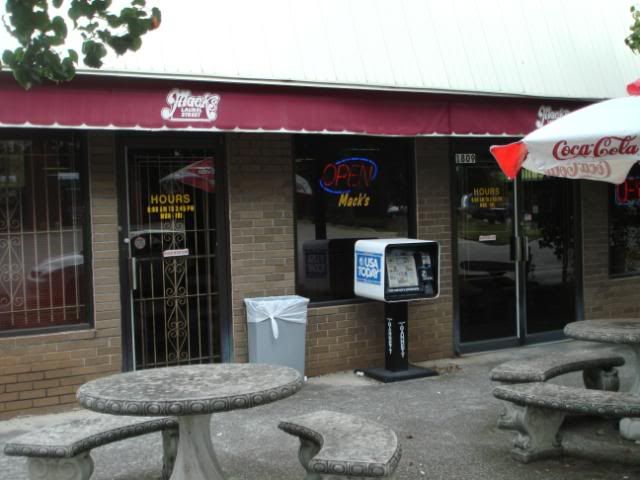 Mack's on Laurel (also known as Mack's Cash Groceries and Mack's Restaurant) is the second place on our cheeseburger crawl. We call it Mack's on Laurel in an effort to distinguish it from the other Mac's that people know about (Mac's on Main in downtown Columbia, where they play jazz). Mack's on Laurel is, well, on Laurel St. a couple of minutes from downtown Columbia, between Barnwell and Gregg St., and sits across from a local firehouse.
Although it's called Mack's Cash Groceries on the web, I don't know why, because there aren't any groceries within the place - I think it started out as a small market a long, long time ago, before they started making their burgers.
This is definetly a local hole-in-the-wall with its own set of rules that you learn very quickly about: everyone goes through the back door of the restaurant (not pictured) to order their food, because the line starts in the back of the place. Also, don't talk on your cell phone while in line, because you will get yelled at! (They have a sign to remind you, and anyway, the telephone conversation can't be that important, can it?). This restaurant definetly has a lot of character, as Betsy noted: "It is your classic Columbia Dive, you need to be in the know: e.g. should be entering through the back door to get in line and order. Don't be talking on your cell phones! Lots of interesting photos, pictures, and knick-knacks to look at."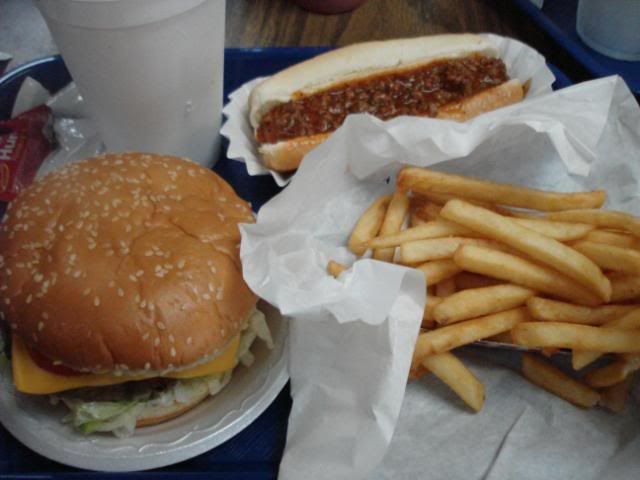 In addition to the cheeseburgers that you can order, they also have chili dogs (and slaw dogs, if I remember correctly). The chili dog can be ordered all-the-way with mustard, onion, and chili . It was ok, but was a bit small - if you go, I definetly recommend ordering the burger instead.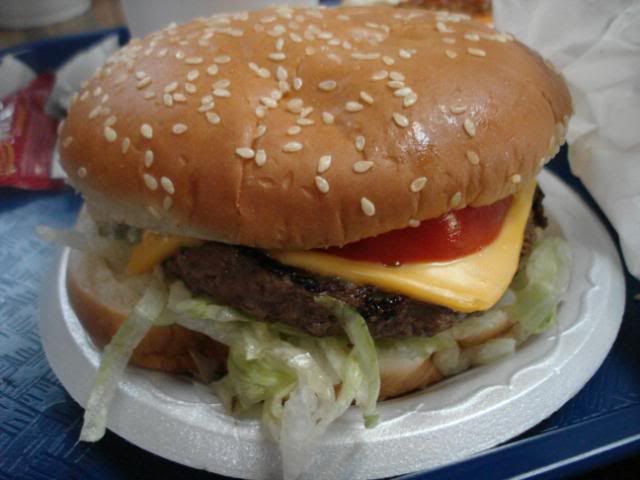 And here is the cheeseburger from Mack's on Laurel. It can be ordered all-the-way, with mayo, mustard, lettuce, tomato, and onion. Ketchup has to be added on separately.
-Everyone had a lot to say about the cheeseburger:
NoName says: "Pretty standard greasy spoon burger, better than average with a sturdy, perhaps too sturdy, bun. Disappointed at the lack of pickle (personal pref.) and the "all the way" was a little heavy on the mayo. Not exactly spectacular but definitely a good burger accompanied by better than average fried accoutrements. The vintage cafeteria/diner atmosphere unchanged since 1971 along with the no nonsense staff go very well with this traditional short order burger."

Flarké says: "The burger is very soft overall, but I appreciate the staff."

And everyone else's comments: "The burger is a bigger burger than Palmetto Sandwich Shop. It is good, lots of flavor in the meat, but also really messy (they put a lot of mayo in it). A good classic burger. It is offered with shredded lettuce, and two well-sized tomatoes on it. No pickle. The fries were excellent -the texture and saltiness were good!"

-Here are our ratings on the cheeseburger and fries:
Average Rating: 3.8

Epicurious E.: 4.0
Flarké: 4.0
Betsy: 4.0
Hambone: 3.5
NoName: 3.5
-And a breakdown of each of the components of the cheeseburger:

Bun: The bun is a larger sesame white bun, which may be too thick and soft for some. I thought it was good, but again, they do not toast it. =(

Meat: The meat patty was a good size – just thick enough, with a good mild meat flavor to it. Again, would be nice if it had a little crust to the meat, but the texture was really good, and it was well cooked, juicy.
Cheese: Nothing special - just a slice of American cheese.
Presentation and condiments: Presentation was good – burger looks delicious, and they serve fries separately. Condiments on the table include texas pete's hot sauce, salt, pepper, and malt vinegar. Very nice. But no ketchup on the table, they give you packets with the tray. A tiny bit odd.