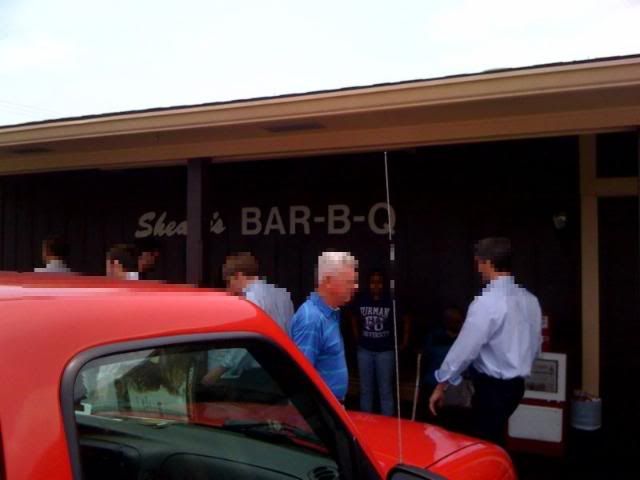 Shealy's BBQ is probably one of the favorite and more well-known southern bbq buffets in South Carolina, and for good reason - it has an incredible spread of Southern food that I haven't seen matched at any of the bbq restaurants I've been to so far (but they don't have one of my favorites, hush puppies, what's up with that??). It is deep within the SC countryside, almost a one hour drive away from Columbia, with at least twenty to thirty minutes of that drive off the I-20 exit. But the drive is good in a way, because by the time you get there, you will definitely have developed an appetite for the food, and it is all-you-can-eat! =)
The restaurant itself is very large, with at least three large areas to seat everyone (you get assigned area to sit in after you pay), but it still fills up very quickly. When we got there, we still waited in line for about ten-fifteen minutes or so before getting a seat, but the line moves pretty quickly.
With these Southern BBQ buffets, my general approach is to take photos of individual parts of the food spread to show what they offer, but there was so much food here and it was so busy that I didn't have a chance to take photos of the area like I usually do (and, I ended up missing some of the food - I got all the hot food that Shealy's was offering, but totally neglected their cold vegetable section...cole slaw, potato salad, salad greens, etc. So the fact that you don't see photos of that doesn't mean they don't offer it!). Instead, I got individual portions of everything that I could get my hands on...I was stuffed by the end of the meal, but can't say I didn't try to show y'all everything at Shealy's! =)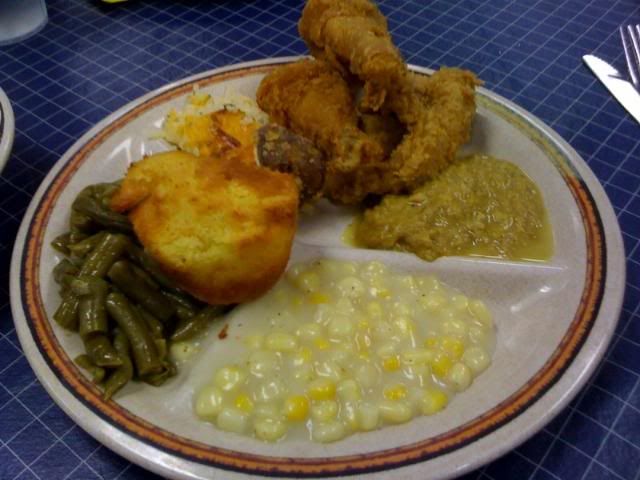 For my first dish, I grabbed some of my favorite Southern foods: fried chicken, hash (for a hash explanation, please look at my post for Little Pigs), creamed corn, some green beans, and some corn bread.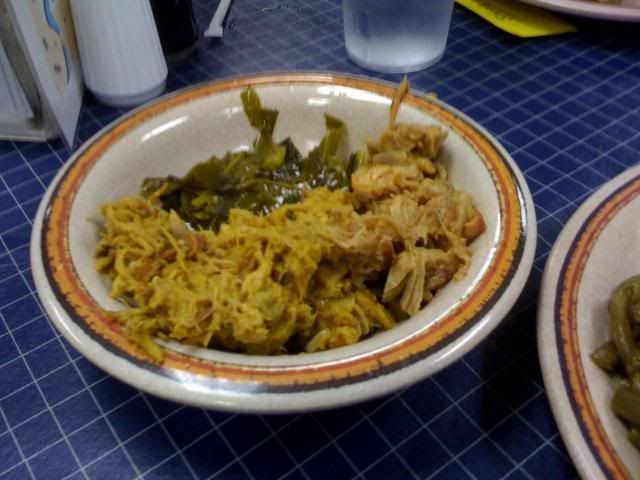 I couldn't fit everything I wanted to on the first plate, so I grabbed a bowl as well, and grabbed some mustard and vinegar pulled pork bbq as well as collard greens. Yep, a bowl of meat. =)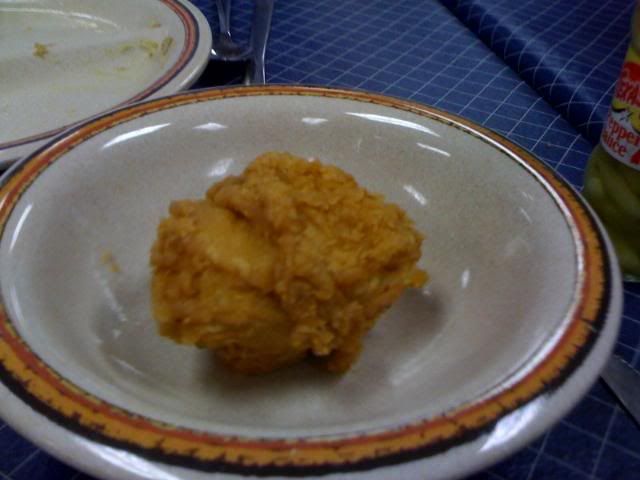 One of the specialities at Shealy's is their pulley bone chicken - a piece of fried chicken cut around the pulley bone. Where is that, may you ask? I previously had no idea before going to Shealy's, but I found out it refers to the wishbone area of the chicken. This piece of chicken was cooked pretty well; it was pretty juicy despite being white meat, and the texture of this chicken piece was a bit chewier than eating a chicken breast, if that makes any sense. Interesting, but I still prefer my dark meat. =)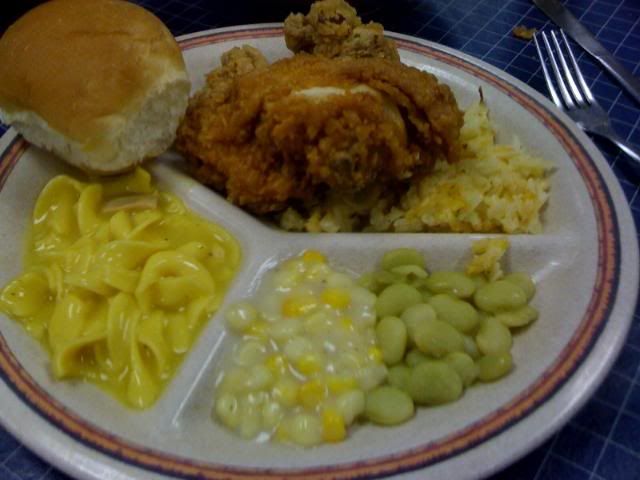 I enjoyed the fried chicken at Shealy's a lot (but not more than my favorite place in Columbia, Palmetto Pig) - I thought it was good enough to grab some more in a second round, along with some other hot food they offered: some lima beans, pasta (not my favorite, I should have grabbed some cole slaw or potato salad), as well as more creamed corn and a dinner roll (you're better off with the cornbread IMHO, they are no different than any other dinner roll I've had purchased in a market).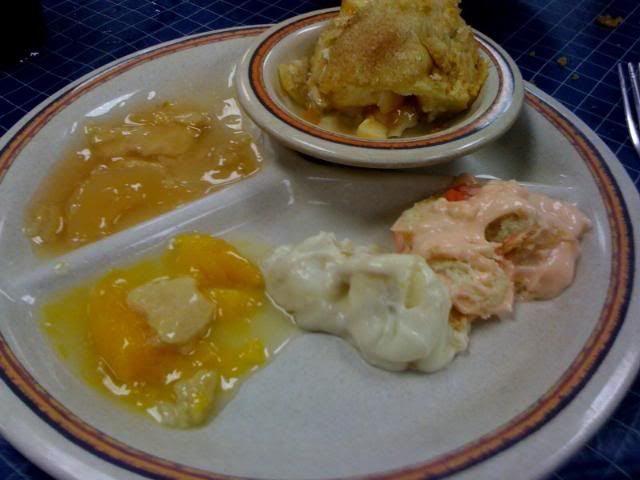 After two plates and a bowl of meat, I was definitely ready for dessert. And Shealy's does not disappoint! Two types of fruit cobbler (peach and apple), two types of pudding (banana and an unknown flavor), as well as apple pie! I love my desserts, and this was quite enjoyable for me.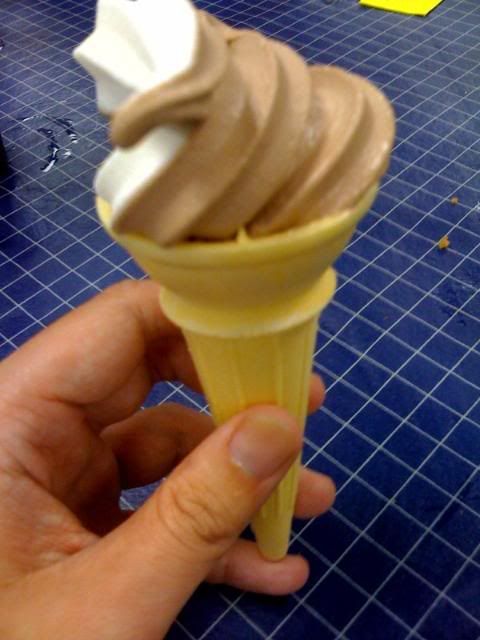 If the first dessert plate wasn't enough, I also saw a soft-serve ice cream machine on the way back, and being a dessert glutton, I wasn't going to leave Shealy's without eating some soft serve as well! =) They definitely have something for everyone! (Thanks to Alyssa for letting me borrow her IPhone for photos, got so excited about this place I forgot my camera!)