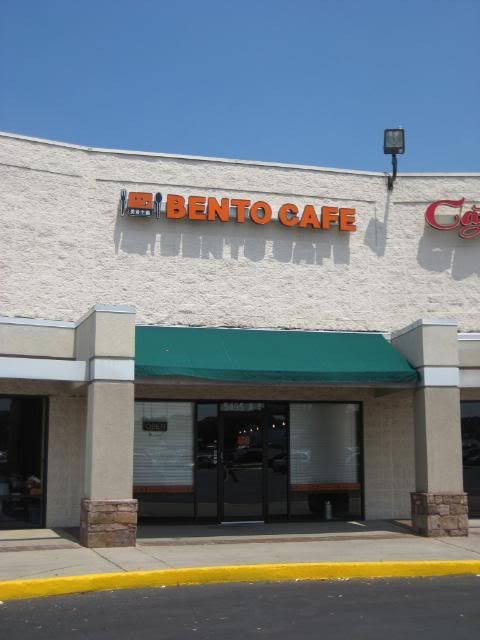 Bento Cafe serves Taiwanese food, and is in a random plaza in one of the suburbs of Atlanta, where a lot of Asian supermarkets and restaurants are. It was only a couple of months after I moved from Los Angeles, but I was desperately craving Taiwanese food after having the chance to eat it almost every two weeks for about fifteen years straight, so you could say that I kind of wanted it. =). To be honest, I really wasn't expecting to find a Taiwanese place in the South - it isn't an easy cuisine to find even in Los Angeles, where the largest amount of Taiwanese outside of Taiwan itself reside. So when I read a review reporting Taiwanese food in Atlanta, I tempered my hopes, but decided to try it anyway.
I am glad to report that Bento Cafe does indeed serve traditional Taiwanese dishes, so if you are looking for it in the South, you will probably only have a three to four hour drive to eat it. =) It isn't the best Taiwanese food I've ever eaten (not that I was expecting it), but it is about as reasonably accurate as you will be able to find. Translation: If you've eaten Taiwanese food before, this place will rate as a decent meal, but one that you won't be able to get anywhere else in South, which makes it about as good as you're going to get in the South. And Bento Cafe is authentic - I walked in, and was greeted in Taiwanese (which was kind of problematic, because both of us were really, really rusty, but we were able to order some food, thankfully). Just a note: for people who don't speak Taiwanese or Chinese, there may be a bit of a language barrier for you.
For those of you that are wondering what the difference between Taiwanese vs. other types of Chinese cuisine, it is kind of hard to explain, but I will try anyway. For a casual observer, there isn't much of a difference at all, but Chinese cuisine has a lot of regional differences - for instance, in Northern China, there are a lot more heavier and strong flavored dishes, including a lot of noodles, etc. Szechuan cuisine is really spicy, and Southern Chinese cuisine (both Shanghainese and Hong Kong) tends to be lighter in flavor (dim sum is typically a southern chinese type of food). So what about Taiwanese food? Since it is closer to Shanghai and the southern Chinese coast, it tends to resemble southern Chinese cuisine in flavor, but there are some local dishes that aren't made anywhere else.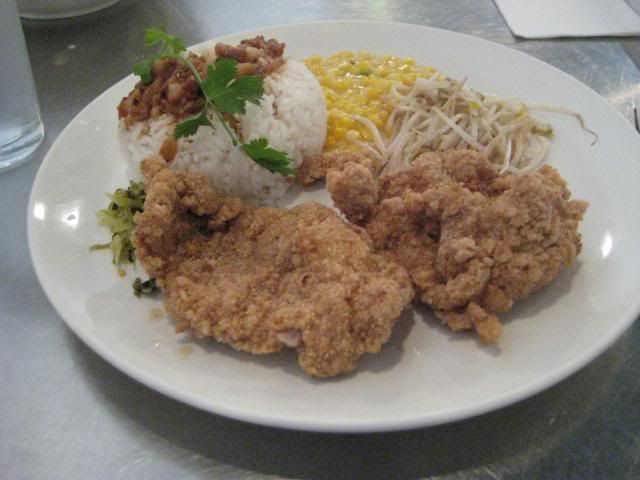 One of the regional Taiwanese specialities is a simple street food - pork chop rice (or pai gu fan, in Chinese). This is my favorite Taiwanese food, and one of my favorite foods in general, something that I grew up on and continue to eat even now. Taiwanese restaurants that serve this dish fall into one of two camps - they fry the pork chop by itself, or they fry it with a dusting of flour, cornstarch, salt, and pepper. Eating both, I definitely think the second option is much, much tastier, but it is much harder to find a restaurant that prepares it this way. So I cried happy tears of joy when I found out that I ordered this dish and it came out the way I like it. =). The pork chop at Bento Cafe was served with a typical set of side foods - rice with stewed minced pork on top (the minced pork is cooked in soy sauce, sugar, and other spices), along with corn, some bean sprouts, and pickled mustard greens (the green vegetable that is peeking out from under the pork chop on the left).
The pork chop was the best tasting thing on this dish - nicely salted and peppery, and the pork chop wasn't too dry. The bean sprouts and corn were kind of blah, and it was missing a tea egg (egg cooked in soy sauce and tea), but beggars can't be choosers.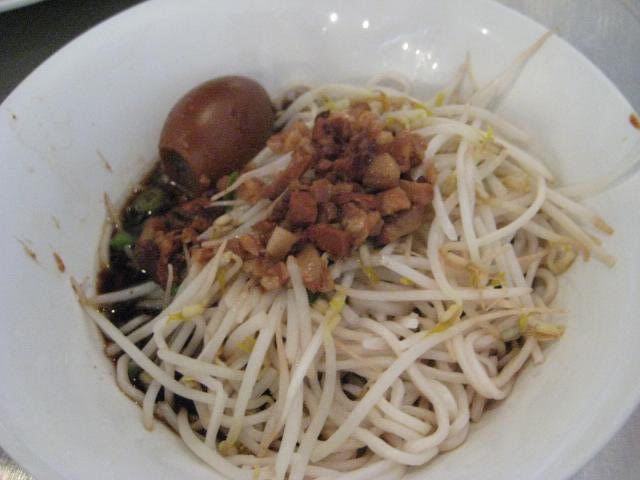 Jen ordered another typical Taiwanese dish - it is another street food from the city of Tainan, Taiwan called tan tsai mien in Taiwanese - in English, it is translated as "Tainan Peddler's Noodle". The noodle is served with minced pork, minced pork, a tea egg, and sometimes shrimp, although that varies from place to place.