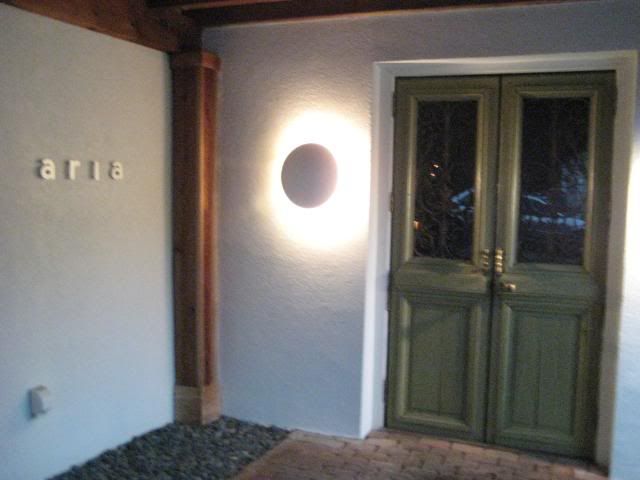 On our first trip to Atlanta, we decided to go to Aria, a restaurant in the Buckhead area of Atlanta. I was expecting a good meal, but as I soon discovered, there are many delectable food offerings here, including one of the most well-prepared and delicious pieces of foie gras that I have eaten so far in my life, without a doubt. =) As a short back story, just a little while ago, I discovered photos I took from Aria and another restaurant while we were on a trip to Atlanta a long while back (a year or so back - I thought I lost the photos, but was happy to find them on a camera we don't usually use). Atlanta is actually the first big metropolitan city we traveled to while in the South, and we were quite happy to discover a wonderful restaurant like Aria on our first trip here. Onto the food!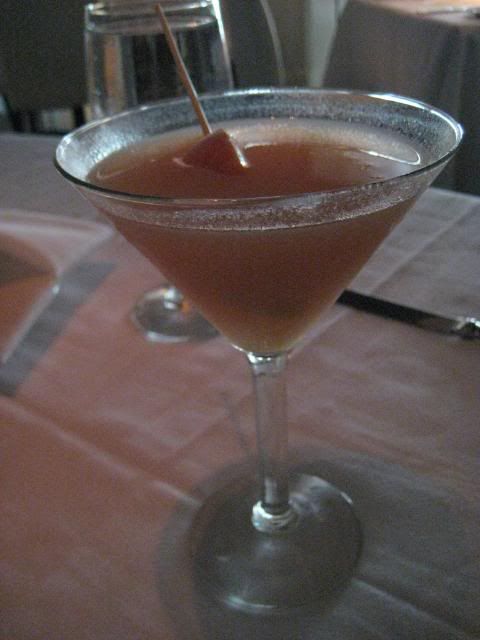 Because we were in Georgia, it seemed only appropriate to start off the meal with a peach drink, in this case, a peach martini. It was lightly sweet and refreshing, with a piece of fresh peach on top.
We started off with a beet salad with goat cheese and arugula. (Apologies for the dark photos, I wasn't using my regular camera, and it didn't have a low light setting). The goat cheese was relatively mild, which I enjoyed, and the beets were very fresh. Delicious!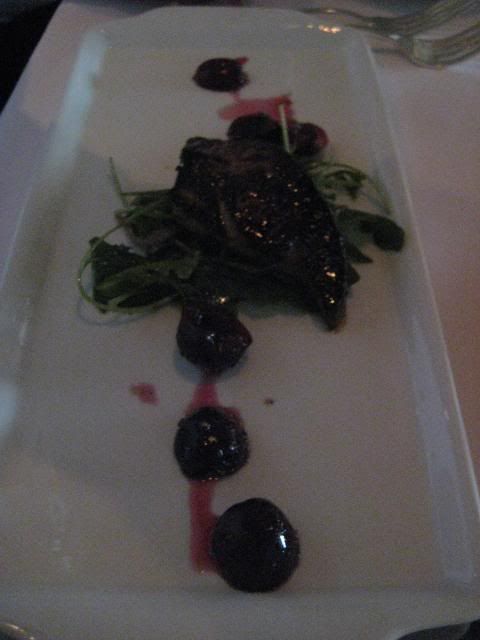 As a second appetizer, we ordered a foie gras dish with cherry compote. What was served to us was quite possibly the most delicious piece of foie gras I've ever had. Why? For starters, the serving size was excellent - sometimes, a restaurant serves pieces (sometimes slivers) of foie gras that are just too small to fully enjoy the flavor of foie gras. At Aria, they offer a healthy serving, which I appreciate a lot. Second, the foie gras was fresh - from a local farm in Georgia. Third, the foie gras was cooked perfectly, seared with just sea salt and fresh pepper. Fourth, it was paired very simply, with a little bit of cherry, which was a perfect pairing with the foie gras, because it was only slightly sweet, and the residual tartness matched well with the rich, full-bodied, deep flavor of the foie gras.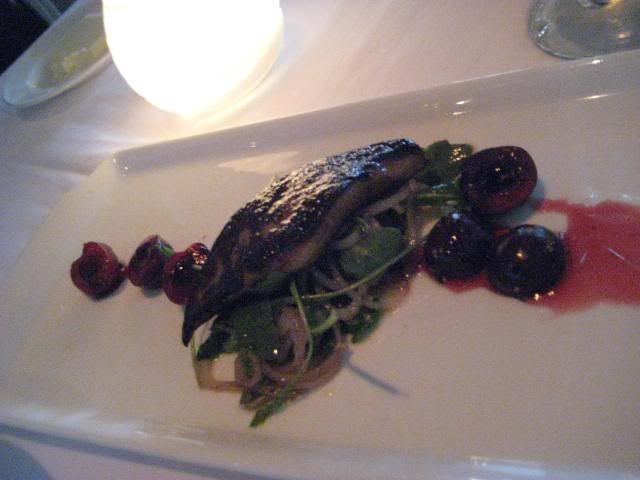 We enjoyed the foie gras so much that we ordered a second plate. Cholesterol busting? Yes, definitely. But it was completely worth it - this was a foie gras dish to end all foie gras dishes. Ok, that last bit was hyperbole, but I can say it was the best I've had so far in my life, and that is after eating at pretty good restaurants in Los Angeles, San Francisco, Seattle, Vancouver, Las Vegas, and New York (pre-blog and post-blog).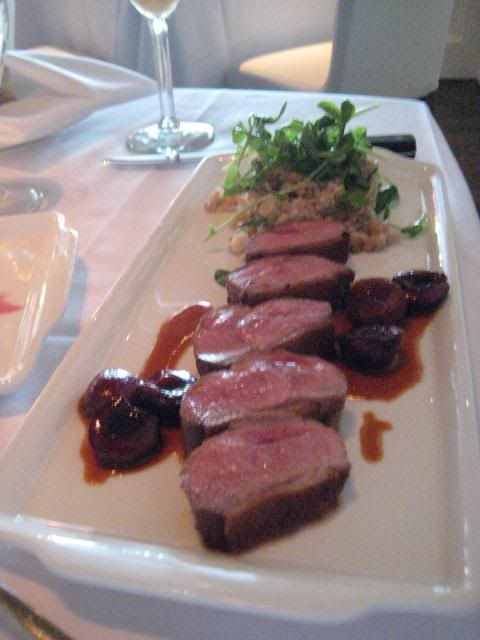 As one of our main courses, we ordered the duck, paired with more seasonal cherries. Just like the foie gras dish, this was a generous, and much appreciated, larger serving of duck. =)
As our second main course, we ordered lamb prepared two ways: a slow cooked braised shoulder, and a rack of lamb. Both main courses we ordered - the duck and the lamb - were prepared very well and tasted delicious.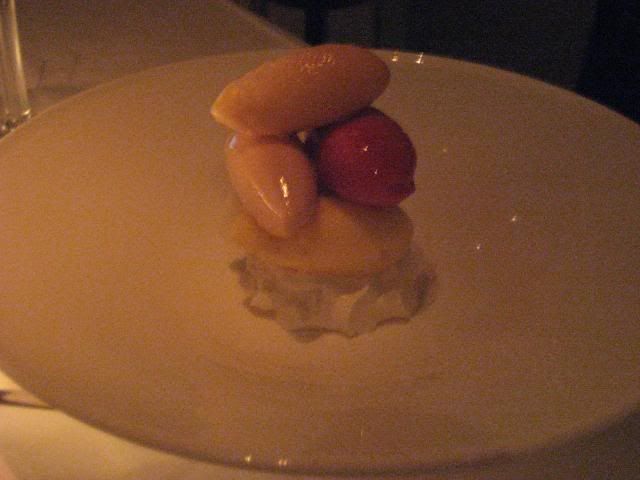 For dessert, one of my favorites - a simple sorbet. They offered four flavors - passion fruit, lemon, peach, and strawberry, on top of a meringue. It was also creatively presented - I liked the architectural whimsy - it was much more visually interesting than sorbet set out flat in a bowl or dish.