Third on our cheeseburger crawl is an old Columbia mainstay, Edna's. If you polled a lot of long-time residents of Columbia about their favorite burger/hot dog stand, a decent amount would probably pick Edna's as their favorite. This one is officially Edna's #1, and it sits at the intersection of three roads - River Dr., Sunset Dr., and Clement Rd. From what I understand, the reason for the number was at one time, there were several Edna's scattered throughout Columbia, but now, there is only one Edna's left.
All of us talked about the ambiance of the place: It is a true dive - the place seems like a random old burger stand by the road; for seating, they have old wooden picnic tables outside to eat, and there is a local cat that the place feeds. A lot of people take the food to go, or eat in their car. Betsy said it was a place that she might not stop by at normally, but was a place that you only go to if referred to by someone else. Andy said: "The food alone wasn't enough to keep me coming back, but combined the the dive-y ambiance, I'm coming back."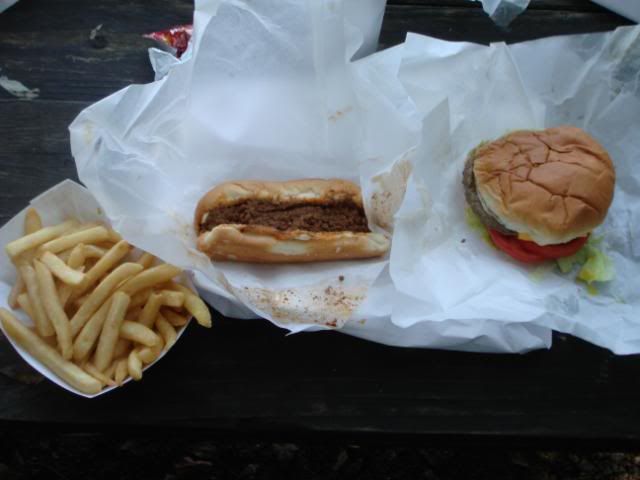 Edna's offers a lot of different hot sandwiches (ham, BLT, ribeye, chicken fillets), but most everyone that comes here orders either their burgers or their chili dogs. Me being the hungry and occasional glutton that I am, I ordered their bacon cheeseburger basket and chili dog. =)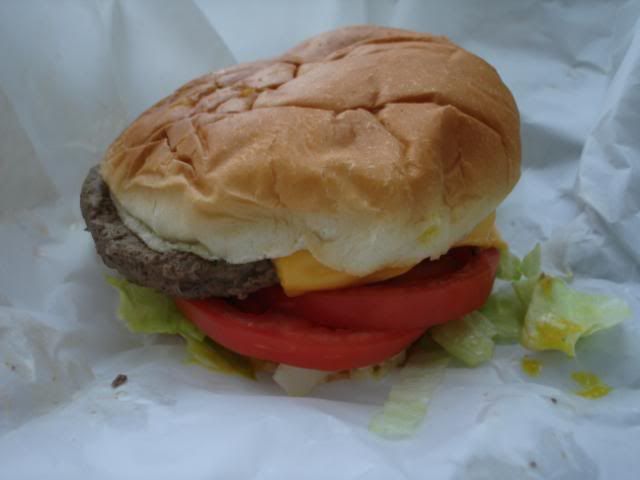 A closeup of the bacon cheeseburger. They have hamburgers, cheeseburger, bacon cheeseburger, and chili burgers.


-Here are our ratings on the cheeseburger and fries:
Average Rating: 3.9

Epicurious E.: 3.5
Andy: 4.0
Flarké: 3.5
Betsy: 3.5
Hambone: 4.5


-Some overall comments about the burger: Andy liked the balance of the burger and ratio of ingredients. I liked that they were generous with their lettuce, tomato, and onion; there were multiple large pieces of each.
-And a breakdown of each of the components of the cheeseburger:

Bun: A larger size white restaurant bun, but not too thick. Not toasted. =(

Meat: A thick, larger sized patty. For me, the meat could have been a bit more flavored, and had more char on the outside. But, it was juicy.
Cheese: Standard slice of American cheese, nothing special.

Presentation and condiments: Everything comes in a white bag, nothing special; but, the burger is wrapped separately. There was a slight problem with the condiments - they only offered ketchup packs.
The Big W (our in-house connoisseur of Southern cuisine who isn't participating in the ratings of our cheeseburgers, but often attends our cheeseburger crawls), told me to try the chili dog because it was his favorite in Columbia, and he usually goes to Edna's for the chili dogs instead of the burgers. I definitely agree. I thought it was great; the chili was rich and flavorful, the dog was a good size, and it was cooked well and had a good snap to it.