On a short weekend trip to Greenville, South Carolina awhile back, we took the opportunity to expand our indulge our tastebuds at Devereaux's, a restaurant that definetly aspires to offer a high-end culinary experience like you would get a big metropolitan city like Atlanta, New York, or Los Angeles. It had been awhile since I had a good, creative meal, and after hearing good comments about the place, I was excited to try the food there. The atmosphere of the restaurant itself is very comfortable - warm, but dim lighting (great for dates, bad for my blog post =P), exposed brick walls, etc. However, the space itself is pretty large with higher ceilings, and depending on where you sit, you might get a slight feeling of a cavernous space, rather than a more intimate one.
As for the food, we of course ordered "The Chef's Ultimate Tasting Menu" after finding out something like that was on the menu, because I love to see how creative chefs can get with their food (especially with fond memories of my more recent meals at Fleur de Lys and Water Grill). Devereaux's offers a standard tasting menu of five courses, and the "Chef's Ultimate Tasting Menu" of ten courses. A ten course meal is never going to be cheap, and the one offered here is not for the faint of heart (price-wise), but if you're a foodie, can you ever say no to a large variety of food? I can't. =).
Before getting into the meal, a couple of overall comments about the tasting menu: Overall, Chef Devereaux Greene definetly has an impecabble sense of modern, minimalist food presentation, as you will be able to tell from the photos. And some of the dishes were truly very delicious, although a bit small at times. However, I do have a couple of service-related critiques that hopefully the restaurant can improve on. First, the waiter, although friendly and gracious, could have had more knowledge about the food, and it seemed that he had a lot of area to cover, so we didn't seem him very much. Second, the timeliness of the dishes was a problem - it took three and a half hours for the entire meal to be completed....Gilligan and his friends took a three hour boat tour of Hawaii that they were planning to be shorter than the length of our meal. That comes out to be about twenty minutes between each dish, and with the amount of food provided on each dish, it didn't take long to finish it. We had exhausted every topic of conversation twice over by the time dessert was served. Admittedly, we do eat pretty fast anyway, but a high-end restaurant should have its waiters communicating with the chef to adjust the timing of the dishes served.
Anyway, enough service-related comments. We are really here to enjoy the food, right?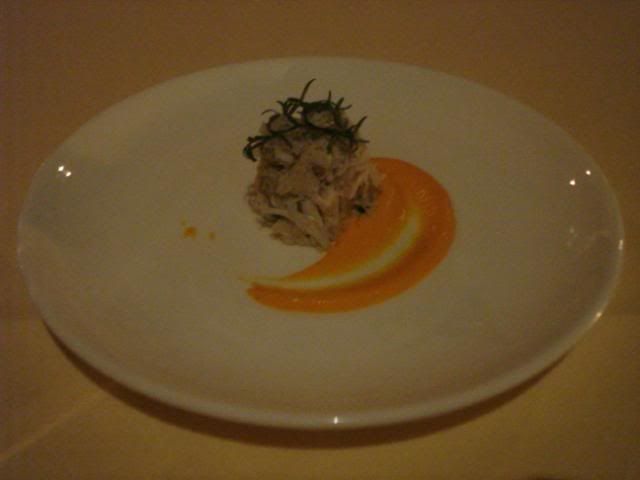 First, we were served an amuse bouche: a crab salad with cumin and carrot puree. A very nice, light start to the meal, and I enjoyed the color and flavors provided by the puree.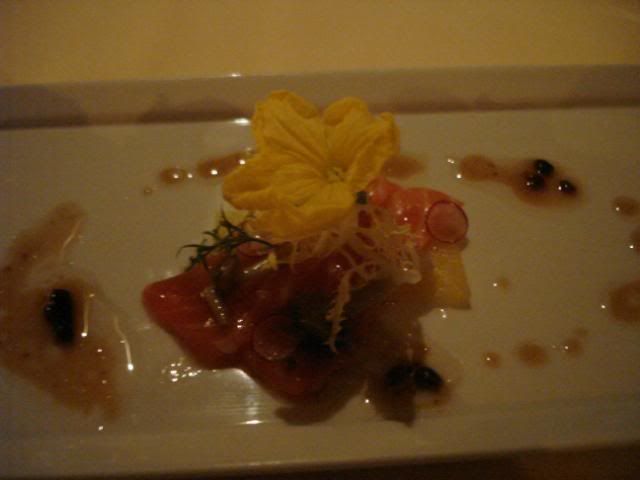 Second for the meal was a Tasmanian salmon sashimi, served with a cucumber flower. I've eaten a lot of high-quality salmon sashimi at some very good Japanese restaurants, and this stood head-to-toe with them. The dish was excellent, and one of the highlights of the night for the both of us. The presentation with the cucumber flower was a very nice touch also.
Next, we were served a two-part dish: on the left, an apple and beet tartar, and on the right, a gazapacho with beef.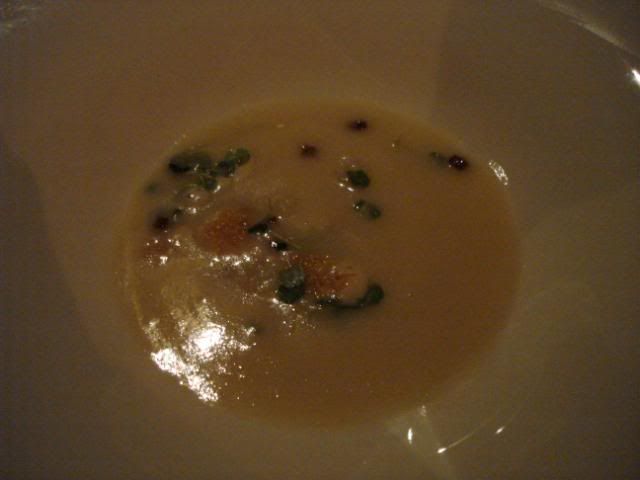 For our fourth dish, we were presented with a celery root soup with smoked bacon and potato. A little bit too creamy, but I enjoyed the smokiness of the bacon.
Next, a grilled tiger prawn with apple salad. The most underwhelming dish of the night for me, partly because I felt that it would have been more effective with at least two or three, instead of just one tiger prawn. I enjoy minimalist dishes as much as the next person, but too little on a dish seems a bit parsimonious.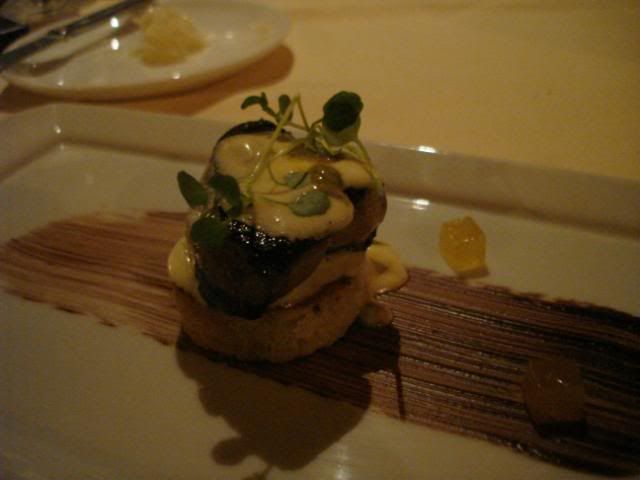 The sixth dish was foie gras on a french baguette with bittersweet chocolate and passion fruit. The quality of the foie gras was pretty good, and I enjoyed the contrast in texture between it an the baguette.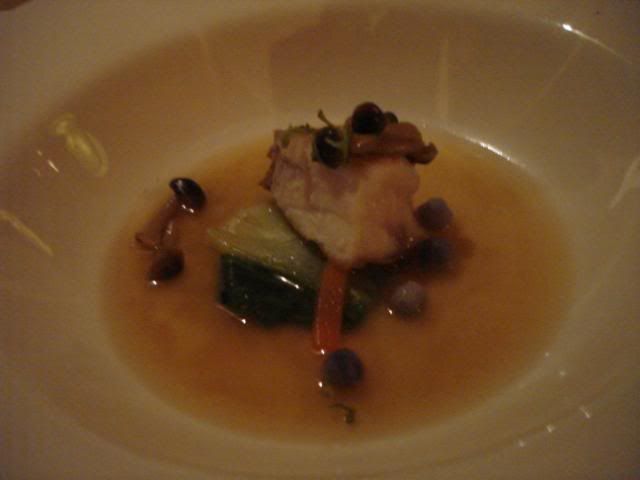 A Japanese red snapper in bonito broth. The bonito broth was a bit too light, and could definetly had more body, but it was interesting to see such a simple Japanese dish in this mix of food, but I appreciated the timing of the dish, to balance out the heaviness of the foie gras before we ate the next dish...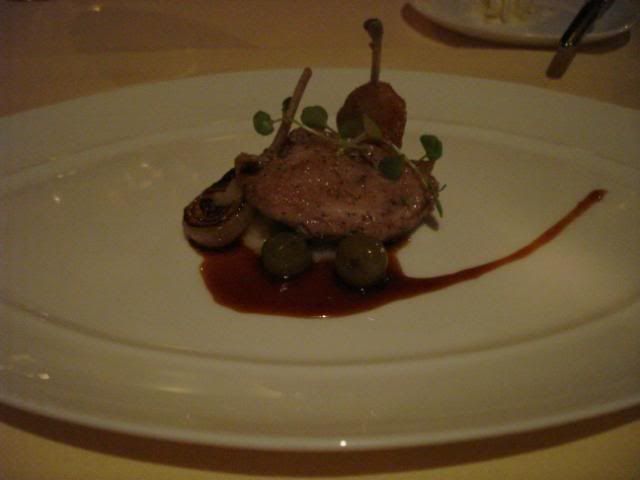 The eighth dish was the best dish of the night, in both our opinions: It was quail prepared three ways: at the top, a flash fried quail leg encrusted with panko and stuffed with beef tenderloin; in the middle, pan seared quail breast; and not visible (under the quail breast) was quail risotto. It was a creative trio of quail - the quail leg was fried perfectly with a very enjoyable contrast in texture with the beef tenderloin, the pan seared quail breast was quite succulent and juicy, and the risotto had a deep, mellow, flavor.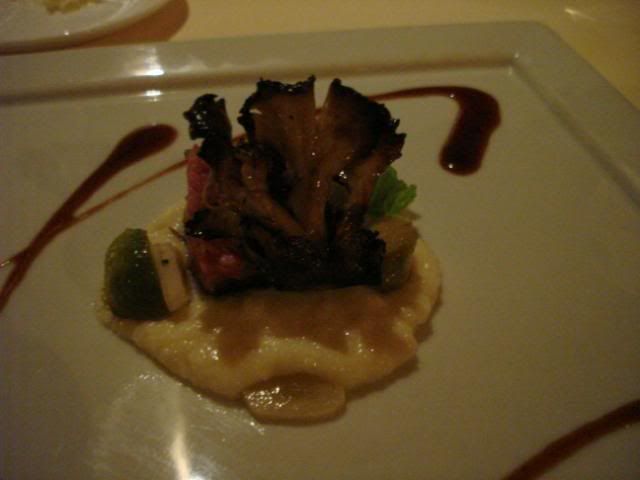 The last main course was a soux vide beef short rib. Like all soux vide dishes, the short rib was very tender.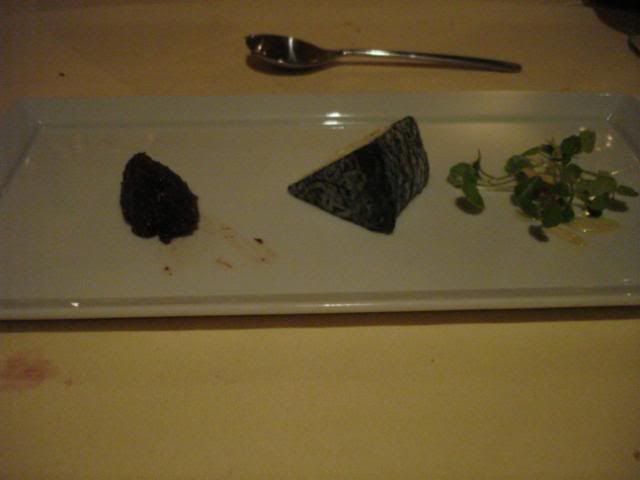 I don't like strong cheeses, so honestly, I didn't appreciate this next dish very much - a Roquefort cheese and jam.