The fourth place on our cheeseburger crawl was End Zone Grill, in Rosewood. End Zone Grill is a typical easily missed hole-in-the-wall on Rosewood Dr. near Assembly St. that mainly seems to operate as a bar, but they have a pretty decent selection of food as well on the menu (including an appetizer of gator meat that I wanted to try, but did not end up ordering). Because it is a bar, there isn't much seating - maybe about ten smaller tables, total, although you can also sit at the bar and eat too, I suppose.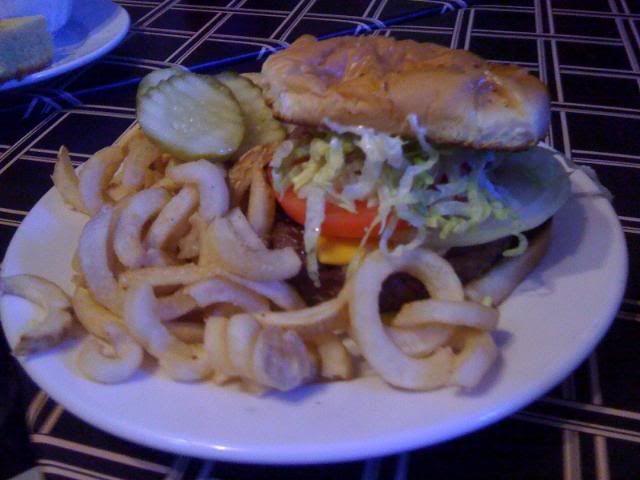 At Endzone, they offer three different kinds of burgers - your basic cheeseburger, the "Zone Buster", 1/3 lb. burger, with a slice of American cheese, the "Have It Your Way" burger, with your choice of three different cheeses (American, Swiss, Cheddar) and other accouterments, including bacon, chili, sauteed mushrooms or onions, and guacamole, and the Strasburger, a 1/4 lb. cheeseburger with a 1/4 lb. crabcake. All burgers come with shredded lettuce, tomato, and pickles and curly fries. The above photo is of the "Have It Your Way", and the next photo is of the "Strasburger" (the crab cake is kind of hard to see, but you can tell where the crabcake is, if you look closely at both photos and compare them). Btw, the photos have a blue tinge because we sat below a neon-blue beer light.
A couple of general comments about the cheeseburgers offered at EndZone Grill before I get into the details: Andy said ""Good atmosphere, a good overall burger, nice balance of texture and taste, a bit too toasted for me." Flarké and me both had the crab cake burger - Flarké noted: "Liked the crab, if you are in for something different. A little too well-done." I thought it had all the elements to be a really good burger: toasted bun, large burger patty, lots of selection in accompaniments to the burger, but for me, the Strasburger a bit heavy for a cheeseburger, and I eat a lot.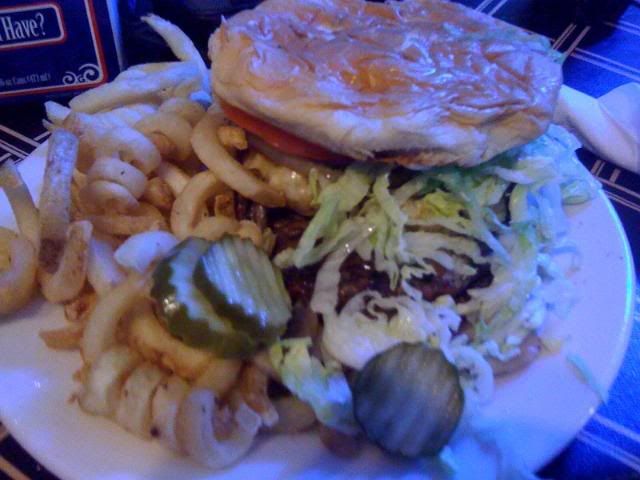 -Here are our ratings on the cheeseburger and fries:
Average Rating: 3.5
Epicurious E.: 3.5
Andy: 4.5
Flarké: 2.5
Hambone: 3.5
Although I don't usually qualify the scores, I will this time, because most of us lowered the scores a lot for Endzone because of the fries that we received: they were pretty uninspiring curly fries, without much seasoning, and were a bit cold, like they had been sitting there for a bit. I have a feeling the scores would have been higher had the fries been good. To be fair though, we were a large party in the middle of a lunch rush, which seemed to affect the quality a lot - other than the fries, the Big W reported the cheese on his chili burger was not melted which was a big negative for him (the rest of us did not have that problem, luckily).
-And a breakdown of each of the components of the cheeseburger:
Bun: The bun is a larger cafeteria-style white bun that is slightly greasy on the outside (probably from being on the grill?). It could be a bit thicker for the Strasburger: some people (including me), were having some problems with the bun, as it fell apart. I did order a lot of stuff with mine though. But, for me, a gigantic plus because they toasted their bun, the first place on our list to do so.
Meat: The meat was cooked perfectly for Andy (he got the have it your way), but for me, Flarké, and Hambone, the meat was slightly overdone. We were a big party, so it is possible the burgers may have been a bit overdone because of that. It was a nice, large, meat patty though, and I liked how it had a bit of a crust. Regarding my experience with the crabcake: It is a pretty heavy meal, but I did like the addition of crab. The crab cake itself was really mild, so there was just a mild, crab aftertaste in some bites. It added another dimension to the burger.
Cheese: As noted before, they serve American, swiss, and cheddar.
Presentation and condiments: The presentation was fine, but because the burger was pretty big, the plate was bit crowded. On the table, they had malt vinegar, salt and pepper, and ketchup.