The Mousetrap Restaurant is the fourth burger place on our cheeseburger crawl. It is a nicer restaurant than a lot of the places we visited so far, at least in the sense that it offered tables or booths to sit at, we ordered from a waitress, and there was even a covered-up piano, which I assume people sometimes sing at in the evenings? In that sense, this isn't quite as fair a comparison to the other places, but we decided to include it on the list anyway. It also offered a wider variety of food other than just burgers, but since this is a cheeseburger tour, all of us ordered the cheeseburgers from the menu.
This restaurant is definitely one of those word-of-mouth places that you would never know about unless someone else told you about it. You would never drive past the place (see the next photo and description), so you could never just randomly drop by. The main patrons of the restaurant seem to be a lot of old-time locals who probably have been eating weekly at the Mousetrap since it opened in 1978.
Two comments about the ambiance of the restaurant: Betsy says: "I like the atmosphere, being in a restaurant that no one knows about, surrounded by older people." Andy says: "I liked Edna's better – I liked being outside at a burger stand on the side of the road."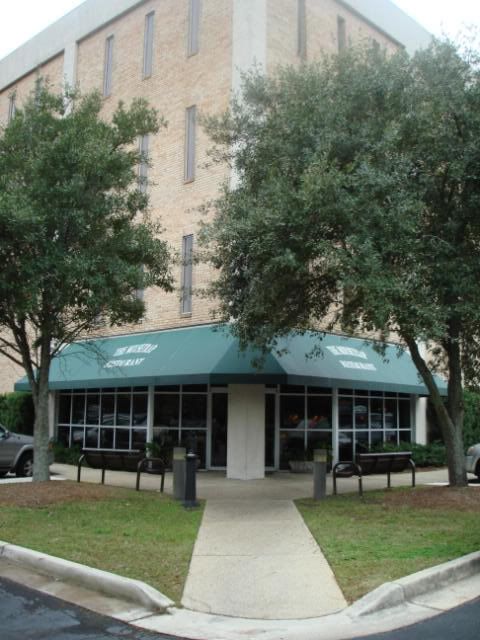 I included this next photo as a guide to help anyone interested in going to this restaurant. The Mousetrap is a HARD place to find, and is in possibly the most random location for a restaurant that I've ever been to. It is at the back end of an office building on Middleburg Dr. (which itself is a side street one block north of Forest Drive), and if you just try to find the restaurant based on its address (2711 Middleburg Dr.), all you'll see is an office building. BUT, if you drive around to the back northwest corner of the office building, you'll find the Mousetrap tucked away, just like you see in the photo.


And here is a photo of the burger I ordered - the Mousetrap burger. It is basically a bacon and swiss cheeseburger. In addition to regular hamburgers and cheeseburgers, they also offered a pimento cheeseburger using homemade pimento cheese, but none of us tried it.

We all talked about the fries offered here: they were definitely a bit disappointing. Betsy said they were mediocre. Andy says: not impressed. Consensus: middling. They were advertised on the menu as steak fries, but they ended up being thicker crinkle cut fries, a bit too crunchy.
-Here are our ratings on the cheeseburger and fries:
Average Rating: 3.7

Epicurious E.: 4.25 (yes, usually the ratings are in increments of .5, but this is called the author's prerogative)
Andy: 4.0
Flarké: 3.0
Betsy: 3.5
Hambone: 3.5
NoName: 4.0

-Some overall comments about the burger:
I noticed that the burger is pretty big - not enough to split for two people, but definitely bigger than any that we've tried before. Andy says: "I liked the bacon, it was crispy. Pickles had a good crunch." Both me and Flarké liked the bacon, I thought it had a good smoky flavor, but we both agreed there could have been more bacon offered.

-And a breakdown of each of the components of the cheeseburger:

Bun: I thought it was a great flavor! It is an onion roll, just thick enough and soft. But not toasted =(. Flarké noted hers came out cold.

Meat: The meat was a thick hand-formed patty, big thumbs up, by both me and Flarké. They probably used better meat than the other places. It was a bit dry (Andy concurs), but that also may have been because we were a big party, Flarké pointed out.

Cheese: Standard swiss cheese. I didn't try the pimento cheese, but heard it was uninspiring.

Presentation and condiments: Presentation is good, this is a sit-down restaurant with lots of other dishes, after all - a nice big plate, and ketchup was on the table.