Doughboys is back, Doughboys is back!!!!
http://www.doughboyscafe.com/
. One of my favorite places to eat at in all of Los Angeles was closed in 2007, but it is open again in 2010, and everyone that lives in Southern California are the better for it. =). They have a new renovated exterior and interior, and, they now have an online ordering option!
https://doughboyscafe.gimmegrub.com/
. Even though I'm on the East Coast right now, I am tempted to order something online and fly back to Los Angeles just to eat there today at lunch =). Seriously. Do you think they would deliver to South Carolina? =).
In case you've never had the chance to go to Doughboys, you have to go and eat there at least once - they have the best red velvet cake in the city (Oprah once anointed the red velvet cake here as the best she's ever had west of the Mississippi), I think their breakfast offerings are one of the tastiest in Los Angeles, and their sandwiches, salads, and soups are truly top notch (bread is freshly baked and fresh) and delicious. Please go and support this wonderful location, this is one of my favorite places in Los Angeles, and I never want to see them close ever again.
I will obviously be back to Doughboys when I go back to Los Angeles, but until I can update this post again, and because the photos are at least helpful in showing how good the food at Doughboys is, below are some photos from my previous posts (Note: all the photos are of dishes are still offered on the Doughboys menu, I just checked, so the photos should be accurate. The posts also have more commentary on the food, just in case you need more info):
The warm portebello mushroom and pancetta salad.
S.O.S. - a breakfast dish, grilled asiago bread and home fries, topped with homemade beef and two steamed eggs - looks kind of unappetizing, but it tastes good, and even better as a leftover, as strange as it sounds. And yes, it does stand for something, look at my previous post if you're really interested.
The pan bagnat: Doughboy's fresh sourdough bread filled with a salad nicoise (tuna, artichoke, green beans, tomato, red onion, olives, capers, peppers, hard boiled egg, and pesto).
A "sandwich" (if you could call it that), called "The Monster" - one of my favorites, it tastes great, although it is really messy: a big, round piece of grilled foccacia (looks like a fat tortilla), topped with melted emanthal cheese, grilled onions, mushrooms, and roast beef, served hot, and open faced (it looks like a pizza and you eat it like a big taco). It comes with some shredded lettuce, diced tomato, and horseradish sauce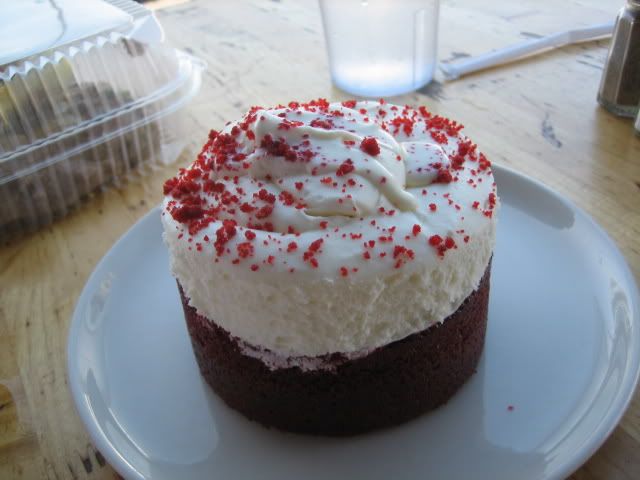 And the piece de resistance: tons of photos of their red velvet cake, truly delicious, sweet, moist, yummy cream cheese frosting - this is the best red velvet cake I've ever had, even after wandering around the South for awhile now.
This cake is sooo good, it deserves more than one photo...=)
And a closeup - it is prepared so well, and so moist, that you can easily see it in this photo!