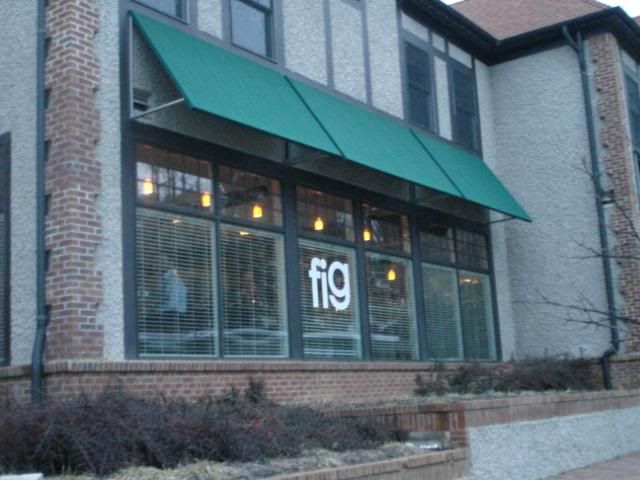 While up in Asheville, North Carolina for a long weekend trip, we visited Fig Bistro, a small, intimate French restaurant in the Biltmore Village area, for dinner. As I normally do when I visit anywhere, I planned our trip around food =), and scouted around for the best restaurants in the area, and while this wasn't the highest rated restaurant in the area, it sounded like a place that I would definitely like - simple, seasonal, local French cuisine, fresh in quality and well presented. After eating here, I can report that the restaurant exceeded my expectations by a long shot - the food was absolutely wonderful. Although I can't say it is the best restaurant in Asheville, because I haven't visited them all, I can report that we had one of the best meals so far in our exploration of restaurants in the South (and it compared favorably - if not better - in taste and quality of the food than some of the other high-end restaurants we've visited in the United States, although the menu at Fig Bistro is much smaller). I enjoyed it so much that I broke foodie rule # 1 - try a new place for your next meal - and we went back there for lunch the next day. =)
The chef here at Fig Bistro, Chef William Klein, is very good at his craft, as his bio indicates, with previous experience at 3 star Michelin restaurants in France and stays with two of the best chefs in San Francisco, Gary Danko AND Ron Siegel. His food definitely reflects his experience - simple, yet refined provincial French cuisine, and all the dishes we ordered tasted phenomenal and were beautifully presented. But enough talk - onto the food!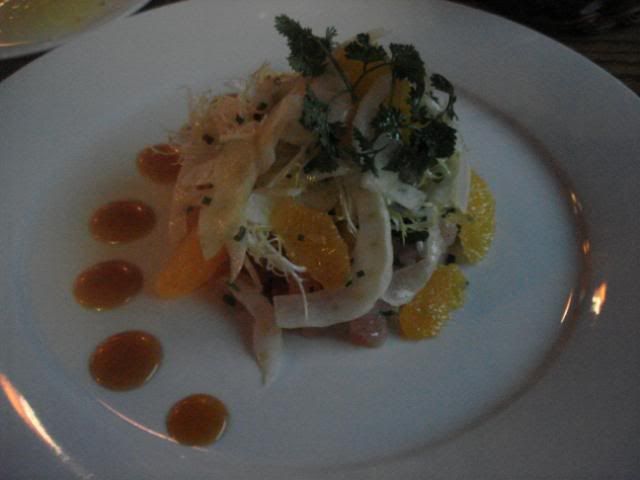 The first appetizer we ordered was a beet salad, with thin slices of fennel and navel oranges, served with orange oil dressing. This was a great example of how well a simple dish can taste when fresh, seasonal, local ingredients are used in the hands of a great chef - the beet was cut up into small cubes and served as the base of the salad, with layers of sliced fennel and navel oranges placed on top of the beets. When eaten all together, the salad was light and refreshing, with the citrus of the navel oranges providing a nice compliment to the earthy taste of the beets and the fennel.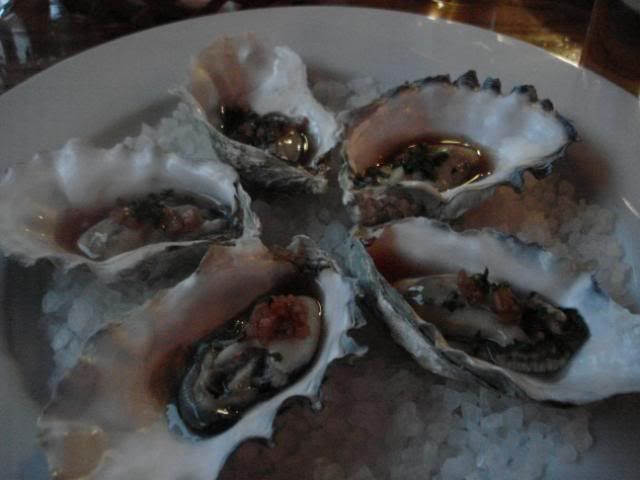 Next, we ordered a half dozen oysters, a special not usually offered on the menu. These were high quality oysters from Washington State, and tasted great in the red wine vinegar and shallot sauce poured on top of the oysters.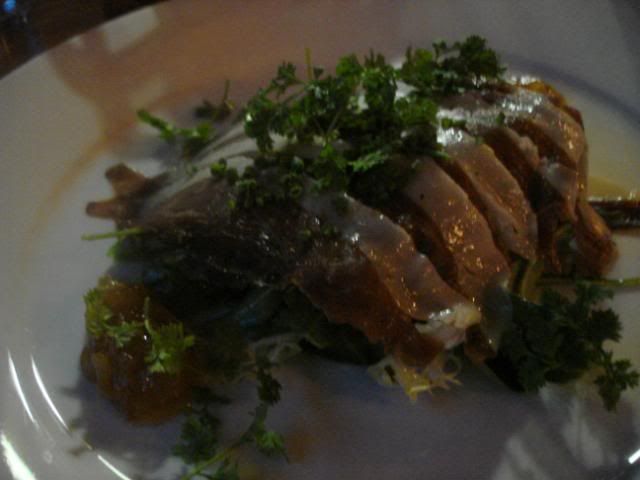 The first of our main courses, a special not on the menu (although it should be, this was a truly excellent dish!): duck-cured proscuitto, served with an arugula salad and meyer lemon chutney. The proscuitto was sliced up in thin layers and cured with the duck, which provided the proscuitto with a deep, mellow flavor. The meyer lemon chutney was excellent - usually, chutneys come out a little too sweet for my palate, but this one was just sweet enough to provide a nice accompaniment to the duck, and had small slices of lemon peel to provide a nice citrus kick.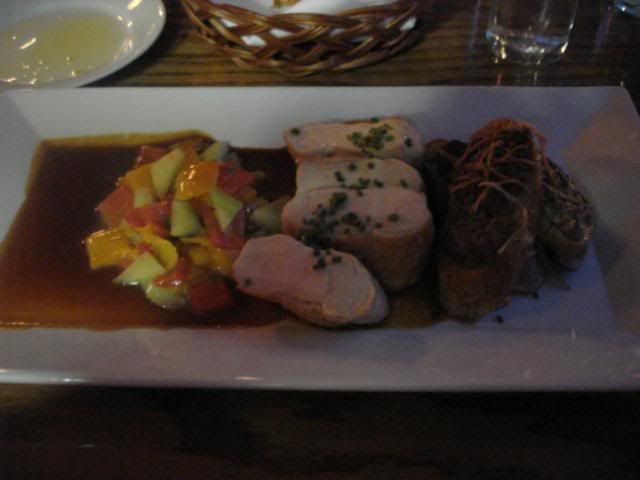 The second course we ordered was a dish off their main menu: a chicken Giradet. Evidently, the dish is named after a chef in France, Giradet. It is a simple pan-seared chicken breast, served with sauteed bell peppers (on the left), and three slices of french bread covered in a duck liver pate. As a general rule, I don't usually like chicken dishes in high-end restaurants too much, because they often come out kind of dry, but this chicken was an exception - incredibly juicy, with a crispy chicken skin. I don't know how Chef Klein prepares this chicken dish, but it was quite possibly one of the juiciest pieces of chicken breast I have ever eaten in my life, period. And, it was well flavored as well - possibly pre-marinated in some kind of salt and other herbs for a long while, if I were to hazard a guess. The duck pate was also great, fresh, and the flavor was not too overpowering, like some pates can be - I always love pate served on french bread. =)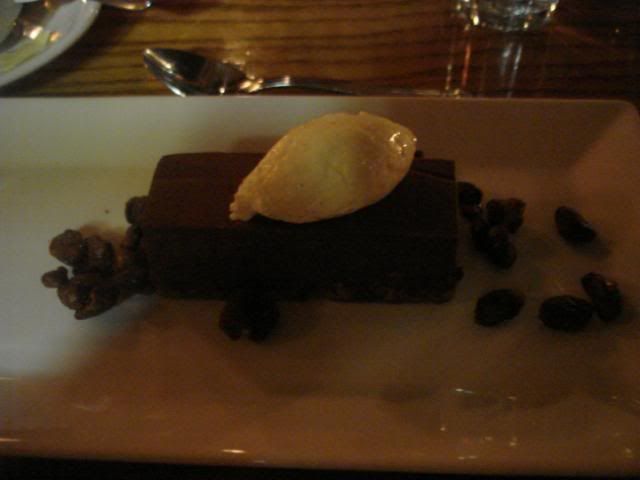 Lastly, our two desserts - the first, a milk chocolate mousse. It is composed of a banana sponge cake, with a chilled milk chocolate center (very dense and sweet, although it matched well with the candied pistachios), topped with a sour cream mousse, and surrounded by candied pistachios. Although the dessert was good, it didn't quite compare in level to the high quality and great tasting food we had as appetizers and for our main courses - not to say that the desserts were bad, but they just weren't as good as the food we were served.

Lastly, our second dessert - a chocolate pot de creme, with a chocolate sable cookie on top. Overall, an incredibly good dinner meal, which we both thoroughly enjoyed.
But, we weren't finished...we so thoroughly enjoyed our meal the night before that I couldn't leave Asheville without going back another time, so we threw caution to the wind and gave up the chance to try some of the other interesting eats (like Tupelo) for lunch at Fig the next day again. =) Although the dishes at lunch didn't offer the same level of complexity in terms of taste, we still thoroughly enjoyed all the dishes we ate...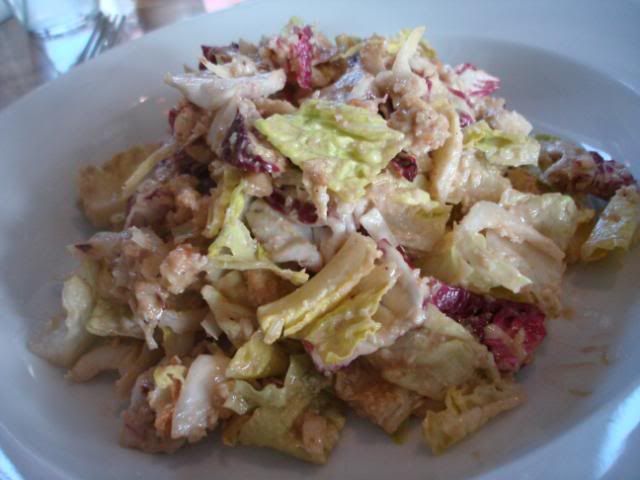 For starters, we ordered a radicchio and endive salad, with a parmasean and balsamic vinagrette. This was probably the weakest of the dishes we had here - not because it tasted bad - the ingredients were fresh and the flavors were accurate, but the dish didn't stand out like the others did from other high-end restaurants we've been to.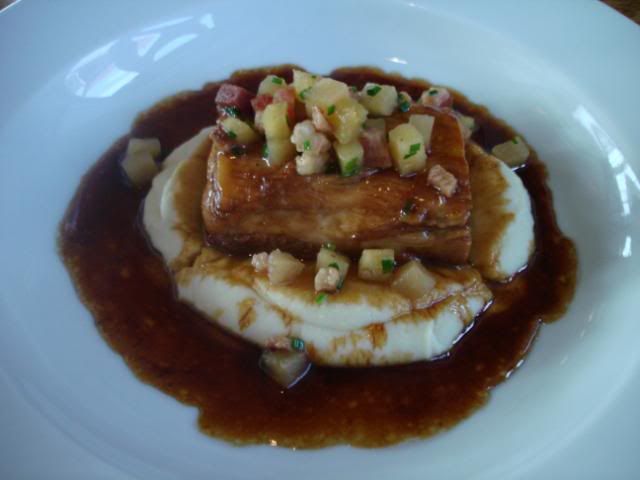 For our second appetizer, we ordered a maple glazed pork belly, on top of a white bean puree, and a bacon apple compote. Interestly enough, the dish reminded me of a Taiwanese stewed pork dish I enjoyed as a kid - the pork was deliciously juicy and soft without being greasy, and the sauce was appropriately salted.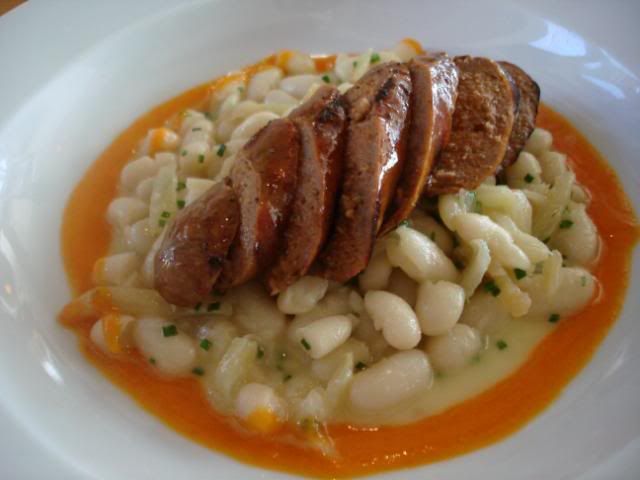 The first of our two main courses - lamb sausage served with garbanzo beans. The lamb sausage was wonderfully juicy and perfectly spiced.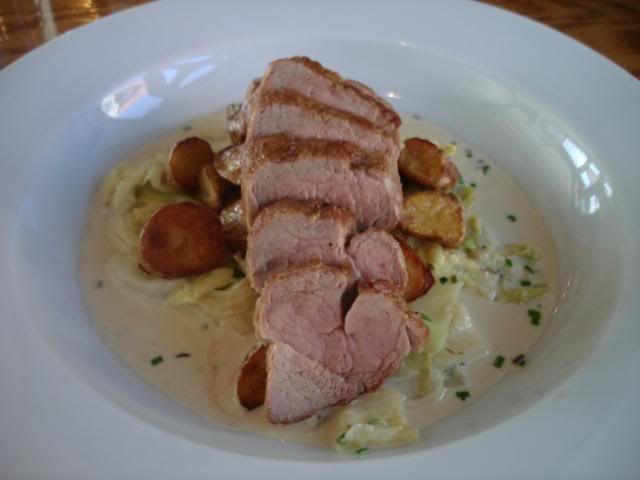 Our second main course was a pork tenderloin with fingerling potatoes - the potatoes were crisped perfectly, and the pork tenderloin was tender and mild in flavor.