The seventh place on our cheeseburger crawl was Frank's Market, a small restaurant on Two Notch, right past Beltline Blvd. in a small plaza next to an Auto Zone store. Frank's is a local place that has been around for thirty years or so and is mainly known for its "meat and three" offerings, but we also heard the place served up a pretty decent cheeseburger as well.
Everyone raved about the waitresses at Frank's - Flarké and Hambone said: "We liked the waitresses, and how they know what you want to eat and how much of it you should be eating", and Betsy noted: "I thought the waitstaff was super nice, and they even brought us Hershey's Kisses afterwards!"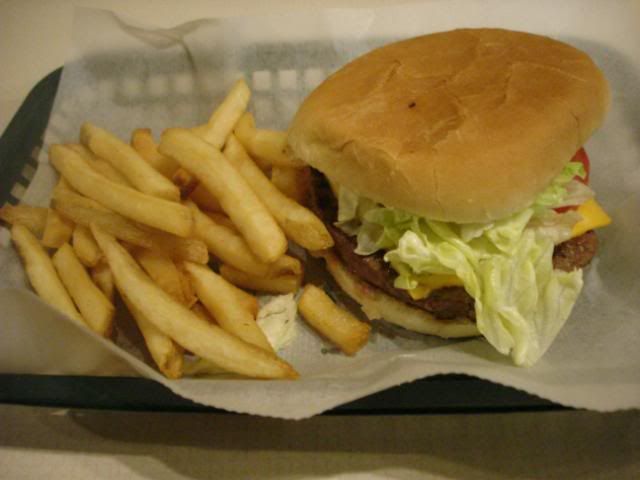 Their cheeseburger menu is pretty simple, but they offered it in two sizes, in both a 6 and 8 oz. One important thing to note - the fries don't come with the burger, and have to be ordered separately. The fries had a good flavor and texture (crispy on the outside, soft on the inside), but they could have been warmer. Flarké said the fries at Frank's usually come out better though.
-Here are our ratings on the cheeseburger and fries:
Average Rating: 3.87
Epicurious E.: 4.0
Flarké: 3.5
Hambone: 3.5
Betsy: 4.5

-And a breakdown of each of the components of the cheeseburger:
Bun: Bun was a thicker white cafeteria-style bun, not toasted. Flarké liked the bun-to-meat ratio here.
Meat: The patty was a good, thick-sized patty, with nice grill marks and a slight crust on the outside, juicy on the inside. The flavor of the meat was great and the meat could be tasted more because of the thicker sized patty. The 6 oz. patty was definitely enough for a lunch meal. =)
Cheese: Just American cheese.
Presentation and condiments: This is a simple diner, so the burger and fries came in a large basket, but there was plenty of space for the burger, fries, and some ketchup. There was salt and pepper on the table, but we had to ask for the condiments separately.
Frank's also offers fried hot dogs - I ordered one with slaw and chili. This was one of the better chili/slaw dogs I've had around here - chili was decently flavorful and the dog itself was juicy, but Edna's is still the best around Columbia so far.