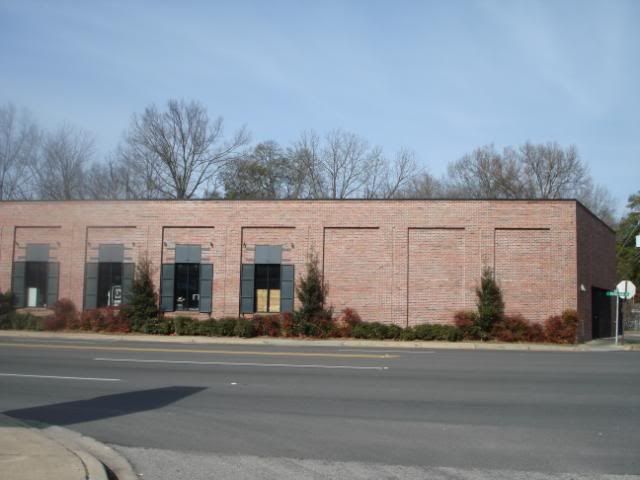 The sixth place on our cheeseburger crawl was Rockaway Athletic Club, on Rosewood Dr. I heard that this place used to be a true dive before it burned down, but with the rebuild, it is now a lot nicer. A lot of people are probably know this place because of a visit by President George W. Bush back in 2005, in which he ate one of their pimento cheeseburgers which they are known for. The place itself is one of those places you would never find even IF you were looking for it - there is no sign in front, and the only way you can find it is to look for the long brick building pictured above.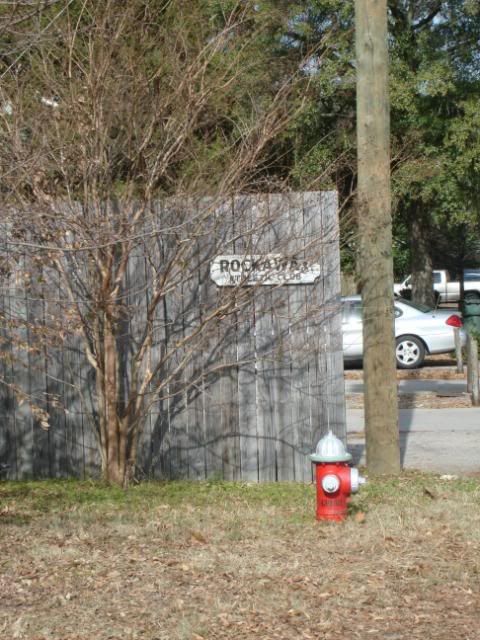 So this place does have one sign to identify it...it is just a really, really small one that is partially hidden behind a tree, and on a fence behind the parking lot of the actual building. =)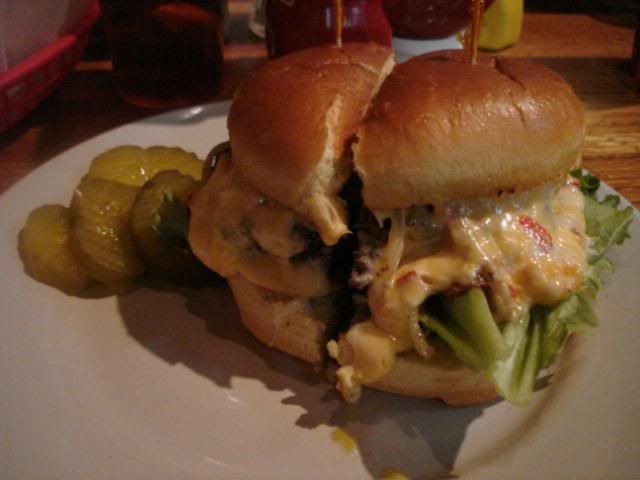 At Rockaway's, they offer a lot of different cheeseburgers, as well as sandwiches and other dishes, but I obviously had to order the Rockaway Pimento cheeseburger. =)

A couple of general comments before we get into the details about the cheeseburger and fries:

Hambone said: "This is the place to come to for a pimento cheeseburger." Hambone reported feeling sick afterwards, but said, "If it makes me feel really sick, it is really good."

Andy commented: "The pimento cheeseburger and pimento cheese fries are an interesting concept, but it could have been executed better."

Flarké commented that the cheeseburger was much better before the building burned down the first time, and would have rated a 4.0-4.5, but it was not as good now, although the bacon on the cheeseburger was well cooked.

Beandip, a regular on our cheeseburger crawls who doesn't usually eat cheeseburgers, had one at Rockaway's and concluded: "I haven't eaten a cheeseburger in over a year, but that was pretty damn good and I would eat another one."

For me, I found that the pickles were really sour to me, and so I didn't eat any. I found the burger itself to be a healthy size, just a bit smaller than Endzone Grill. They offer an option for grilled onions. The burger had a lot of pimento cheese on it, which made some of the ingredients slip around (e.g. grilled onion), and made it slightly messy for me.

-Here are our ratings on the cheeseburger and fries:
Average Rating: 3.75

Epicurious E.: 3.5
Andy: 3.5
Flarké: 3,5
Hambone: 4.5

-And a breakdown of each of the components of the cheeseburger:
Bun: It was a bit too thick and sometimes getting in the way of the flavor of the burger, and not toasted. I was a bit puzzled about the flavor of the bun; I think it is just your standard white restaurant bun, and when I asked about it, the person said it was just a regular white bun purchased in bulk from U.S. Foods. Andy didn't like the bun, he thought it was just an average store-bought bun, which I found to be a an accurate description of its flavor.

Meat: It was a thicker patty, and it came out overcooked and a bit dry for some of us
(as well as a little more flavorless for me). Flarké noted "Usually the burgers are undercooked (more of a medium rare), but today it came out overcooked (more of a well-done).

Cheese: They have a lot of different choices for cheese, including American, Swiss, Cheddar, as well as the pimento cheese. I thought the pimento cheese was pretty good, although Andy was not as impressed with it as he thought he was going to be.
Presentation and condiments: A white dish with lots of space, you order fries in a separate basket. Ketchup comes on the table, along with salt and pepper.
If you go to Rockaway's, I personally think the pimento cheese fries are a must-order. They usually come with the pimento cheese poured over the fries, but we ordered it on the side, to avoid the coagulation you get when the cheese gets cold. The Big W told us he heard the pimento cheese dip for the fries had some Velveeta cheese mixed in. I thought the fries by themselves were your average crinkle-cut french fries that were warm, but a tiny bit too crunchy. But, with the pimento cheese dip, it was much more delicious, although they can really fill you up fast though. Hambone says: "Melted pimento cheese to dip fries in is always a plus."