May 1, 2011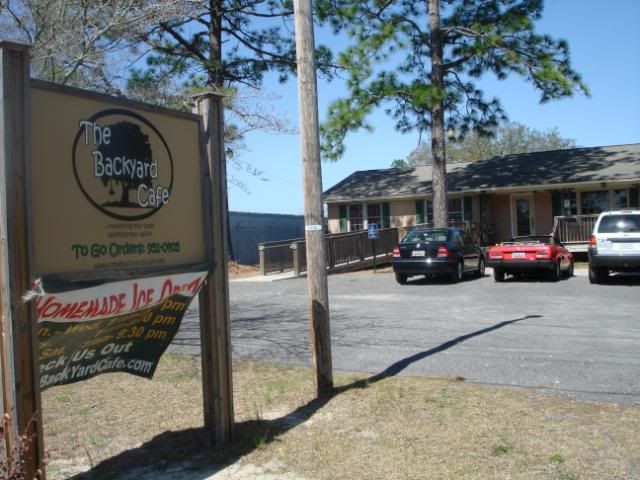 The tenth place on our cheeseburger crawl was The Backyard Cafe, a relatively new restaurant (by cheeseburger crawl standards - it only opened up in the last three years) in West Columbia. The first thing to note about this place is that it is really far away from the center of downtown Columbia, about a solid 20 minute drive...I really wish it was closer, because I would probably be going there much more often, but it is a bit far away for lunch if you want a quick bite to eat and you are in downtown. The second, more noticeable thing about this restaurant is that it is in a small converted one-story ranch house - basically, the outside still looks like a regular ol' house (and is in a residential neighborhood), but the inside walls were all knocked out to provide a homey locale for the Backyard Cafe.
This place was also the source of some drama among our cheeseburger crawl denizens. Yes, you may ask, rightly so: how in the world can you have drama over the rating of cheeseburgers? Well, it can happen - mainly because some of our venerable cheeseburger raters believed the cheeseburger offered at the Backyard Cafe violated our original competition rules - the patty was a lot bigger (more like the places we excluded from our list like Pawley's Front Porch) and it didn't really qualify as a dive or established local place because it has only been around for a couple of years. But, this was one of those times where I decided to put it on the list anyway because I felt that the cheeseburger was just within the bounds of the rules - I call my choice "editorial discretion." =)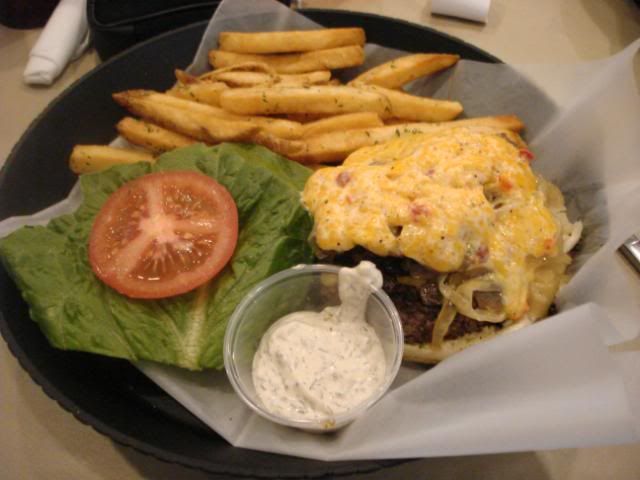 At the Backyard Cafe, they offer a whole bunch of other lunch dishes other than the burgers (including homemade ice cream, which is absolutely delicious, btw!), but their burger menu is also pretty varied, with bacon cheeseburgers, chili cheeseburgers, and even a garden burger for vegetarians out there. They don't automatically put ketchup and mustard in the cheeseburgers though - a problem which lowered the scores of Flarké particularly.
A couple of general comments about the cheeseburger: almost everyone who ate the burger (or other sandwiches) raved about their food. I ordered their pimento cheeseburger (pictured above), and thought it was the best I've had in Columbia so far - great quality meat, the patty and the burger bun were just big enough to make for a good-sized burger, without being too hard to eat (a problem I sometimes have with Pawley's Front Porch, but that is another post entirely, I suppose). They also provided a side of dill sauce, which added a great dimension of flavor to the cheeseburger which I liked. Andy excitedly commented: "Clearly, this is the best burger we've had so far - that's what a burger should be like."
-Here are our ratings on the cheeseburger and fries:
Average Rating: 4.125
Epicurious E.: 4.5
Flarké: 3.0
Hambone: 4.5
Andy: 4.5
-And a breakdown of each of the components of the cheeseburger:
Bun: The bun was a regular white burger bun, not toasted.
Meat: It was a thicker patty, nice grill marks, juicy, with a tasty, meaty flavor. Evidently they make handmade patties each day.
Cheese: They have a good variety of cheese toppings - from cheddar to bleu cheese and a homemade pimento. I lived the pimento cheese a lot - it was a really high quality cheese, lots of flavor, yet not too strong to be overpowering, and they melted the cheese well on the burger.
Fries: Slightly thicker-cut steak fries; they were fried perfectly, salted just right.
Presentation and condiments: Because this was a restaurant, they had a leg up on the presentation - a large, black plate for the burger. They did provide ketchup, but as Flarké noted, they didn't automatically put ketchup or mustard in the cheeseburger.