May 1, 2011
I know, I am incredibly late on finishing these cheeseburger tour posts, but fortunately, I took notes right after we ate the cheeseburgers at each of these places in 2010, so all the ratings and comments were still preserved for memory, even though it is now 2011. Better late than never, I guess? =P But I will finish up these last couple of posts, if only to make sure that I can declare a winner in the Columbia Cheeseburger Crawl!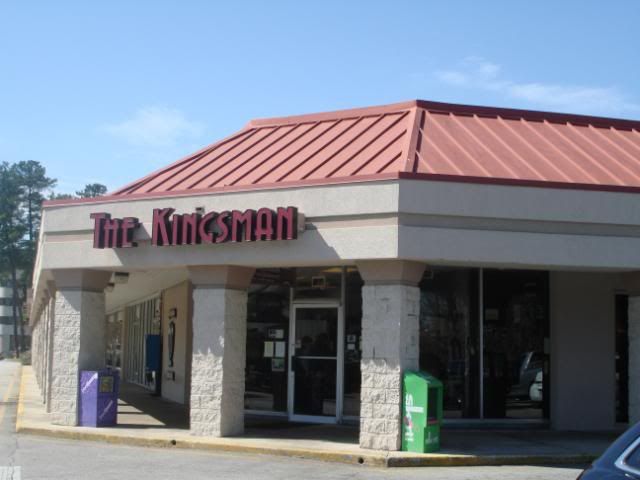 The ninth place on our cheeseburger crawl was the Kingsman, a local restaurant on Knox Abbot just over the Blossom St. bridge in the Parkland Shopping Center. It has a wide menu of sandwiches and other lunch fare, but I came here specifically to try their pimento cheeseburger (which is not that easy to find, even around here). During their lunch hour, it is really full and busy with locals - they have a counter up front, as well as two large busy rooms in the back.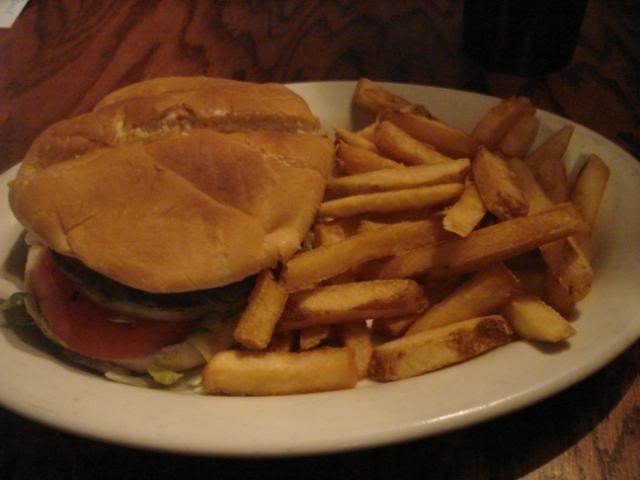 At the Kingsman, they offer a whole array of different cheeseburgers, from their "Famous Pimento Burger" to a bacon/mushroom cheeseburger, and a curious-sounding "Kingsman Pizza Burger".
A couple of general comments about the burgers: Flarké said "It's a commentless sort of place...this is the kind of place where you should only have the burger simply with mustard and ketchup, because adding stuff on it messes it up." Both Hambone and I ordered their "Famous Pimento Burger", but noted was that our buns, burger patties, and the pimento cheese were both cold, which was really odd, especially considering that I knew that they were cooking up burgers fresh, because I walked past their cooking area where they were flipping patties. Maybe they were just really busy or having an off day, but it definitely negatively affected the ratings of the cheeseburger.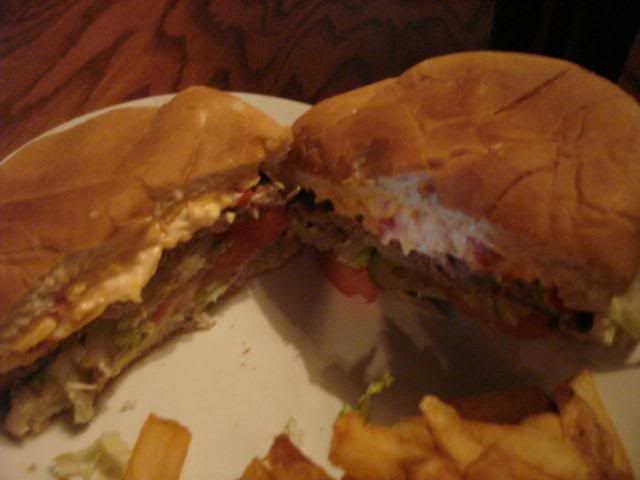 -Here are our ratings on the cheeseburger and fries:
Average Rating: 2.83
Epicurious E.: 2.0
Flarké: 2.5
Hambone: 3.0
-And a breakdown of each of the components of the cheeseburger:
Bun: The bun was a slimmer white bun, not toasted.
Meat: It was a slimmer patty, and again, the meat was kind of cold. Strange, because it is cooked fresh. Only slightly flavored.
Cheese: They offer a lot of different kinds of cheeses (cheddar, mozzerella, and of course, pimento). The pimento cheese had an interesting flavor – even though it was cold, and not really melted, it had that a sharp pimento as well as a slight cheddar component as well.
Fries: They offered steak fries, which weren't bad, but they could have been crispier.


Presentation and condiments: The burgers came on a simple large white plate; it was appreciated that the burger was already cut in half! They had a nice variety of condiments on the table – both ketchup, A-1 sauce, salt and pepper.