May 1, 2011
After living in the South for awhile, I figured it was time to try Jestine's Kitchen because I wanted to see what the restaurant's true identity was - a massive tourist trap with tremendously overrated Southern food, or a venerable Charleston institution that was worthy of the label and the long wait in line. Just reading the reviews made me kind of curious, just to find out if this restaurant was more Dr. Jekyll or Mr. Hyde, because at a certain point, food is either good or not, isn't it? Unfortunately, the answer to that is actually no, it depends on how much experience you have eating a certain food (i.e. have you grown up with a particular cuisine your entire life, or is it your first time eating it?). And yes, there is a long line and wait for this restaurant, especially on the weekends, so if you feel like eating here, unfortunately, it isn't as simple as "let me just show up and try their food."
So, if you're interested in going to Jestine's Kitchen for the first time, I am going to offer two different answers (they are kind of tongue-in-cheek, only because I figure I might as well have some fun with this), depending on which group you fall into, but y'all are first going to have to answer one question: Have you grown up in the South, or lived here for more than five years? If yes, go to
answer #1
. If you said no, because you are a visitor from the Northeast, Midwest, West coast, or possibly overseas, I suppose, or you haven't lived in the South long enough to be have tried any, or very little, Southern food, then go to
answer #2
.
Answer #1:
You like Southern food. A lot. You don't go outside to go and bbq hot dogs or hamburgers, etc., because you know that bbq is properly used as a noun, not a verb - you obviously go and grill out, or cook out. Sweet tea runs through your veins. You say "Yes Ma'am, Yes Sir" or "No Ma'am, No Sir" and possibly "Bless Your Heart" without thinking twice, and will smack your child silly if they don't do the same thing.
Thus, because you have lived a true Southern life, you are going to be EXTRA irritated by the wait for Jestine's Kitchen. You are going to grouse about it, complain about all the tourists who don't know any better while waiting in line, and then when you finally eat their food, you are going to be able to easily name five or more different restaurants (either meat-and-threes, or southern buffets) off the top of your head that have better Southern food than this place, which you wouldn't have to wait long for. So my advice, if you really still want to see what the big hubbub is about, I advise only trying their food in the wintertime during the low tide of tourist season. Because a long wait isn't worth what you are going to eat, because you have undoubtedly already eaten something better some time during your life here. And Jestine's Kitchen does offer decently good Southern food (although a bit more expensive than usual), just not enough to justify all the craziness you are going to have to experience just to eat it.
Answer #2:
You are a visitor that isn't from the South and wants to visit Charleston because you heard it is a nice, charming Southern city (and it is, btw). You do go out and bbq hot dogs/burgers on the weekend or Memorial Day, and have never been corrected on your usage of the word "bbq". When you order "tea" at a restaurant, you expect it to be just regular ol' iced tea without any sugar, or maybe hot in a china cup, but definitely not so saturated with sugar that it could possibly put a diabetic person into an instant coma. If someone says "Yes Ma'am, Yes Sir" or "No Ma'am, No Sir" to you, you are probably going to look at them quizzically and then ask them to call you something else, because when they say that to you, it makes you feel kind of old.
Because you are what Southerners label as a "Yankee" (or even worse, if you are from the crazy West Coast, and don't even get a label), you should go to Jestine's Kitchen for your visit to Charleston whether it is fall, winter, spring, or summer, because it is likely going to be among the best Southern food you are likely ever going to get outside of the South. You will be ok with the wait, because you probably have waited in line for an hour to eat something before, and it really isn't going to be that big of a deal for you, especially because you are on vacation and don't plan to visit Charleston/the South again for a little while at least. The food at Jestine's Kitchen will definitely be the most authentic Southern food that has ever entered your mouth, and you will come out of the restaurant happy that you went.
Ok, now onto the important stuff - the food. =) I came with a bigger party for this meal, and so I got to try a lot more food than I usually do. We ordered an appetizer for the table, an order of fried green tomatoes. It was decent, but I wish the fried batter coating was a bit thicker, because it flaked off it a bit easily.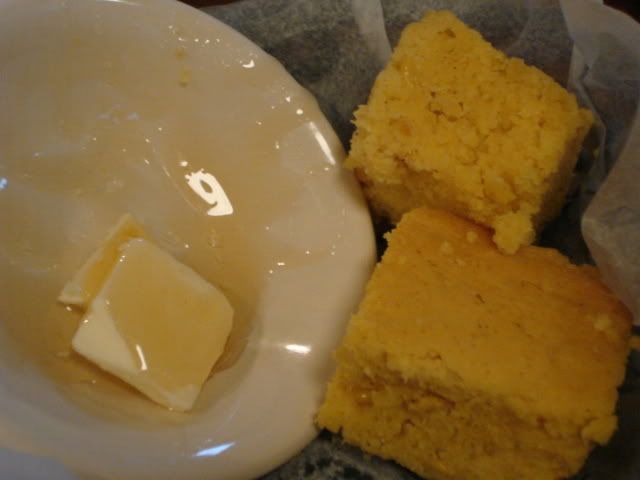 An order of cornbread - there is no more important accompaniment to any Southern meal than cornbread, and it was decently good here - not dry, and I liked that they put honey with the butter.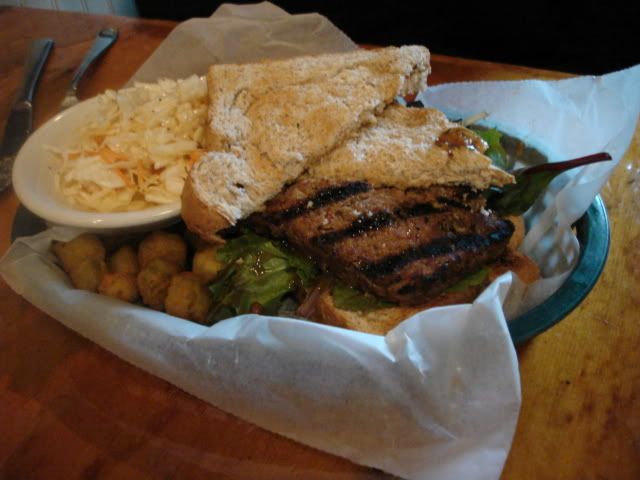 The first of several entrees we ordered for the table - a meatloaf sandwich, with some fried okra (yum, I always enjoy fried okra!) and cole slaw.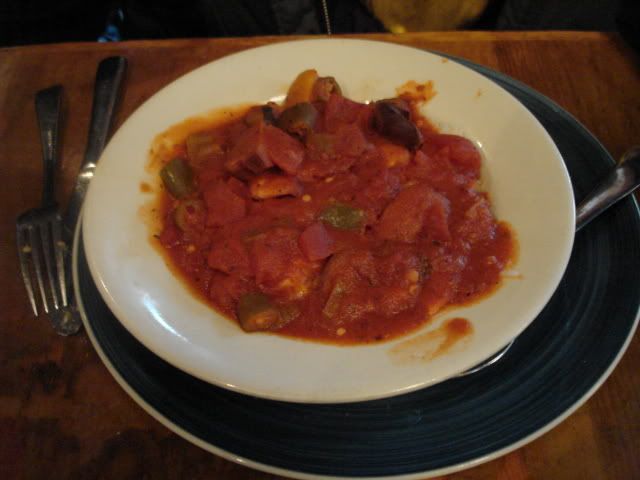 One of the daily specials that Jestine's Kitchen offers - a shrimp and sausage gumbo. I liked it a lot - it was thick, slightly spicy and very flavorful.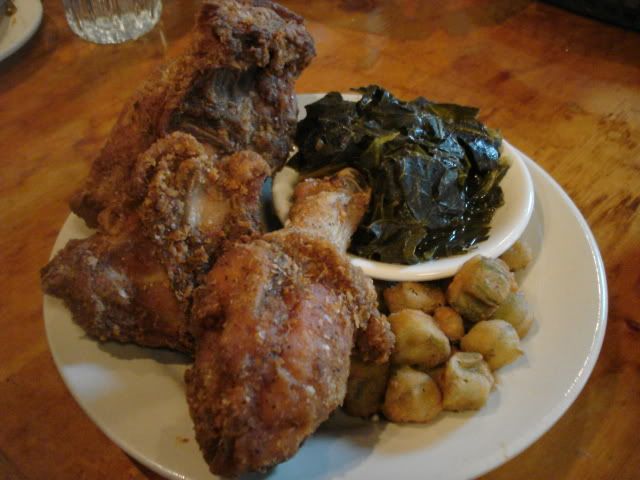 The entree I ordered for myself - some fried chicken. The first thing that caught my eye about this fried chicken platter was how GIGANTIC the fried chicken pieces were. They were seriously the biggest I had seriously ever seen - the photos really don't convey how large it was. Regardless, the fried chicken was good - it was crispy on the outside, juicy on the inside, decent amount of salt and other spices. Not the best fried chicken I've ever had, but definitely within the second tier of good, quality fried chicken.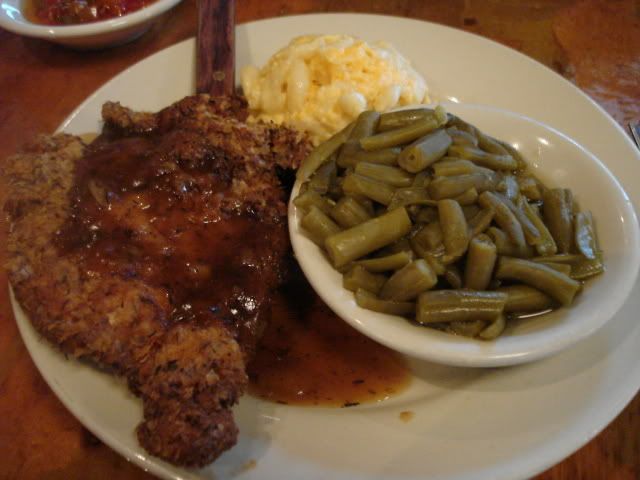 The last entree we ordered, the fried pork chop plate, with a side of green beans and mac and cheese. This pork chop was pretty delicious - I loved the breading on the pork chop, and it was decently juicy on the inside as well.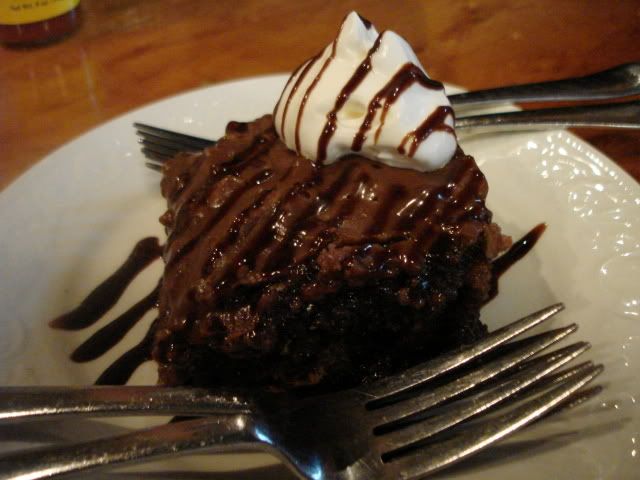 For dessert, we ordered a slice of Jestine's Kitchen's coca-cola cake. This was an excellent slice of cake - admittedly, I didn't taste the coca-cola really, but it was rich, moist, and sweet. Definitely something you must order if you go.