So, I don't remember why we chose to eat at
Sanafir
- I think because it had an upstairs lounge that had some potential. Anyway, the restaurant itself was a bit crowded for me - a lot of long tables, where everyone sits closely together - =P, invading my bubble,
bleh
. But, it was good to change up the food we were eating, and tapas dining is always fun, because even if you don't like one dish, there isn't much of it, and you can just try another one.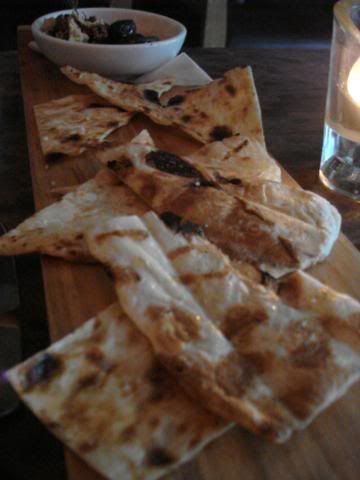 Sanafir's
bread and olive presentation - everything was served on these long wooden plates - perhaps a theme?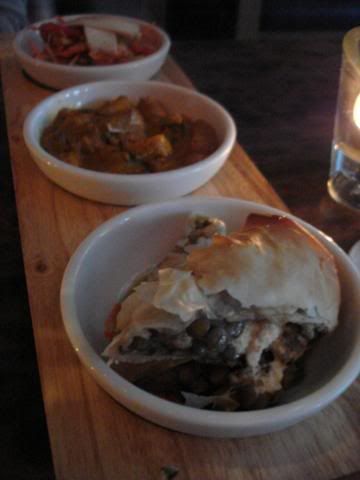 The first three tapas dishes we ordered, from top to bottom:
thai
vegetable salad with marinated tofu, seasonal squash and cashew curry, and
morrocan
spiced grilled vegetables and lentils wrapped in
philo
dough.
The interesting thing about this tapas place was that the plates drew from all different kinds of international cuisine - a good example of this were the dishes we ordered above - we tried the three vegetarian dishes offered by the restaurant, and they all had different flavors -
thai
,
indian
, and
morrocan
. Fun and interesting - what I think tapas restaurants should be like.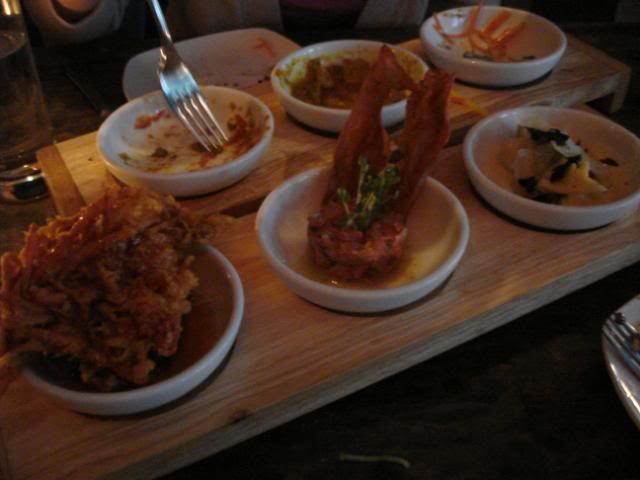 The next three dishes, from left to right: A crispy pork
pakora
with mango mint puree (it was very fried, and pretty sweet), a salmon tartar, and an oxtail
cappellitti
with white truffle cream sauce and
Parmesan
reggiano
(I remember not liking this dish at all - it was kind of plain and bland, even with the truffle sauce).
I didn't write down the next three dishes we ordered, but the center dish is something we ordered seconds of: the
thai
vegetable dish.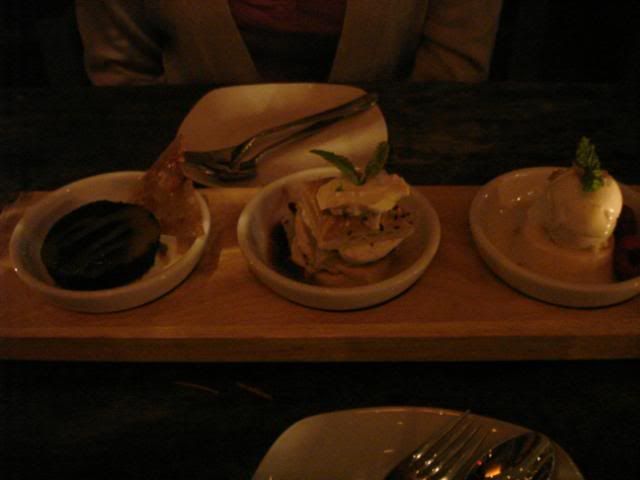 Our three desserts: a chocolate cake, something I don't remember, and a cardamom yogurt/ice cream, I think. Getting to order three different desserts is always good for me especially. =)