We had one last meal before we left Vancouver, a brunch at the restaurant attached to our hotel. While hotel restaurants usually aren't the best places to go, this restaurant, Elixir, was actually decent, and it was nice to have a breakfast meal.
Note: we actually went to two different breakfast places, but I was scared to take photos at the first place, The Elbow Room - they said they would yell at anyone who didn't finish their breakfast - so me and Jen were careful to finish everything. At the Elbow Room, they say "Food and service is our name, ABUSE is our game (so have some fun!)" - so you can see what kind of place it was - I didn't want to be yelled at just for taking photos, even if it was all in good fun. =P It was packed with locals, though, and it a good place to visit if you are interested in breakfast.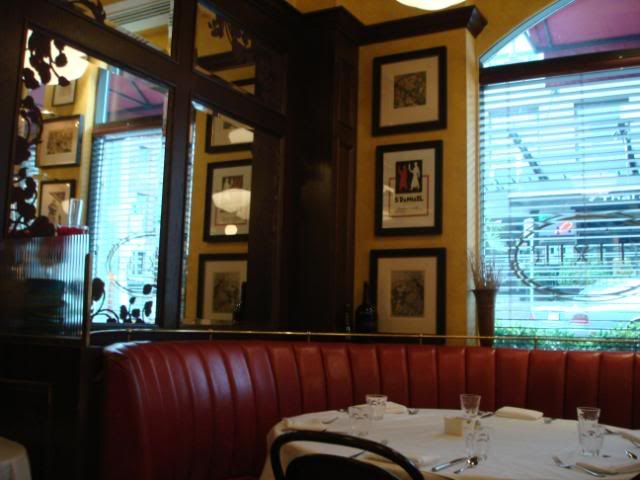 Ok
, so back to our brunch - this is a photo of the inside of Elixir - it has a french bistro restaurant kind of feel.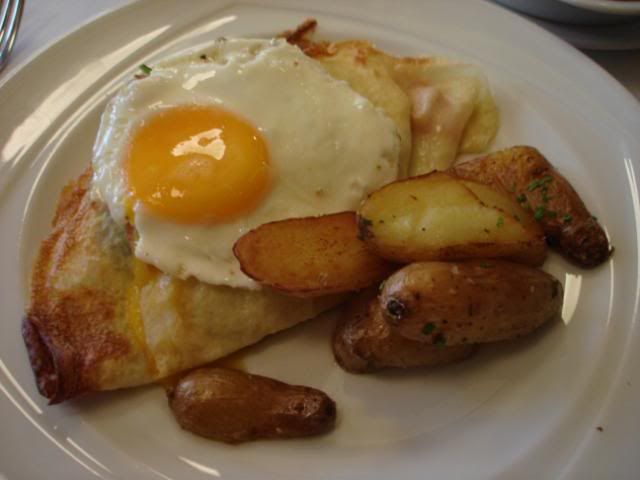 Jen ordered a "crepe
pannequet
" - a crepe filled with spinach, tomatoes, ham,
gruyere
, topped with a sunny side up egg, with a side of fingerling potatoes. Jen loved the potatoes - me, not so much, but that is because I like crunchy skillet breakfast potatoes (the kind cooked with onions and bell peppers).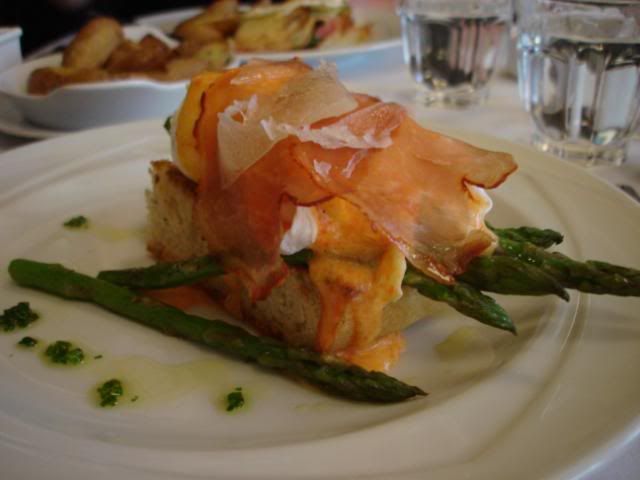 I ordered the "Poached Eggs Catalan" - the layers, from bottom to top - olive
foccacia
, asparagus, poached eggs,
lomo
embuchado
(a dry cured ham from Spain), and shavings of
manchego
on top (sheep's cheese). It came with a
piquillo
smoked
hollandaise
sauce. I especially liked the presentation of this breakfast dish - usually breakfast dishes are
homestyle
, which is always great, but it is always nice to see something arranged in an interesting way.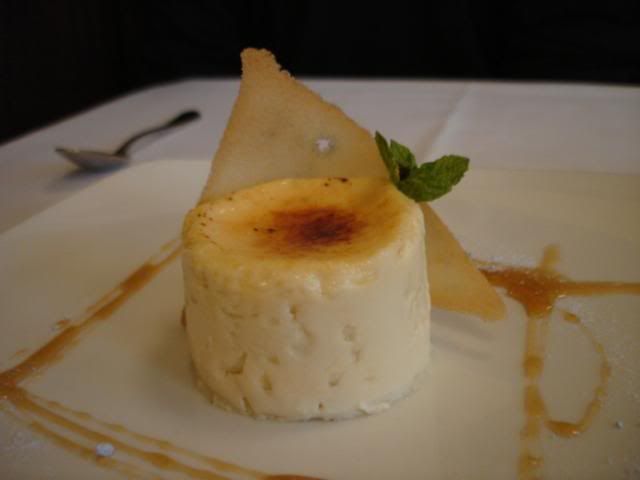 Even though we just technically had two breakfast dishes, we still ordered dessert. In retrospect, a dessert right after breakfast doesn't really sound appealing to me, but we must have wanted to have a dessert for some reason, I suppose. Anyway, it was a creme
brulee
with lavender, purple violent
tuile
, and an
espresso
reduction. Like my other dish, I liked the presentation - usually
brulees
are in a small dish or bowl, but seeing a twist on the presentation is always interesting for me.