While we were in Las Vegas, we took the opportunity to eat at Fleur De Lys at the Mandalay Bay resort. (A random note: the seating in the restaurant definetly needs to be improved...when we went, there were way too many tables for the space, and the seating felt really crowded...) Lucky for us, Chef Hubert Keller (of Top Chef: Masters fame, for anyone that follows the show) happened to be at the restaurant that night (he is usually at the Fleur De Lys he first established in San Francisco), and we had the chance to enjoy an extremely creative and beautifully presented meal.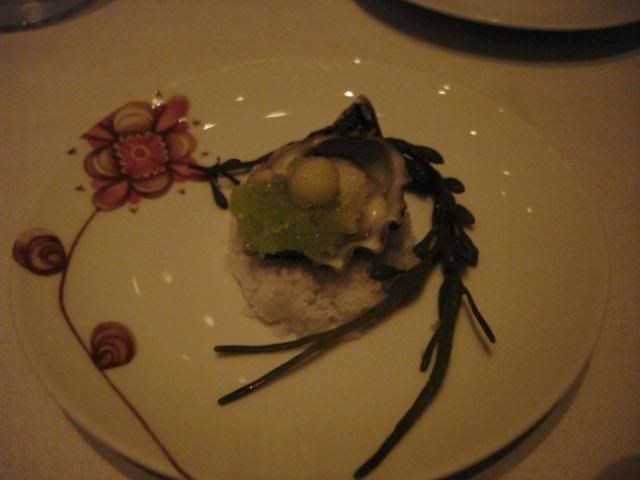 Our first dish was a raw Kumamoto oyster (Jen's favorite!), with a topping of an apple granite. I especially loved the pop of green in the presentation. When a chef starts out with something this beautiful as an apertif, you know you are in for a good meal!


Next was a foie-gras cappuccino topped with a porcini mushroom. The description makes it sounds kind of odd, but it was actually a foie-gras soup with a foamy top to imitate a cappuccino without no actual coffee flavor. I was quite fascinated by the presentation, actually – and the foie gras cappuccino had a deep, warm flavor to enjoy.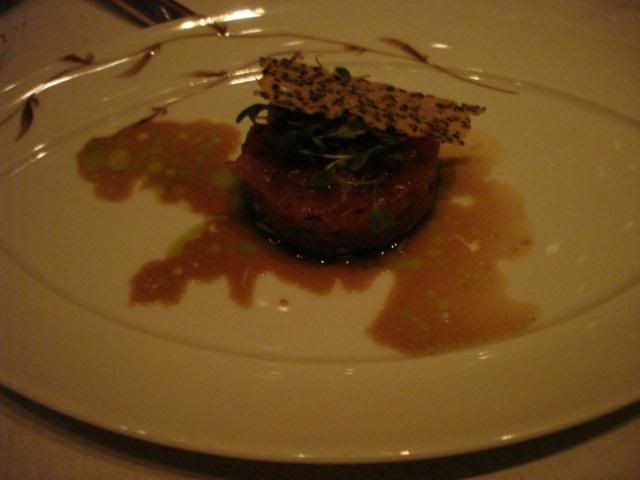 A tuna tartare with ginger ponzu sauce.
Apologies for the poor framing of this next photo (yes, I need to take a photography class =P!). The fourth dish was a foie gras terrine with brioche (the bread you see in the background). Unlike the previous foie gras dish, the flavor of the foie gras here was much denser, but equally as enjoyable.
A slow-cooked salmon, with julienned vegetables. The texture of the salmon was quite interesting - not flaky, as one would experience if the salmon was baked; it more closely resembled the raw form of salmon in texture (softer and springier, I suppose), but it was fully cooked through.
A wonderfully tender seared duck breast, with duck confit and some baby bok choy. I always appreciate a well-prepared dish like this, with thicker cuts of duck breast; simple, but delicious.
Next, a dish before the desserts, to cleanse our pallets: fruit, topped with a basil ice cream. I would never think of making (much less eating) a basil-flavored ice cream, but it turned out well, with just enough of the basil essence to make it interesting without being too overwhelming.
The first of two desserts: a chocolate feast. I love variety in general, and this was perfect way to enjoy chocolate in its different forms: clockwise from top, a chocolate pot d'crème, a chocolate macademia tart, a chocolate mille fieu, and a chocolate cake. In the center is a chocolate sorbet.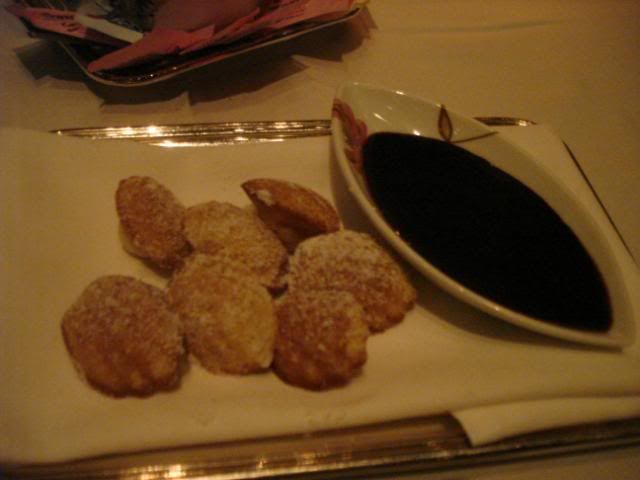 We ended with a set of freshly baked mandelines with chocolate sauce. Bravo, Chef Keller! =)