I stumbled onto this place while searching for good lunch places in the Santa Ana area (as anyone who is friends with me knows, one of the primary things I think about in the morning is where I am going to eat for lunch). It is a bit of a drive from downtown Santa Ana, but well worth it! (A note for anyone eating at this place…DON'T do take out for these hot dogs…they are freshly grilled, and I discovered that everything gets really soggy extremely fast if it sits in a bag for too long! =P ). To avoid that this time, I went with my friend Huong, and we ate at the restaurant. Incredibly busy, though!
As the name of this place implies, they grill their hot dogs (and sausages) over a wood fired grill. What a great idea…brilliant in its simplicity. They need to spread these restaurants to more places!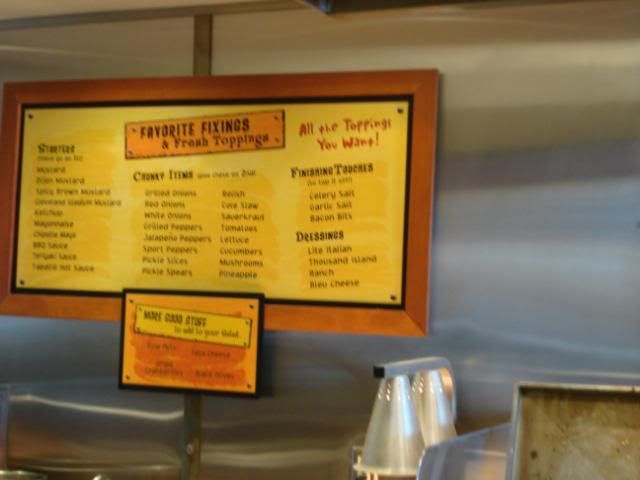 They take their hot dogs and sausages seriously here…there are tons of different toppings that you can put on your dog. It is really tempting to load up on everything that you like…but your hot dog ends up being impossible to eat in the end (this, I learned from my first unfortunate experience, where I asked them to put on seven toppings, including cole slaw…it tasted good, but there was too much going on at the same time, and it made for a ridiculously impossible hot dog to eat!)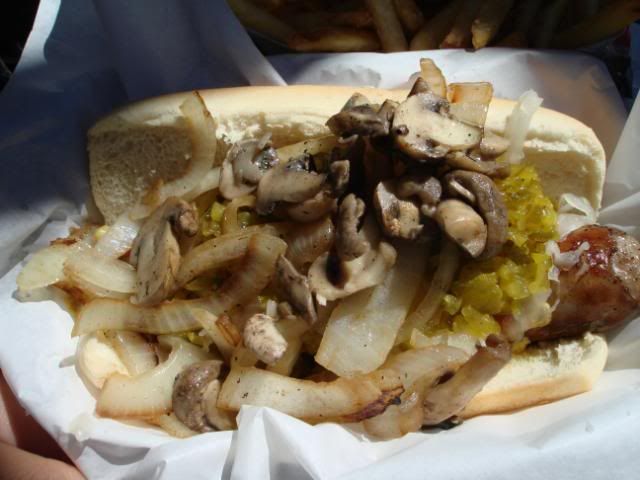 I ordered a Baja Dog, with ketchup, grilled onions, relish, and mushrooms.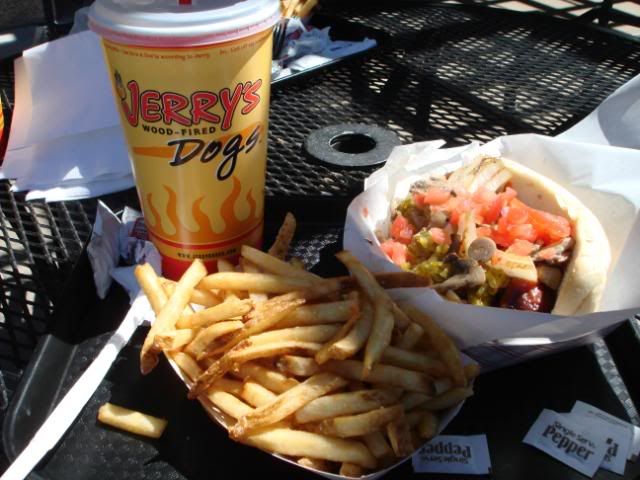 Huong ordered a Bavarian bratwurst with ketchup, spicy brown mustard, saukraut, relish, mushrooms, grilled onions, and tomatoies. We both completed the meal with some french fries. Sometimes, the flavor of a well-grilled hot dog is impossible to beat! Go Jerry!