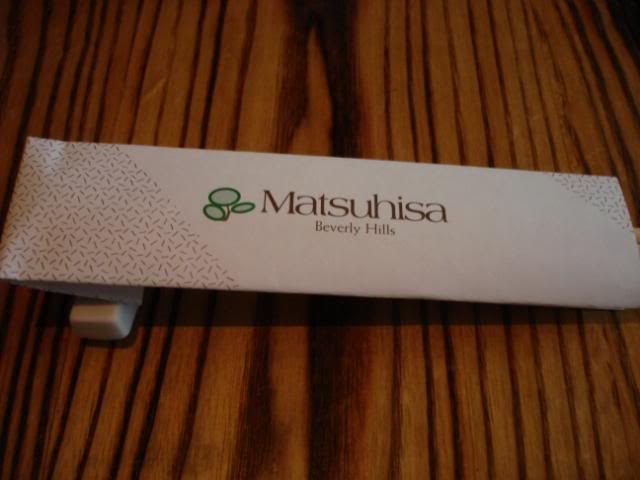 As far as Japanese restaurants in Los Angeles (and probably the United States, for that matter) go, this place almost needs no introduction, but I will give it a try anyway. For the past two and a half decades, Chef Nobu Matsuhisa has been at the forefront of Japanese fusion cuisine. Many people probably know of the restaurants he started up with actor Robert DeNiro - the simply named "Nobu", that have been springing up in all major metropolitan areas (Iron Chef Morimoto used to work at the Nobu in New York before starting his own line of restaurants). But Matsuhisa, on La Cienega in Beverly Hills, is the one and only original restaurant of Nobu Matsuhisa. (As a random side note, it is right across from Lawry's The Prime Rib...If I died and went to heaven, I would live right smack dab in the middle of these two restaurants). Unlike Nobu, which tends to be a lot trendier and more modern, Matsuhisa is a simple, clean, and unassuming Japanese restaurant on the outside and inside. The food is anything but unassuming. For me, it is the among the best (if not THE best) in Los Angeles. The omakase here is absolutely phenomenal (please look at my post for "The Hump" if you don't know about omakase), although it definetly can get on the expensive side. I've had the omakase here many times, and I've never been disappointed. If you love Japanese food, then the omakase here is one of the places you have to try at least once before going on to the great beyond. Here are the omakase dishes we were served the last time we went there: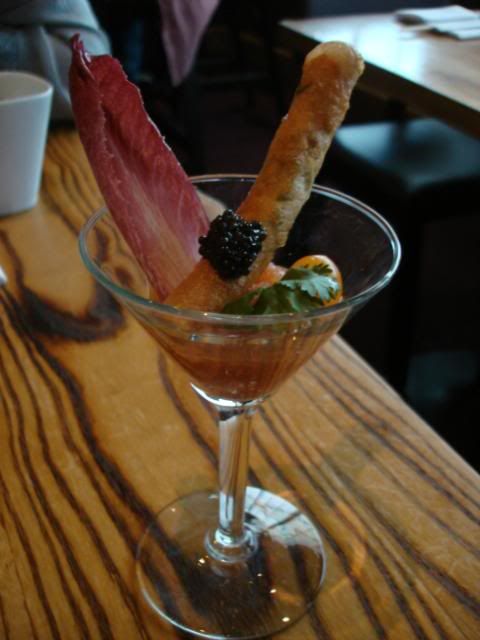 First, we were served a seafood appetizer. It was an eggroll (with shitake mushroom and shrimp inside, with caviar on top). It was served with a maui onion sauce, a daikon pepper, and a small cherry tomato.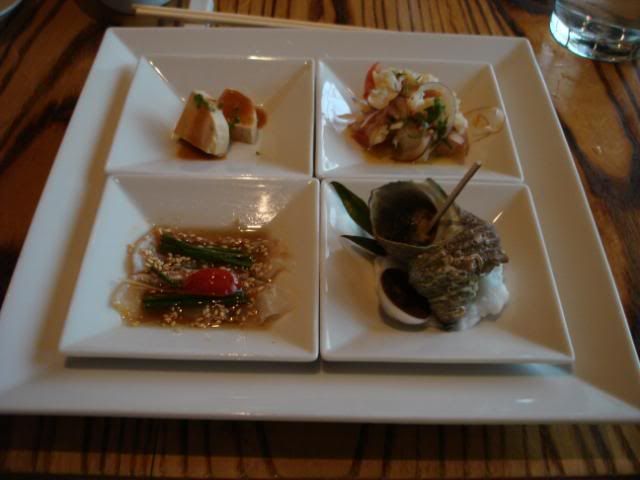 Next was our first main course: From the left upper corner: monkfish liver with sweet miso, a lobster ceviche, conch with parsley and butter, and halibut sashimi with olive oil and sesame seeds. The ingredients here were top notch, but I have to admit, I wasn't really a fan of the conch - it was a bit too chewy for my tastes.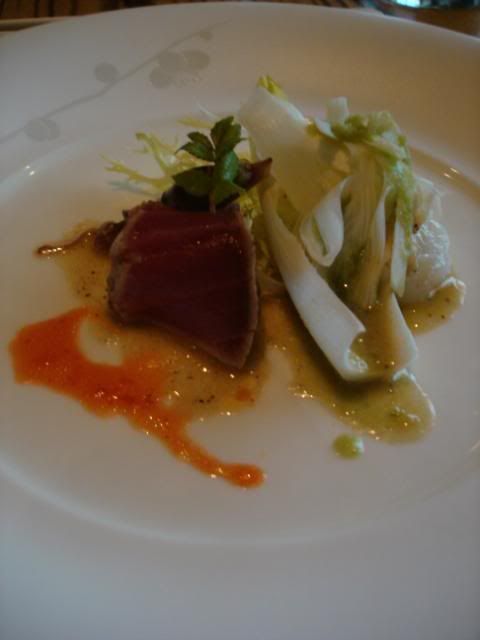 A sashimi salad, with tuna and baby squid from Japan. The red sauce on the plate is jalapeno sauce on the left and a citrus sauce on the right.
Next, we were served a chilean sea bass with truffles (the pink vegetable is baby ginger, btw). The sauce was a citrus soy sauce with butter. I liked this dish a lot, but I was sad - I was really looking forward to Matsuhisa's black cod with miso, and this dish just didn't compare.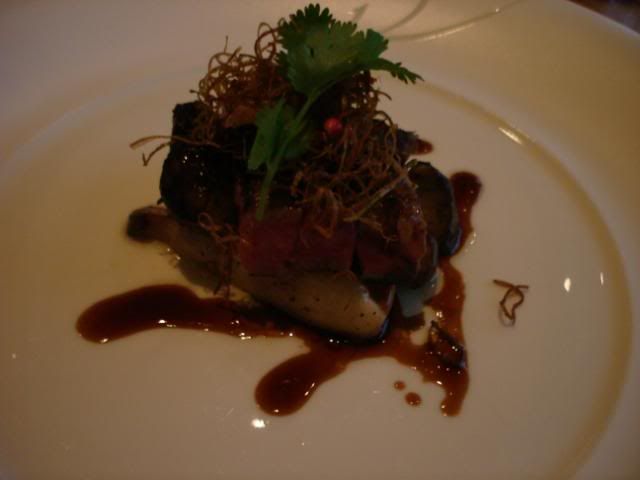 For the past decade and a half, Matsuhisa has been including Japanese kobe beef with every omakase (at least, every omakase that I've had so far). Here is a japanese kobe beef topped with crunchy onions and mushrooms, served with a miso peppercorn sauce. I could have enjoyed another two or three of these. =)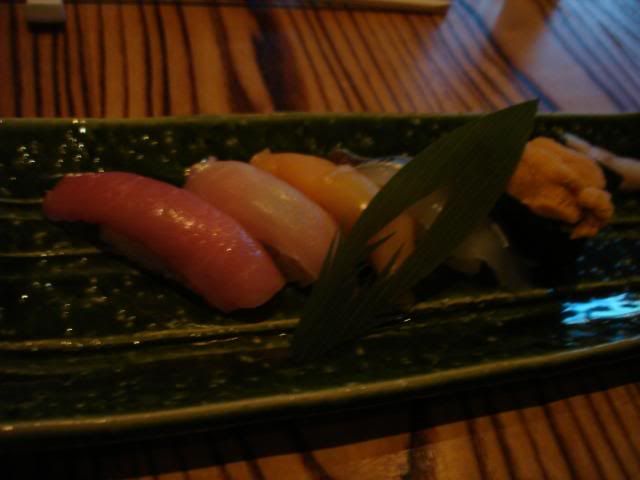 No omakase would be complete without assorted nigiri sushi - from right to left: sea urchin, silver needlefish, clam, golden snapper, otoro. And as always, as you can tell from the color and texture of the fish, the quality of the fish was as good as you can get anywhere.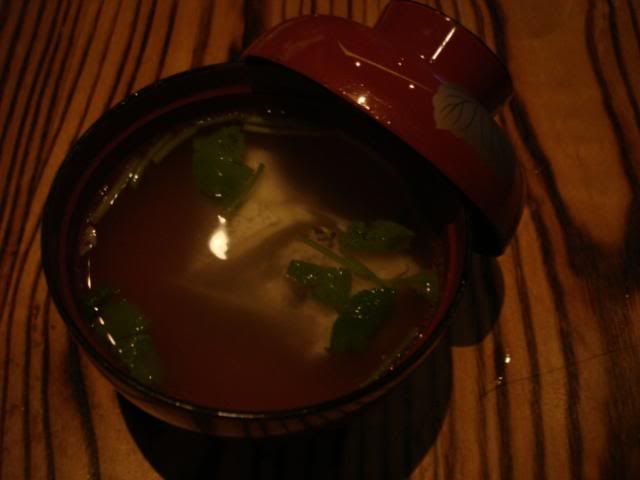 Time to clean up the palate before dessert - this was a snapper head soup, bushido style. Very warm and comforting.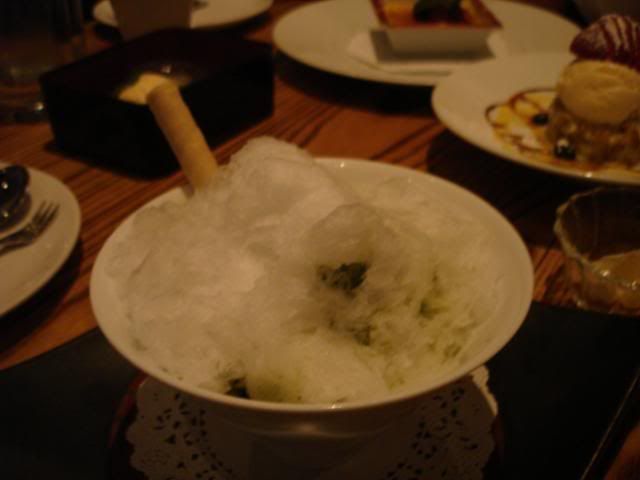 So, here is the first of our desserts - a shaved ice with a green tea sauce, and a wafer flake on the side.
A picture of the inside: white chocolate ice cream with red bean on the bottom.
A creme brulee - probably the least popular of the desserts we ordered (the omakase actually came with one dessert, but being the dessert gluttons that we are, we ordered a WHOLE bunch more. So much that after we finished ordering it, our waiter asked us in suprise, "All of it?!" Yes, all of it...and yes, we are pigs =). But well-fed pigs).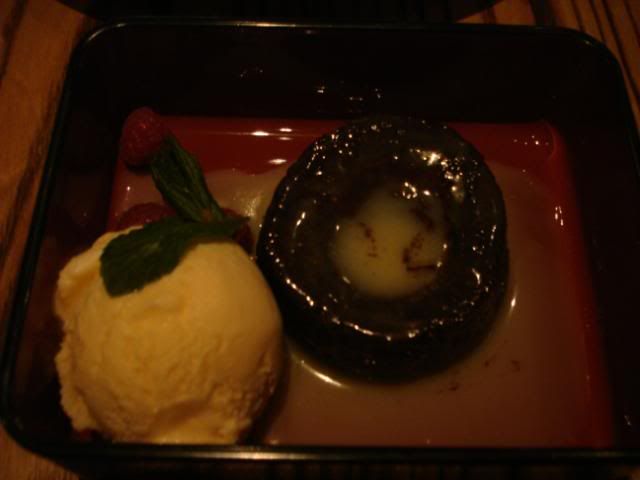 A chocolate souffle, with vanilla ice cream.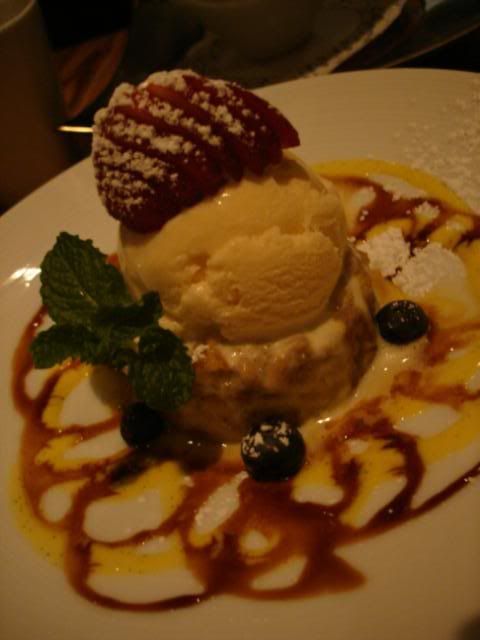 A banana cake.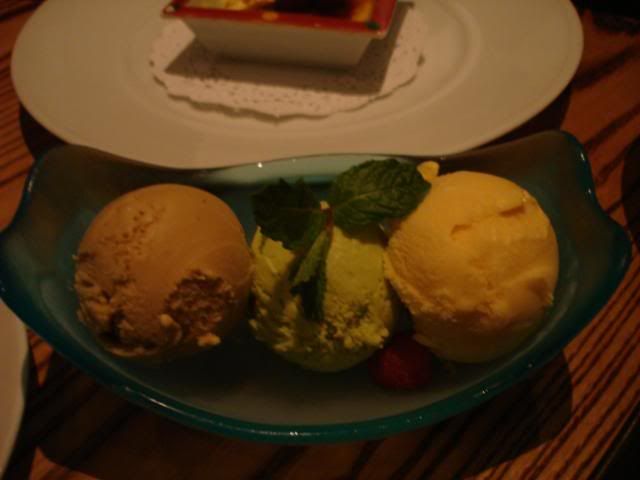 And the last of the desserts, which was definetly the most popular of the night. From right to left: brown tea ice cream, asparagus ice cream, and nobu beer ice cream. The nobu beer ice cream flavor was absolute genius, which I can only describe as sweet creamy beer goodness. And yes, the asparagus ice cream in the middle had a faint asparagus flavor - not for the timid. All in all, an excellent meal - thank you Matsuhisa!