One of my favorite foods for lunch is a good sandwich, and one of my favorite sandwiches (other than a good chicken salad sandwich) is a Vietnamese french bread sandwich (aka bahn mi, in Vietnamese). The foodie in me loves bahn mi because when it is done well, there are a lot of different aspects to enjoy - from the warm outer texture of a freshly baked french baguette to the sweet crunchy pickled carrots and daikon inside, cilantro, pate spread, and various Vietnamese sliced meats (and for those that love spicy foods, the sliced chili peppers, which I take out!). And the part of me that enjoys a cheap meal (which started in Berkeley during college; I appreciated anything cheap, good, and filling that makes a good meal) loves bahn mi because a sandwich is no more than $2.25 a sandwich, and that is on the expensive end...normally, they are between $1.50 and $2.00.
Here are a couple of my favorite bahn mi places in Los Angeles and Orange County, introduced to me by different Viet friends of mine over the years: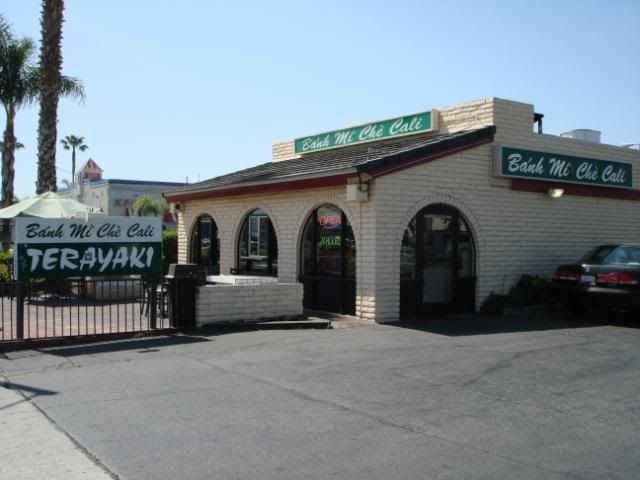 This first one is a photo of Bahn Mi Che Cali - although there are not as many of these as the ubiquitous Lee's Sandwiches, they are expanding from the Little Saigon area in Orange County to parts of the SGV in Los Angeles, and the sandwiches here are MUCH better than Lee's Sandwiches - kind of like comparing McDonald's to In-N-Out. One of the greatest things about Bahn Mi Che Cali is their "Buy 2, get 1 free" special (just when you thought it couldn't get cheaper!!)

This particular store is the one closest to me that I often drive to - on the southern part of Brookhurst in Fountain Valley. A random note - I heard from my friend David that the best Bahn Mi Che Cali is somewhere north of here (I think on Bolsa?), because there are Viet grandmothers making it at that location, which makes it better! =) I never personally confirmed it, but amusing nevertheless.


A photo of the sandwich itself. The bread here is usually soft, with a slightly crunchy outside - although the bread quality does up and down depending on the location - I heard some of the newer places in the SGV may be having some quality control problems. =(. It is a good size - one can definitely constitute a whole meal, and they are also very liberal with the sandwich filling - lots of pickled vegetables, etc.


A close-up photo of the bahn mi, for those who are a bit more unfamiliar with bahn mi. Here is Vietnamese Sandwich making 101: every bahn mi comes with the long, skinny pieces of orange and white are the pickled carrot and daikon, cilantro, and tot viewable is a mayo/pate spread that they often put in Vietnamese bahn mi. What varies in each bahn mi is the meat filling - in this one, the pink and white sliced meats are various Vietnamese meats (ham, etc.).


Mr. Baguette is on Valley Blvd. (btw. Walnut Grove and Rosemead Blvd) right on the border of Rosemead/San Gabriel, and it is one of my favorite places in the San Gabriel Valley for a bahn mi because they offer it with a different type of french bread than the regular places.


Mr. Baguette offers a french baguette with sesame, which makes for an interesting change on the standard taste and texture of the bahn mi. You can get either the sesame baguette or the regular baguette (see below).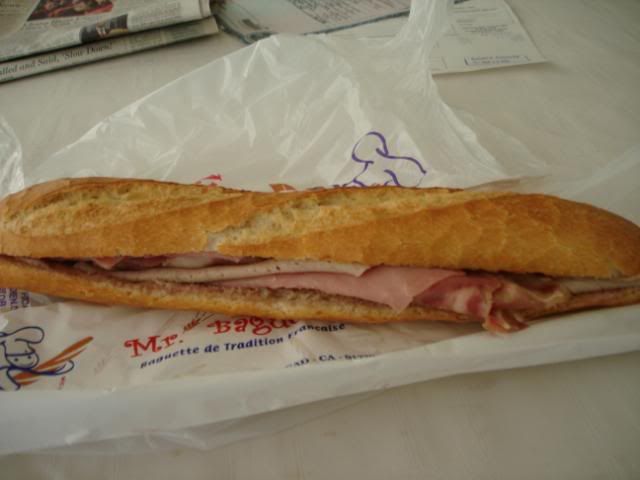 A photo of a bahn mi without sesame: the baguette here is very fresh, but is more on the thin and crunchy side than Bahn Mi Che Cali, which might appeal to those who don't like the soft, chewy texture of other baguettes.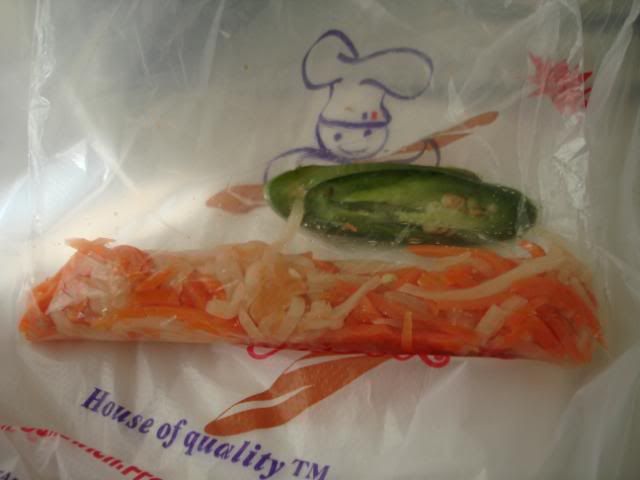 Mr. Baguette separates out the pickled vegetables and the chili peppers, so it doesn't make the sandwich soggy, and keeps the ingredients fresher in case the bahn mi is taken to go; it is a small touch, but something which I appreciate greatly! =) (especially since I usually have to go hunting for the chili peppers to take them out of the sandwich, since I don't like to have it spicy).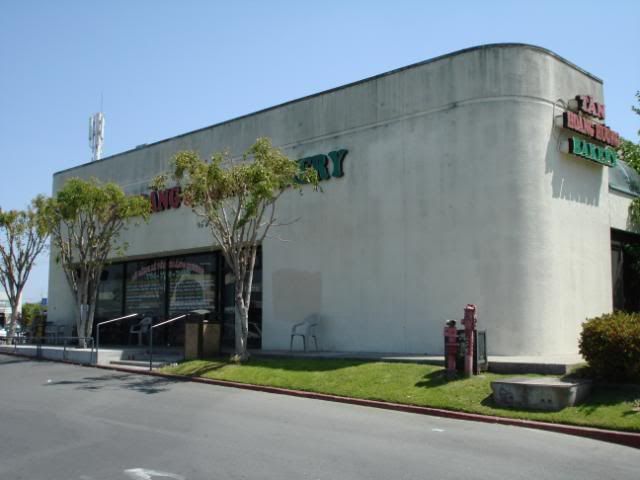 Here is my favorite banh mi place in Los Angeles/Orange County: a place named "Tan Hoang Huong Bakery"; it is in a small plaza on the corner of Edinger and Ward in Fountain Valley.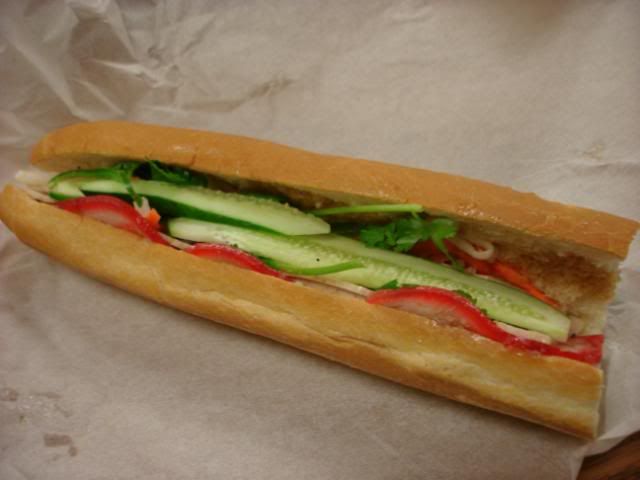 Here's why it's my favorite: the baguette is thick, slightly crunchy on the outside, with a soft and chewy texture in the middle. Also, they are liberal with the pickled vegetables, they add cucumber, and there is no mayo, just a pate spread. For me, this banh mi is incredibly delicious!

A type of Vietnamese spring roll with Vietnamese pork from Tan Hoang Huong Bakery with a dipping sauce; any good bahn mi place will offer other small dishes to order with the bahn mi like spring rolls, etc. (something which Bahn Mi Che cali does as well).