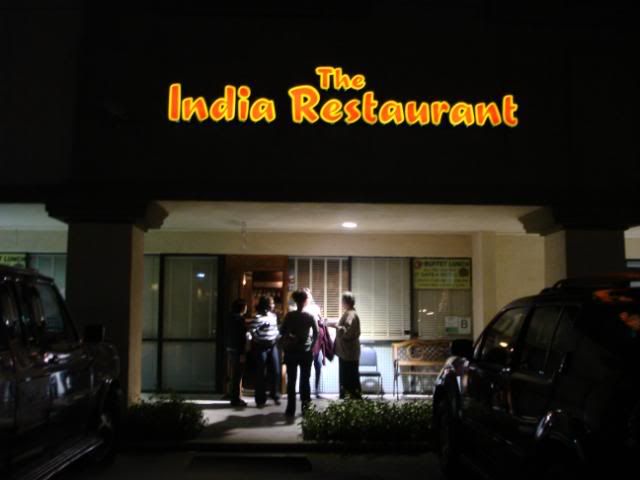 The India Restaurant in Artesia, CA (in the "Little India" area of Los Angeles, in case anyone was interested) offers some of the richest, spiciest Indian food I've ever had the opportunity to eat. They had a wide variety of food, and everything we ordered was incredibly flavorful and well-prepared. Although I can't eat Indian food all the time (I think my tastebuds would rebel because of the heat if I ate spicy food every day, sadly to say), a restaurant like this makes me want to go back again as much as I can!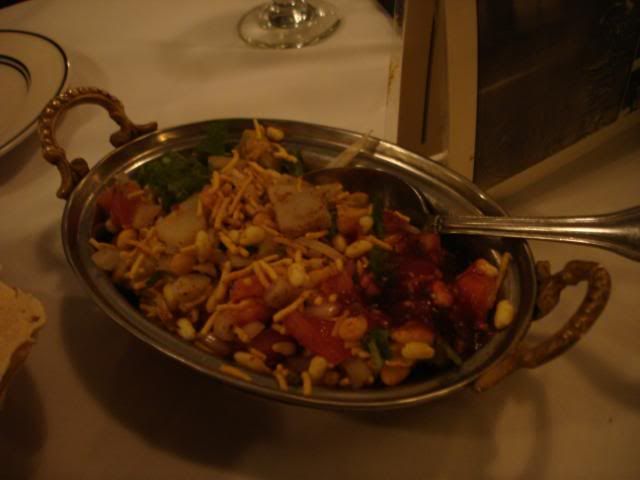 One of the two appetizers we ordered: Bhel Puree, which is also a typical Indian snack food. It is puffed rice, potato, onion, and tomato, mixed with a sweet and spicy mint sauce. I loved the contrast in texture of the puffed rice with the vegetables and the slight heat of the dish.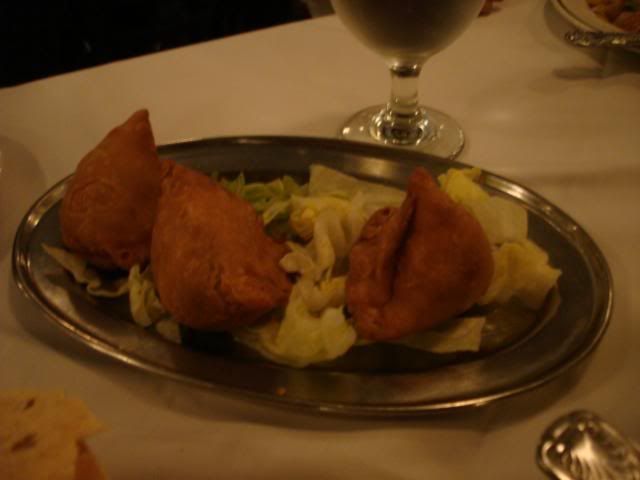 Our second appetizer - vegtable samosas, a tasty deep-fried treat filled with potato and peas.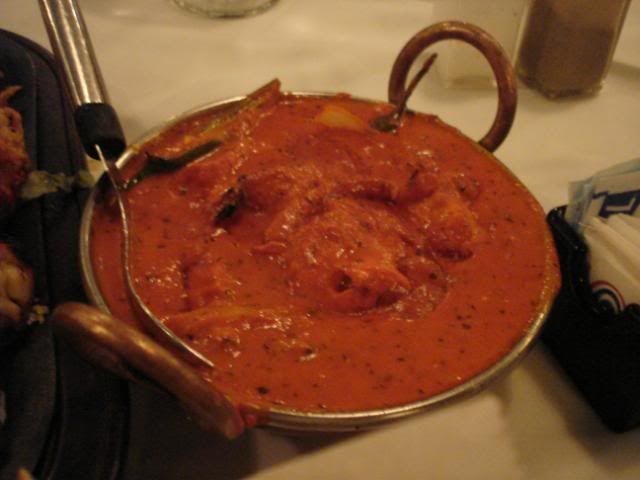 Chicken tikki masala is my favorite dish, and one I order wherever I go. Here, it is excellent, with a deep-bodied, yet mild creamy tomato flavor that I've never tasted before at any other Indian restaurant.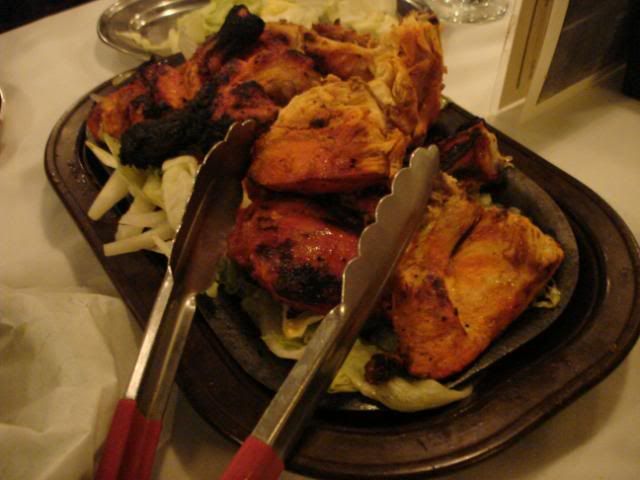 An order of their tandoori chicken - for those who have never ordered it, tandoori chicken is an excellent dish to start with if you've never tried Indian food before - the chicken is marinated in yogurt and spices, and then cooked in a clay tandoori oven. The tandoori chicken here isn't the best I've ever eaten (that is reserved for Mahan in Alhambra), but it was still prepared very well, juicy and flavorful.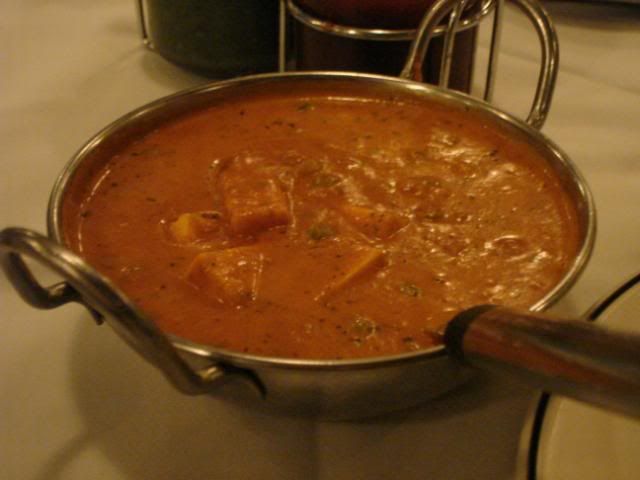 An order of their matar paneer - green peas, other vegetables, and cheese in a spicy curry sauce.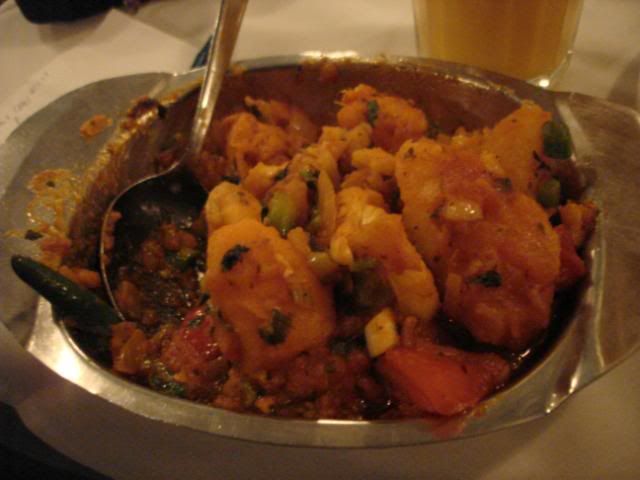 My favorite vegetarian dish - Aloo Gobi. Basically, it is cauliflower and potatoes cooked with spices. The dish was prepared excellently, if a bit too spicy for me, with a good ratio of cauliflower to potato (some other places are a bit too heavy with the potato).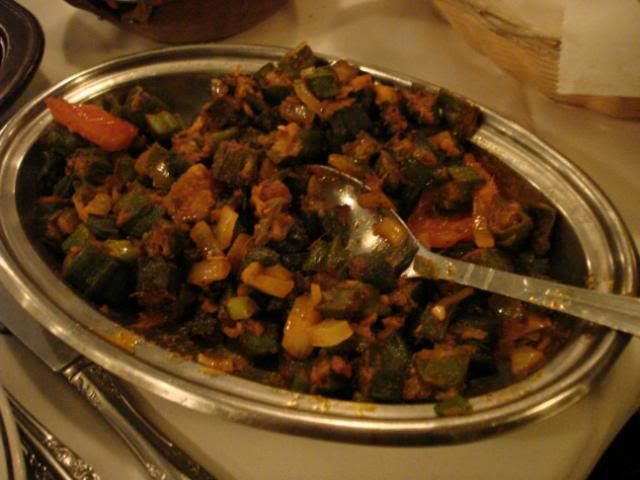 Another excellent vegetarian dish - Bhindi masala. It is okra, cooked with tomato, ginger, garlic, cilantro, and other spices.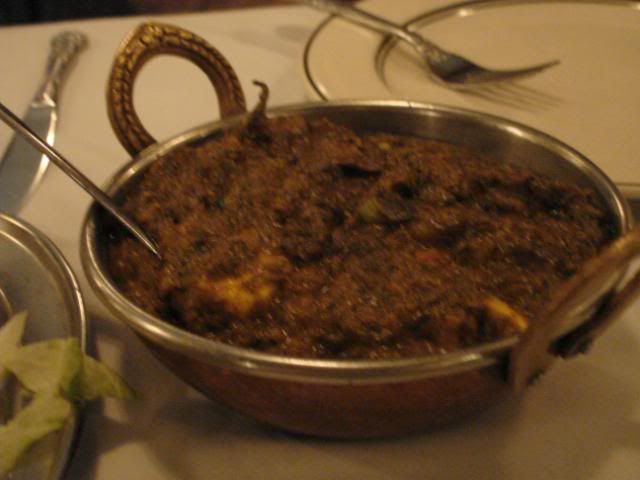 Palak paneer - spinach cooked with cheese and spices.