Little Pigs, in the northeastern part of Columbia, South Carolina, epitomizes southern cuisine to me in a nutshell. It is a southern BBQ buffet, something that does not exist with any regularity (as far as I know) anywhere else in the United States. Why, I have no idea - it is an absolutely delicious way for a self-avowed food glutton like myself to spend a meal...it is cheap (an average all-you-can-eat buffet costs no more than $8 bucks, including tax), there are tons of options (variety is always key for me), and the food is great - endless amounts of pulled pork, sides, and desserts. And I can't forget mentioning that every one of these places has sweet tea. Yum.
I know y'all who were born in the South are probably reading this and wondering "Why does he seem to be going so wild over this, it's just bbq?". Although it may be something common place here in the south, for me, all the bbq I've had so far I've encountered (in the west and elsewhere) has never been offered in a buffet style form, and definitely never served with pulled pork, which is a specialty in the Carolinas, or so I've learned. I've only had texas-style bbq so far in my life (tomato-based sauces, beef and pork ribs, etc.) Sad, I know. But I've been making up for it as much as I possibly can, believe me. =)
So I digress....back to Little Pigs. I wanted to talk about this place for my first post for the South, because not only does it represent a type of food which I absolutely love now, but also because Little Pigs does it well, and was among the best southern bbq buffets I've had here in Columbia.
Here is a wide-angle photo of the restaurant. It is in a random isolated area near the intersections of the I-77 and I-20 in northeastern Columbia. To me, it is typical in a lot of ways of the southern bbq buffets I've been to so far: (1) it is in a completely isolated location, which you would never pass by and could only get to by word-of mouth, and (2) the buildings are all really non-descript. You could pass by one and not even know of the yummy bbq delights inside the building unless you were looking for it.
A close-up of the Little Pigs sign: I agree, completely habit-forming, I count myself among those that have an addiction to Little Pigs (and all southern bbq, for that matter). An random thought...why does the "pig" come up in name of restaurants and other places more often in the South? Like Piggly Wiggly, the supermarket chain?
So, these next photos are of the southern food they offered at Little Pigs. The food they offered here is pretty representative of what I've encountered so far at southern bbq buffets, and so let's use this one as a primer. First, you've got your vegetable sides: potato salad, cole slaw, collard greens, and green beans.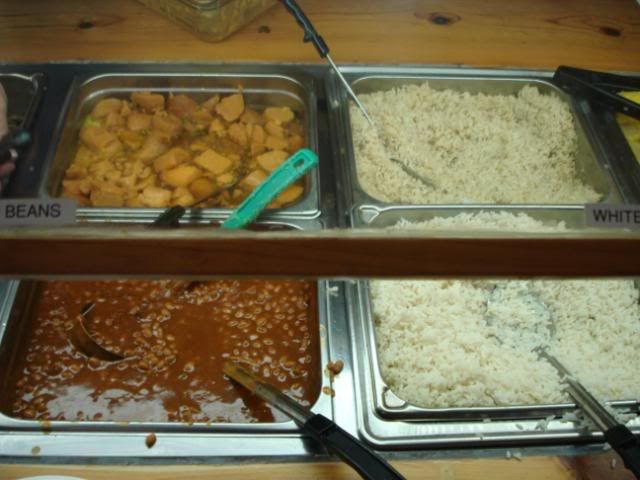 Next, beans and rice.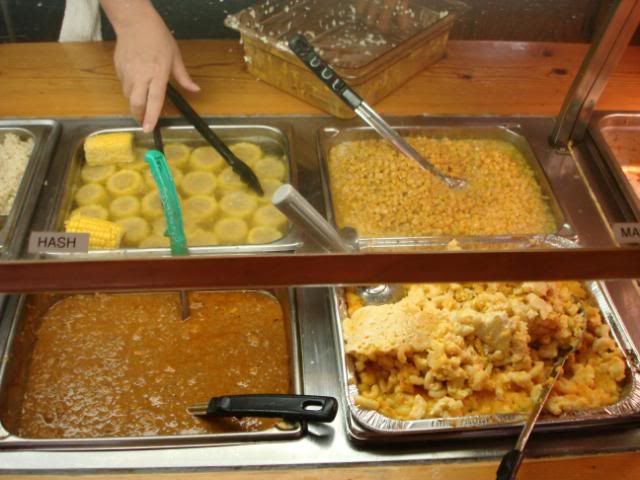 Next up: hash, corn, and some mac' and cheese. Hash is something that is completely local to South Carolina...I asked someone what it was made of, and they said it was chopped up bits of pork (which parts, I'm not sure...supposedly meat from the pork shoulder/rump, although I've heard people jokingly say there are other random parts in there, which I probably would be better off not knowing) in a tomato-based sauce. I would probably describe it as a meaty gravy, and it is delicious over some rice.
The main event: pulled pork. Here are two different types of pulled pork: on the left is vinegar-based (which most North Carolinians swear by), and on the right, mustard-based pulled pork (which is the South Carolina style pulled pork). People here take their bbq pork seriously, almost religiously. Vinegar-based bbq is more sour and spicy, while mustard-based bbq tends to taste on the whole a bit sweeter, and more smoky. I'm about to offend a whole state's worth of people, but so far, I've liked the mustard-based pulled pork more =). Sorry North Carolina!
Here are some chicken offerings: fried chicken and baked chicken.
Some fried delights: In the upper right corner are either fried chicken livers or fried gizzards (not 100% sure, thanks to Flarké and Hambone for the info), but below that are some potato chips, and on the right, fried okra on top, and hush puppies on the bottom.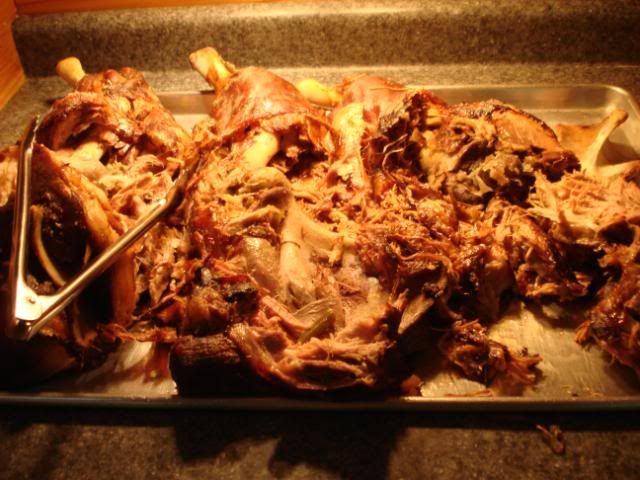 The piece de resistance at Little Pigs: several gigantic pieces of bbq pork, from which you use the tongs to just pull pieces off. The pork is so soft and tender that this is really easy to do. I've been told this is the way they serve their pulled pork in Georgia - no pre-sauced pork (which some people in the South say is the best way). It is an awesome way to serve pulled pork which I've only seen offered in Columbia at Little Pigs...I actually loved this style the most, because you can appreciate the flavor of the meat, and add sauce to your liking.
And you can't forget dessert at a place like this: some banana and chocolate pudding. Delicious! Now everyone loosen your belt a couple of notches. =)