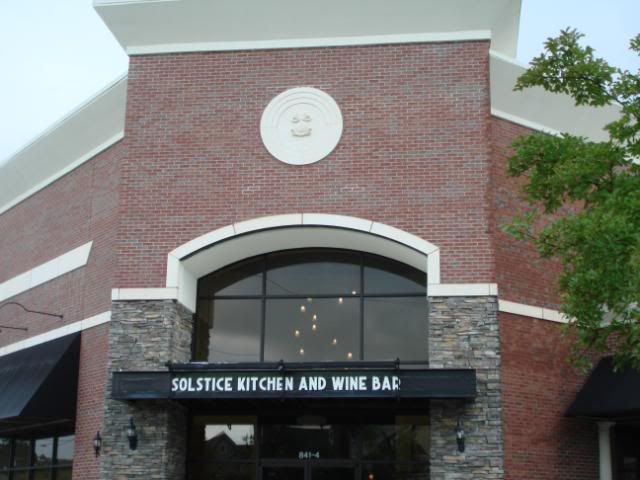 Solstice Kitchen is definitely one of the better high-end restaurants I've been to here in Columbia (as a side note, I would refrain from comparing the higher-end restaurants in Columbia to higher-end restaurants in cities like Atlanta, Charleston, and elsewhere - Columbia is a smaller city, and its higher-end restaurants are comparable in flavor/experience to middle tier restaurants in bigger cities); it specializes in dishes that I think are best described as modern, dressed-up Southern cuisine, with a touch of American Fusion cuisine here and there. The location is a bit out-of-the-way though, in Northeast Columbia off I-20, about 25 minutes from the center of downtown Columbia. Solstice Kitchen is run by the same owners as one of my favorite restaurants here in Columbia, Mr. Friendly's (which I haven't posted about yet only because I'm not really satisfied with my photos there so far). The restaurant has a relaxed, warm atmosphere, and is a great date place, if you are looking for a private place with good food. My only criticism of this restaurant is that they need to vary their sauces more (see below). Here are the photos from a meal I had when I took the chance to come here for a celebratory event with my family: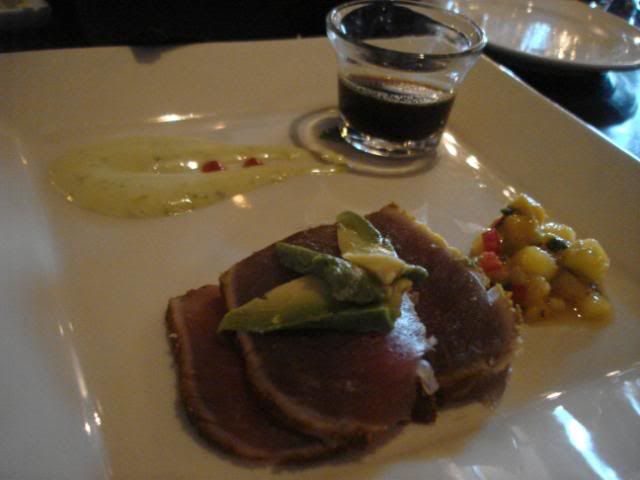 Our first appetizer, a rare yellowfin tuna with mango salsa and two sauces: a wasabi ponzu sauce (in the glass), and a basil-orange aioli with cilantro and sriracha. This is definitely a dish that I would characterize as American fusion, quite clearly inspired with Asian flavors (the wasabi ponzu from Japan, and the sriracha, a Vietnamese chili paste).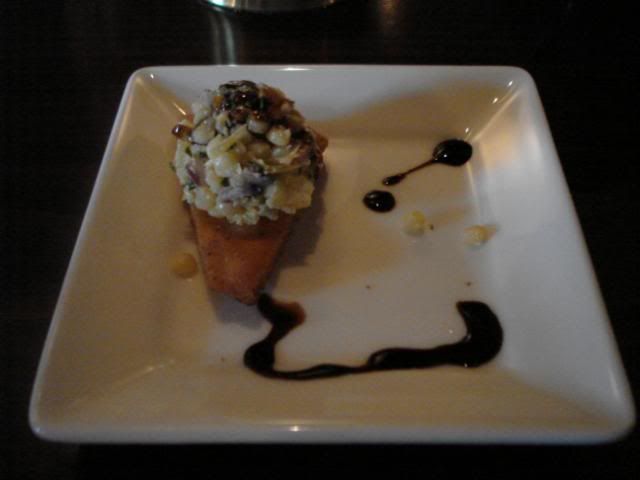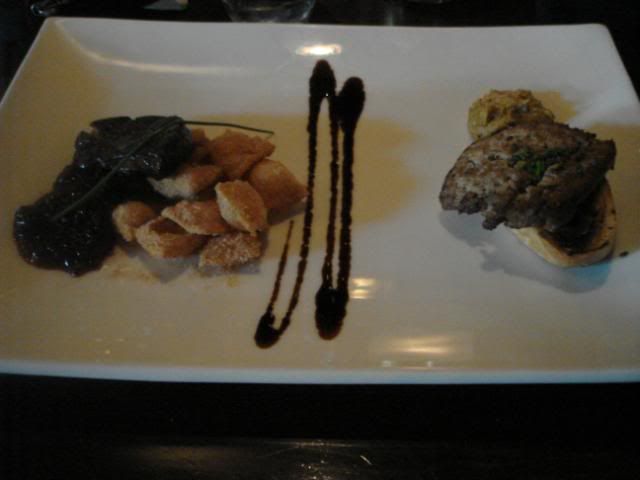 Another appetizer - foie gras prepared two ways: on the left, pan seared foie gras with a berry compote and a homemade cinnamon toast crunch (interesting twist, but I didn't really like the preparation, especially since I don't like foie gras paired with overly sweet elements), divided by balsamic vinegar in the center, and on the right, pan seared foie gras with coriander mustard and toasted garlic bread (much better, the spicy mustard definetly added a new dimension which I appreciated). As for the foie gras itself, I've had higher quality and better tasting foie gras elsewhere (the pieces here were a bit small), but I did like that I had the option to order it here.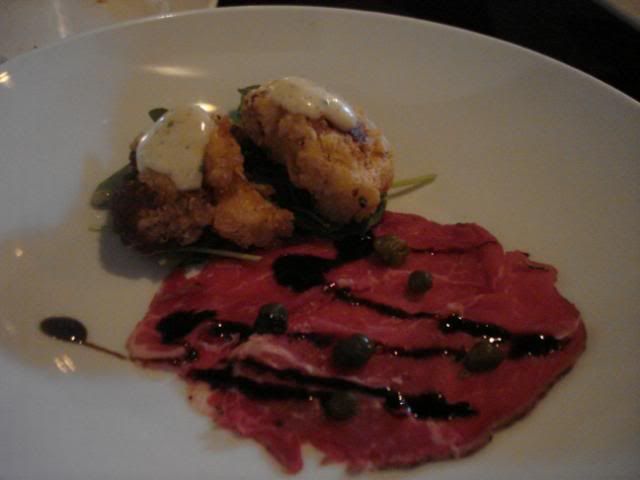 Our last appetizer, a beef tenderloin carpaccio with a black pepper aioli and capers, with fried cauliflower at the top.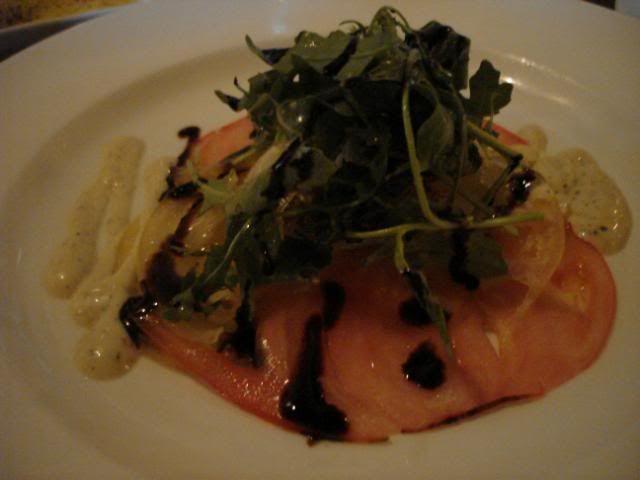 One of the salads we ordered: a "Three Way Tomato Salad", with vine ripened, heirloom, and fried green tomatoes, along with the black pepper aioli and a goat cheese sauce. By this dish, I really started to notice that the restaurant (at least with the dishes we ordered), seemed to rely really heavily on similar tasting sauces as accents (i.e. the black pepper aioli and the balsamic vinegar)...I kind of wish they varied the flavors a bit more, especially since Southern cuisine has a lot of different flavors not present in other types of American cuisine.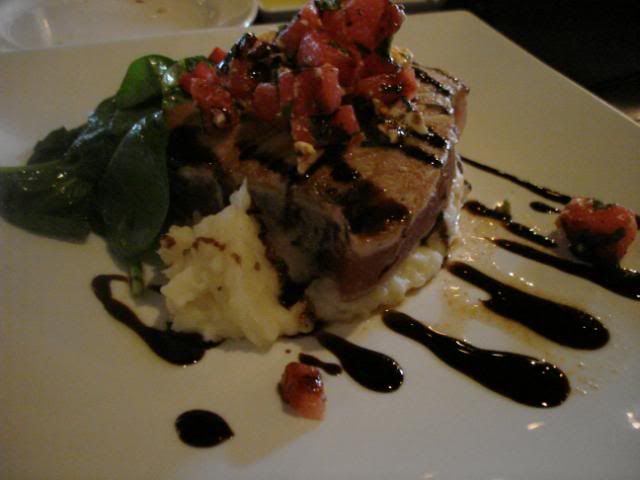 One of our main dishes: a "Mint Salt Seared Yellowfin Tuna" on top of buttermilk mashed potatoes, and sauteed spinach. This dish suffered from the same problem I mentioned above, namely the profusion of similar tasting dark sauces, this time a sweetened balsamic vinegar.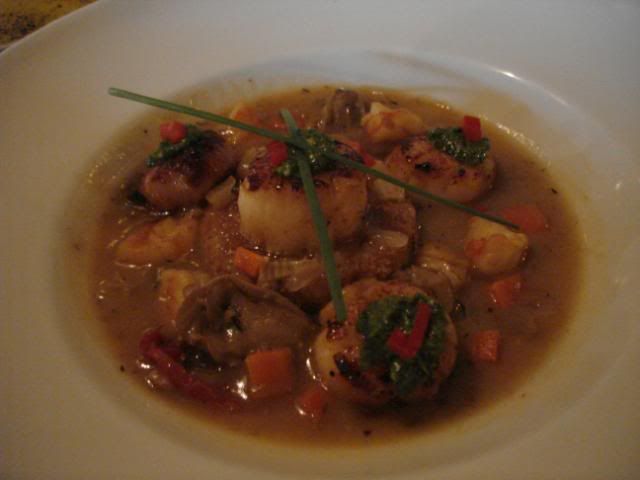 I hadn't eaten scallops in a long while, and when I saw this dish, I happily convinced one of the members of my family to order it: Sea scallops prepared in a low country shrimp and oyster stew, with polenta cake and an argula-basil pesto. This was one of the better dishes of the night, and I think the restaurant definitely prepares better quality food when it comes to making higher-end Southern cuisine.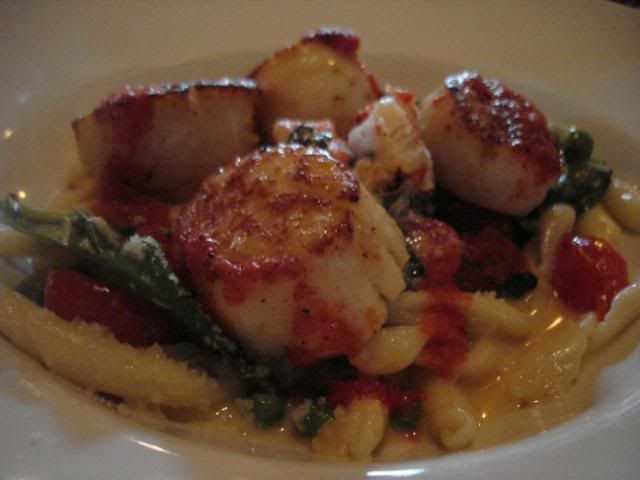 I guess that makes two of us that wanted scallops this evening: citrus seared scallops with fusilli pasta, grape tomatoes, spinach, green peas, and Parmesan cheese. I could have done without the cheese, but it wasn't too overpowering.
The last dish: I ordered the "Low Country Blackened Flat Iron Steak", with a gorgonzola mornay, paired with fried green tomatoes and buttermilk mashed potatoes. It was good, but this dish definitely did not need the sweetened balsamic vinegar; by this time, I figured that they used these darker sauces not so much for the flavor, but more as a visual accent. They could still have used a different flavored sauce. Seriously.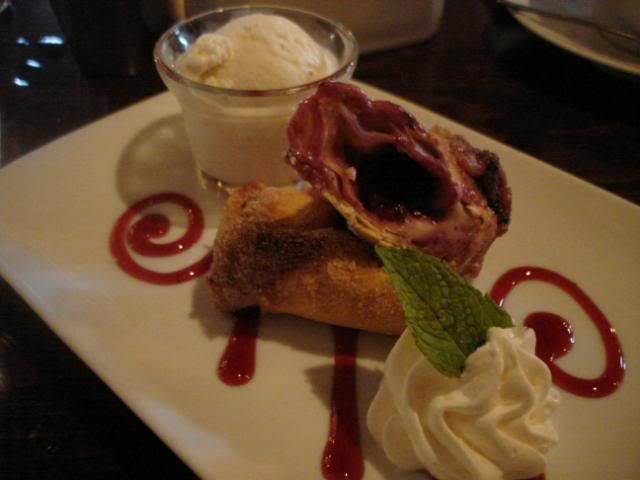 The first of our desserts: A wild berry spring roll topped with cinnamon sugar, with preserved lemon/thyme ice cream. If it was fried correctly and had a little less dough, it would have been the perfect dessert, but it was a bit soft, and the spring roll was a bit too thick. The ice cream was very good, though.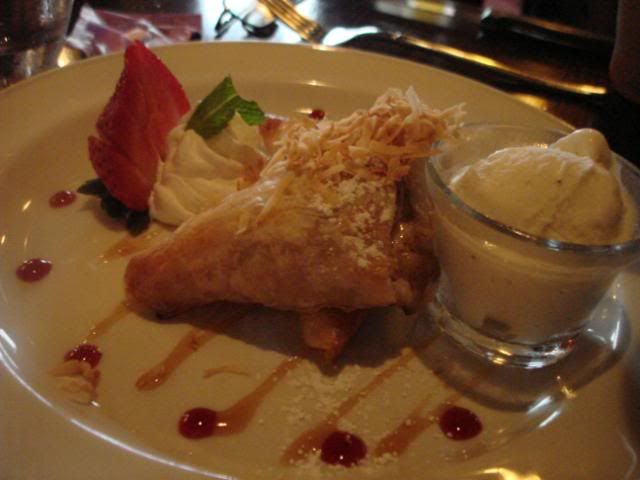 A "Bannana-kopita". Definitely the most interesting of the desserts: caramelized banana, vanilla marscapone with a phyllo-dough wrapping, served with a side of vanilla ice cream. Quite delicious!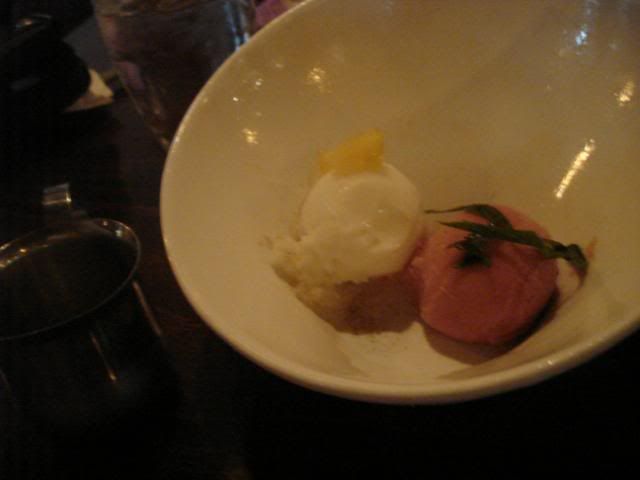 I'm always glad to see a sorbet dish on the menu; it never fails as a nice, light way to clean your palate and enjoy dessert at the same time. Here, they offered a strawberry and lemon sorbet.