Sun Ming is the only restaurant I would recommend in the area for more authentic Chinese food. The location is pretty convenient and accessible; it is off the I-26 in Irmo on St. Andrews Rd. right past the railroad tracks. All the other Chinese restaurants in this area aren't necessarily the worst Chinese food I've ever eaten (Miyo's, a very popular Chinese restaurant in the Columbia area, has decently fresh ingredients), but the flavor everywhere around here is always kind of light and/or bland, and generally just a little bit off compared to the chinese food I grew up with at home and at restaurants in the Los Angeles area. Sun Ming doesn't serve the best Chinese food I've ever eaten, but it is by far the best in this area.
A random note for anyone that might be interested: I have heard that Sun Ming also serves dim sum, but I have not confirmed on what days they do this, nor the quality and breadth of the dim sum they offer.
At Sun Ming, the menu have two sections, one with the standard Chinese dishes (served in individual portions) and one labeled as traditional Chinese cuisine (which I would suggest ordering off, it is in the center of the menu they provide at the restaurant). The dishes in this section are prepared family-style, meaning that they are served with the intention of everyone sharing in the dish, instead of one individual dish for each person. This is the typical way to serve Chinese food, as it gives everyone a bigger variety of food to choose and eat from.
Soup is always a good way to start off the meal: Jen loves hot and sour soup, which Sun Ming prepares decently here: as the name implies, it is a slightly spicy and sour soup, prepared with soy sauce and vinegar, along with bamboo, mushrooms, and pork.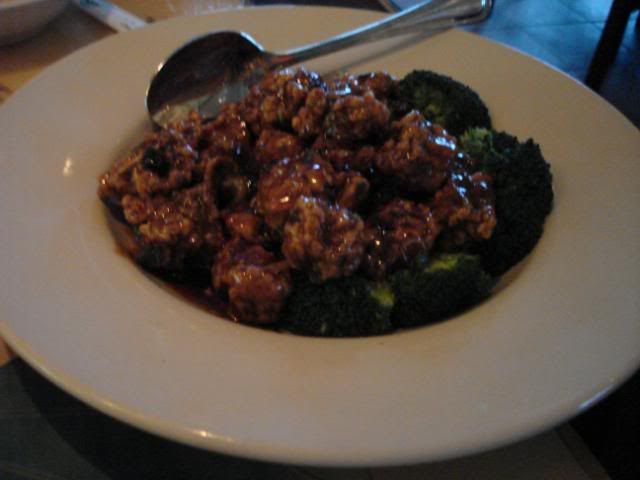 One of my favorite dishes to order when I eat Chinese food, if the offer it - Peking style spare ribs (in pin yin, Gin doo pai goo). It is basically pieces of pork, lightly breaded and fried, with a savory sweet sauce. When I ate it here, it wasn't quite as good as I would have liked - the breading was a little bit too thick and fried a bit too much - but the flavor was pretty decent.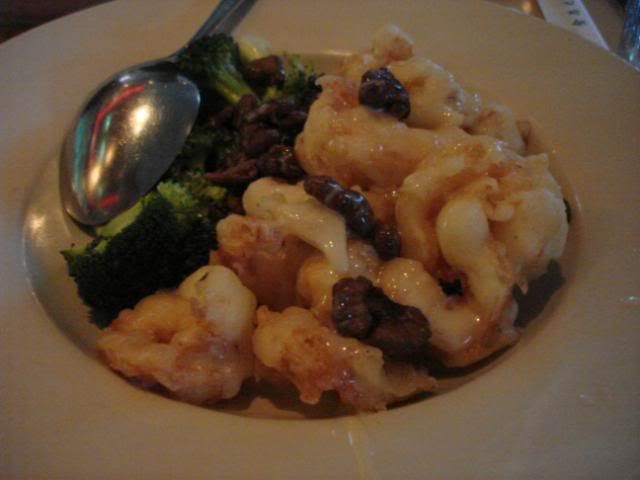 Another one of my favorite dishes to order, walnut shrimp: shrimp, lightly dusted with flour/corn starch and fried, with a light mayonnaise sauce, served with walnuts. When I've ordered it elsewhere around here, it came out completely wrong, and turned out like a sweet and sour shrimp dish, which it should NOT taste like. At least here, at Sun Ming, the taste is basically correct, with the light mayo sauce.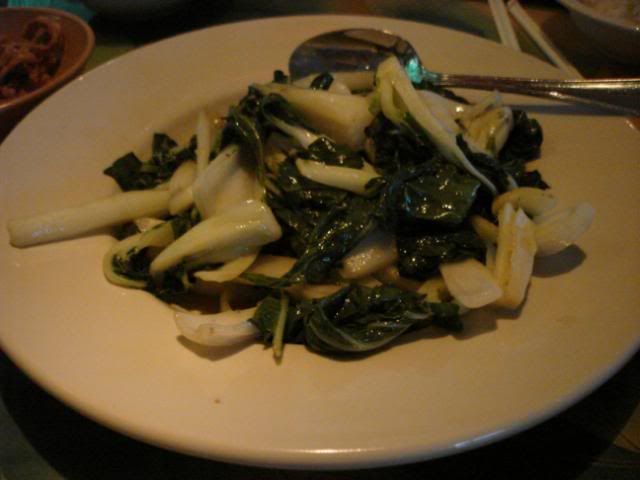 As my parents always told me, a balanced meal is important when you are ordering food at Chinese restaurants - meat, seafood, and vegetables always makes for a good meal generally. We ordered a simple vegetable dish for the meal: a quick stir-fry of baby bok choy.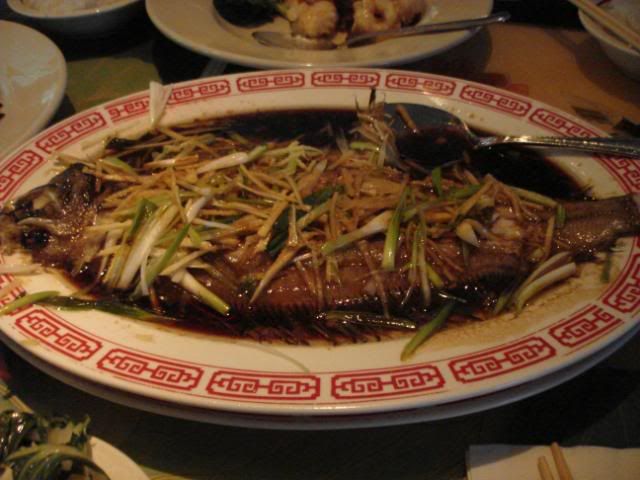 For me, the coup de grace of the meal was this dish: flounder, steamed whole, prepared with soy sauce, ginger, and scallions. For me, there is no better way to enjoy a fish, and I am glad that there is a place in Columbia that prepares fish in this style, which is the traditional way to eat fish in chinese cuisine. You just pick up pieces directly off the bone and enjoy! It is a simple dish, but Sun Ming prepares it well.