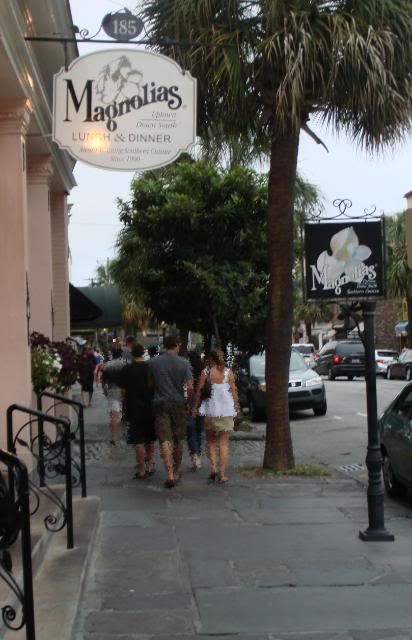 Magnolia's is a classic "New Southern" restaurant, if there ever was one. Before it opened in 1990, Southern food was simple, home cooked food, but Magnolia's ratcheted up its dishes with visual appeal and introduced new flavors into the cuisine, to such an extent that there are a whole lot of restaurants in this vein now. The decor of the restaurant is much more "old" Southern than the cuisine, though, and has a southern plantation kind of feel to it. It has become one of those Charleston institutions that is a must-visit for anyone coming to visit the city, and on a recent visit to Charleston, I happily obliged in trying out the food here. =)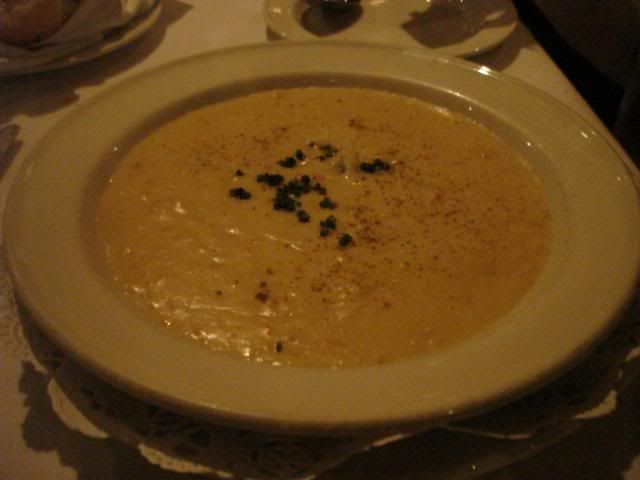 Because we were on the coast, we were almost obliged to order something with seafood in it, so we started off with a bowl of blue crab bisque, with fresh chives.
As a main course, I ordered a southern classic: Buttermilk fried chicken, served with cracked pepper biscuits, mashed potatoes with sausage herbed gravy, collard greens, and cream-style corn. I'm going to be honest - I was kind of underwhelmed by the dish, mostly because I think the fried chicken was cooked too long...I found the buttermilk coating of the fried chicken to be a bit too thick and crunchy, and the chicken was a little dry and not as juicy as a lot of other pieces of fried chicken I've had in the South. The biscuit had the same problem, in a way - it was baked too long, and came out a bit dry, and was kind of thick-tasting as well. The collard greens and corn were delicious though, but overall, I don't think this was the best representation of Southern cuisine I've had so far.


For our second main dish, we ordered another reinterpreted Southern classic: shellfish over grits. The shellfish consisted of shrimp, sea scallops, and and lobster over grits with a lobster butter sauce, topped with pieces of fried spinach. The grits were pretty good, but not as smooth and creamy as the grits at Hominy Grill (also in Charleston), but the seafood was fresh and cooked very well.

The highlight of the night was dessert: we ordered the sweet potato bread pudding, served with a scoop of brown sugar ice cream. This was a bit of Southern dessert heaven, and was one of the better desserts we've had in the South, sweet with great texture. Definitely a great end to the meal.