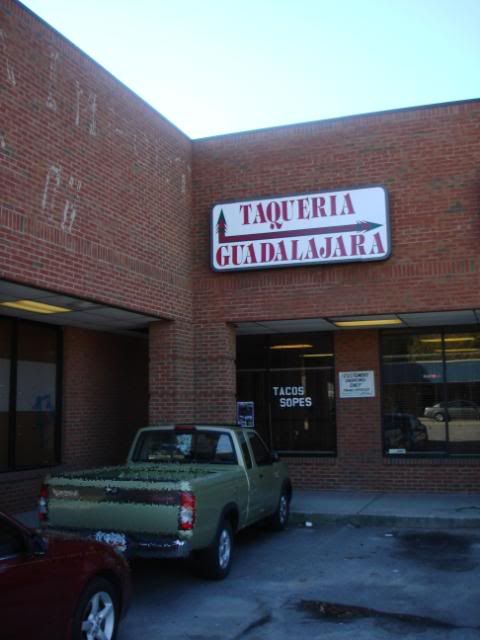 On Decker Blvd. (which was recently relabeled the new "international corridor" by the City of Columbia) sits a small little restaurant, Taqueria Guadalajara. It is as close as a person in Columbia can get to one of those street taco stands that you might find while walking around in any city in Mexico. If that description doesn't appeal to you, or you like your Mexican food with lots of cheese and sauce, then this isn't the place for you. But, if you like simple, traditional Mexican food, it is a place you should try at least once if you have one of those "taco" cravings. It offers really simple, but fresh and absolutely flavorful traditional Mexican tacos and burritos, and not much else =).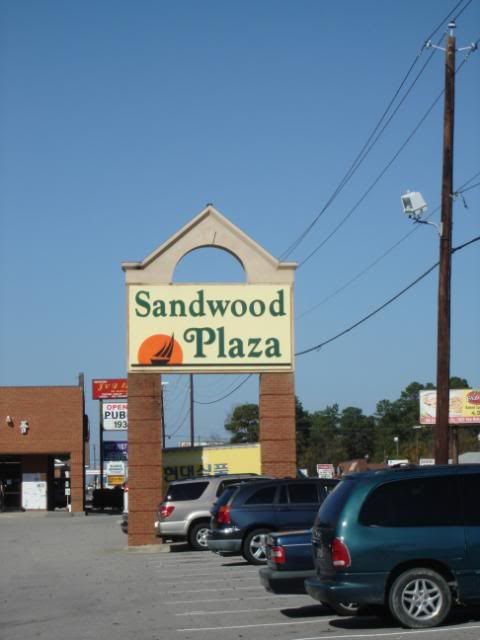 If you are going to look for it, the above photo of the restaurant will only be so helpful…in reality, you should look for the really prominent "Sandwood Plaza" sign while driving on Decker to find it. The plaza is split into two ends – on the northern ends sits a pretty decent Korean market and a Korean restaurant, D.J. House (not bad for a quick Korean food fix, but Hero is better if you have the time to sit down and eat, IMHO). Taqueria Guadalajara is tucked away in the corner on the southern end of the plaza.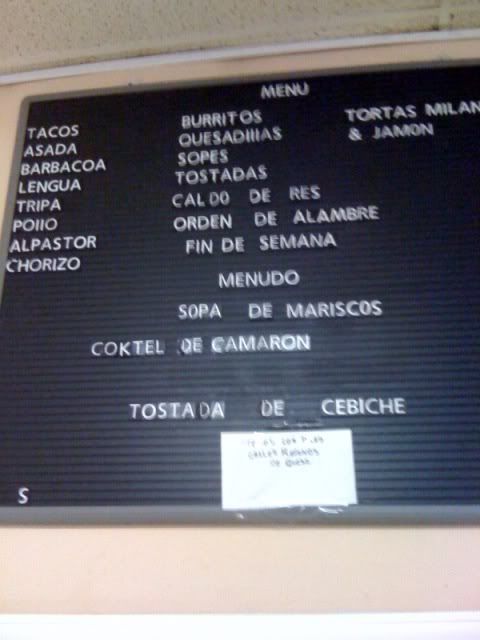 The entire menu is on one sign in hanging in the restaurant. As the sign indicates, this hole-in-the-wall really isn't one of those places that offers very much variety: You can get a taco or burrito with one of seven meats (listed on the left hand side of the menu, translation in parenthesis): asada (steak), barbacoa (a stewed/steamed beef), lengua (beef tongue), tripa (beef tripe, aka stomach/intestine), pollo (chicken), al pastor (a marinated/spiced pork), chorizo (spicy sausage). The rest of the menu says that they offer soups, quesadillas, and at the end of the week, they offer menudo, clam soup, and a seafood cocktail. It seems that they also offer tortas (a mexican-style sandwich) in either ham or some other style that I am not familiar with.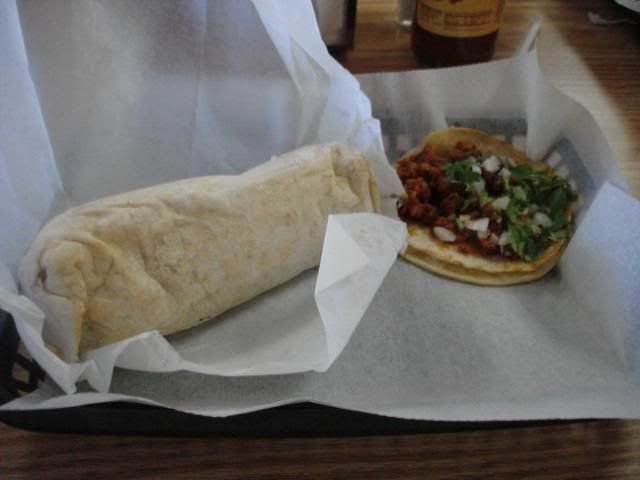 All of us came for the tacos though; I ordered a carne asada burrito and two tacos, a taco al pastor (pictured above on the right), and a barbacoa taco (the last photo). The taco came open in a corn tortilla, with just a sprinkling of cilantro and onion on top of the meat, which is the simple, traditional way of serving soft tacos. The taco al pastor was incredibly good - the meat was wonderfully spiced and flavorful, with hints of garlic, salt, pepper, and the other mexican spices used to flavor the pork. Had I known it was so good, I would have just ordered a whole bunch of tacos al pastor, and been incredibly happy. =).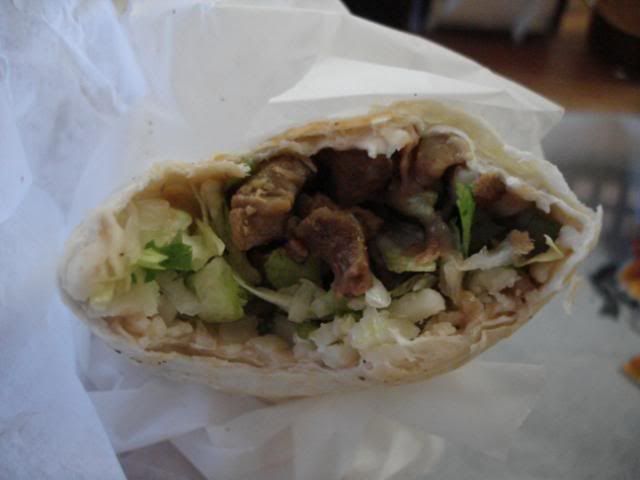 The style of the burrito was very simple, just onion, cilantro, and the meat, in this case, carne asada. The meat was decently juicy, and nice and flavorful. I preferred the tacos, but I suppose it would depend on what you felt like that day.
Although this is one of the more badly centered photos I've ever taken, here is a shot of the barbacoa (stewed/steamed beef) taco. The barbacoa had a very mild beef flavor and was incredibly soft in texture, almost falling apart. A great meal, and I am glad that places like this exist in Columbia! =)