March 26, 2011
Finally back to food posts again... =)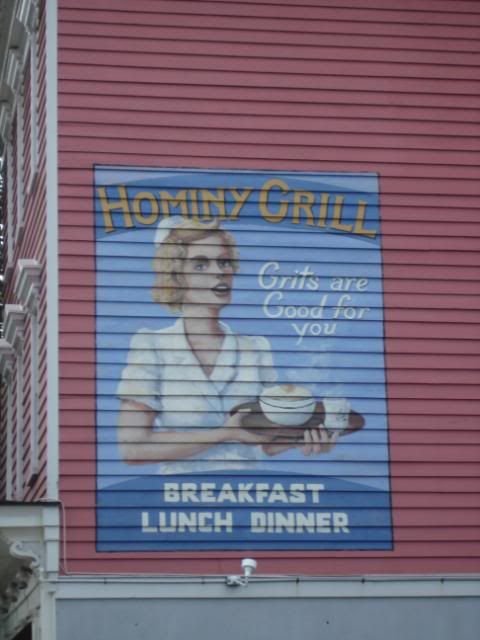 I feel like every city where you can find a lot of good food always has at least one small, charming, crazily busy and popular breakfast place. In my childhood hometown (the SGV), that place was Marston's in Pasadena - insanely long lines for breakfast, at least an hour or two by nine am on the weekends (what is it about weekend breakfasts that make everyone think it is ok to wait that long for breakfast food, lol? That is a rhetorical question btw, kind of anyway).
In Charleston, that place is definitely Hominy Grill. Ever since I've moved to the South, I've had a continual interest in finding the best of four different kinds of southern food: fried chicken, bbq, sweet tea, and grits. In my visit to Hominy Grill, I was hoping to be lucky enough to find the best grits in the South (or at least a reasonable facsimile to compare to all the other grits I've tried). And at least from the sign for the restaurant on the side of their building, it looked like I went to the right place!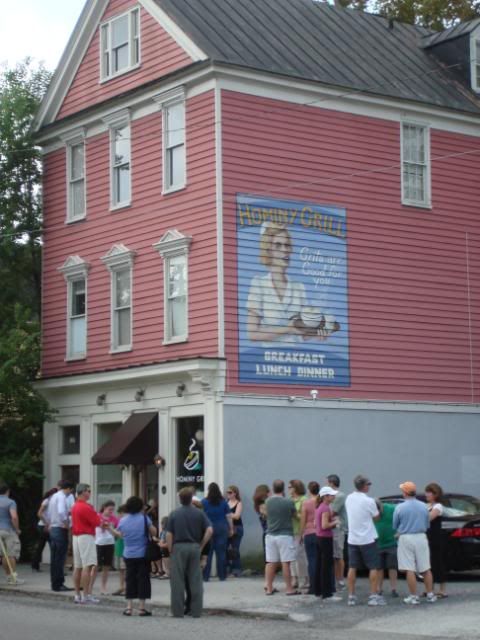 So, especially in the summertime, the waits on the weekend get really long (the typical hour or two that I mentioned above for Marston's is your typical guideline for a breakfast place like this), because it is a charmingly, but slightly irritatingly (at least while you are waiting) small place. In Charleston, the long wait for table at Hominy Grill most likely result from all the tourists that come into the area from the North (and West) looking for a good ol' Southern breakfast. I've been to Hominy Grill on two occasions now - the first time on a Sunday in the summer, and the second on a Sunday in the last week of January. The photo above is a partial view of all the people waiting outside for breakfast on a summer day - I actually couldn't get the whole group into the photo - and when we went in the dead of winter, there was no line - we walked right in, no wait, plenty of tables to choose from...well, you get the picture. =) I definitely enjoyed the second visit more - it felt much more intimate, with just locals sitting there and enjoying the beautiful mild winter day. Is it worth the wait in the summer? Hmm, difficult question, with no good answer - if you are a breakfast connoisseur, then probably. If you aren't, then the wait might irritate you, especially if you are hungry.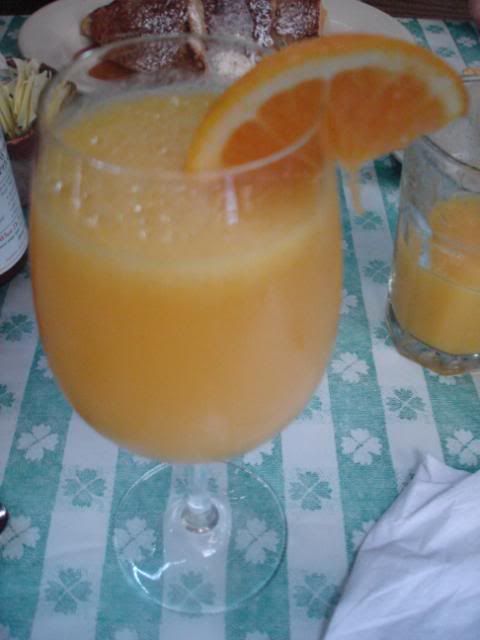 The first of a series of photos from our first summer breakfast at Hominy Grill, of a mimosa - (OJ and champagne, in case you've never ordered one) and a plain old cup of OJ that I ordered for myself off to the side. What better to start off a breakfast on a nice day than people's two favorite drinks - OJ and alcohol? =).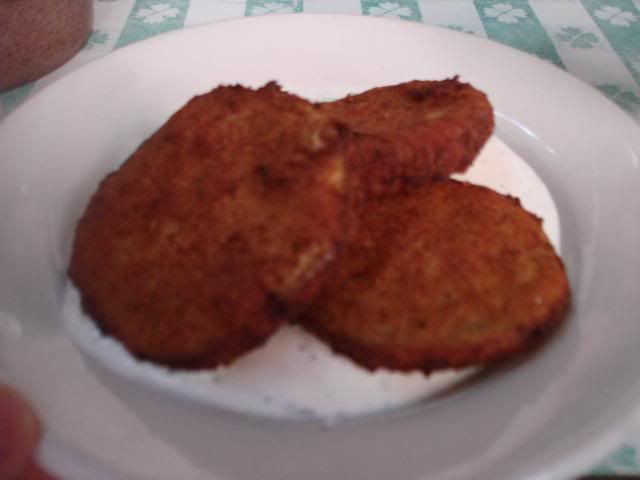 We ordered some fried green tomatoes with some ranch dressing (another one of those southern dishes you can only find in the South) as an appetizer. They weren't particularly memorable to me - they just kind of filled me up, and I ended up feeling like I should have not ordered them...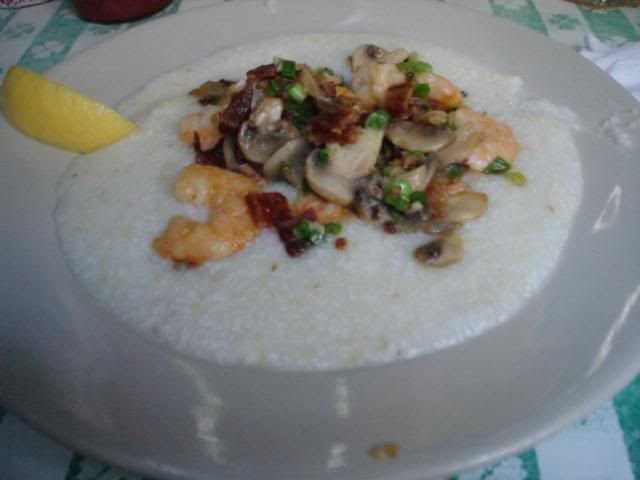 The first of our main dishes for sunday brunch - an order of shrimp and grits. Although there may be places with better grits (if you know of any, please tell me so I can try them!), these are the best I've had so far in the South. It's kind of hard to explain why they were better...something about the texture and taste - smooth and creamy, yet also slightly thick and gritty, but also not too watered down. I've had plenty of grits at different places before this, and have not been too impressed so far, but after eating the grits here, I understand why people can like them so much. Cooking grits must be an art, not a science. Anyway, I'm getting off topic. The shrimp sauteed with mushrooms, bacon, and scallions on top was a sophisticated twist on the simple shrimp and grits I've had elsewhere, and were delicious also.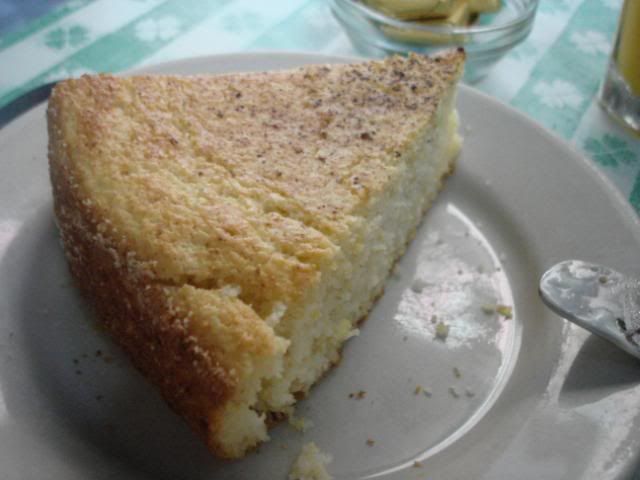 The shrimp and grits came with a side of cornbread...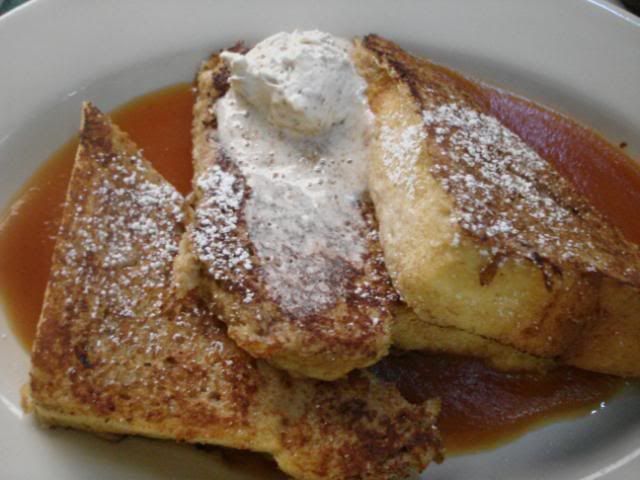 And you have to balance a savory breakfast dish with a sweet one, so we ordered some french toast - in this case, cinnamon french toast with an apple maple syrup and pecan butter. The french toast was slightly crunch on the outside, thick and soft on the inside, and the cinnamon provided a nice spice contrast with the sweetness of the apple syrup.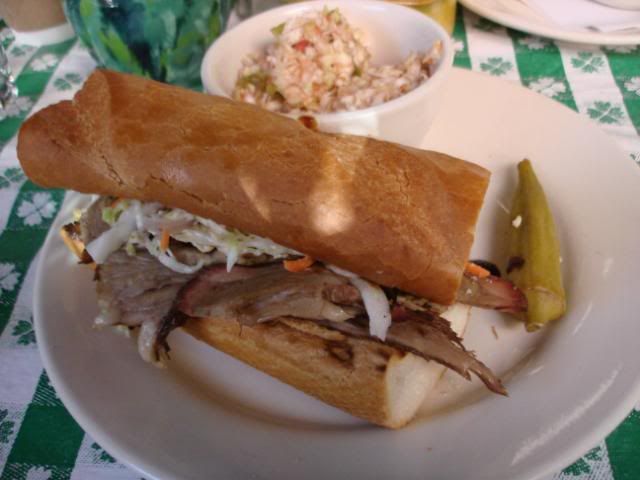 This was the second of our sunday brunches at Hominy Grill, this time in January - although we were lucky, it was a gorgeous, warm day in the 60's, so we got to sit outside again. I didn't feel like breakfast this time and I also saw a daily special on the menu that interested me more - a sliced pit roast lamb shoulder po' boy sandwich with molasses bbq sauce, on a french baguette. It was served with a side of ginger cole slaw (vinegar based) and a piece of pickled okra. I like the sandwich - the french baguette was soft, and the lamb had an slightly smoked flavor and a chewy texture.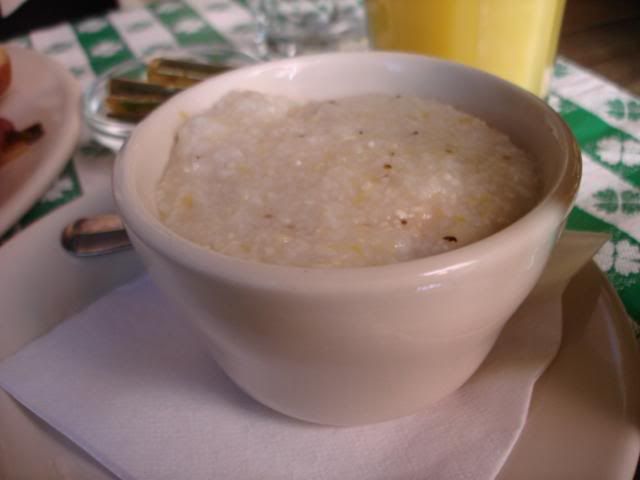 After enjoying their grits so much the first time, I of course had to order them again, at least a side of grits. Just like last time, it was smooth, creamy, and thick (without being too thick that you it could hold up a spoon).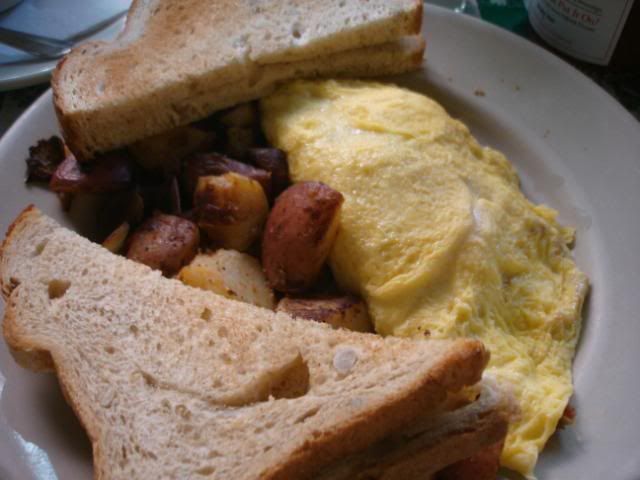 We also ordered their onion, leek, mushroom, red bell pepper and goat cheese omelette (I think it was also a daily special, but I'm not sure). This was actually the better of the two dishes - very tasty, and the goat cheese was mild, but flavorful. It was served with home fries and toast.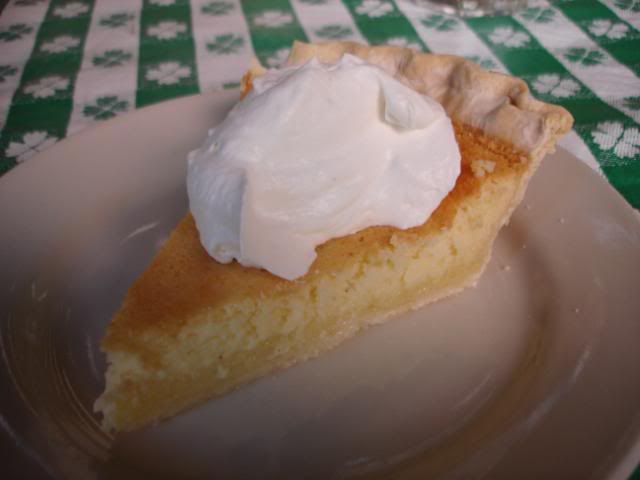 We ordered dessert the second time around - we heard that their buttermilk pie was good, and so I couldn't go without ordering a slice! It was incredibly delicious...I couldn't pick out the buttermilk flavor, but it was sweet and creamy, with just the slightest hint of lemon. Awesome dessert, definitely a must try!