March 28, 2011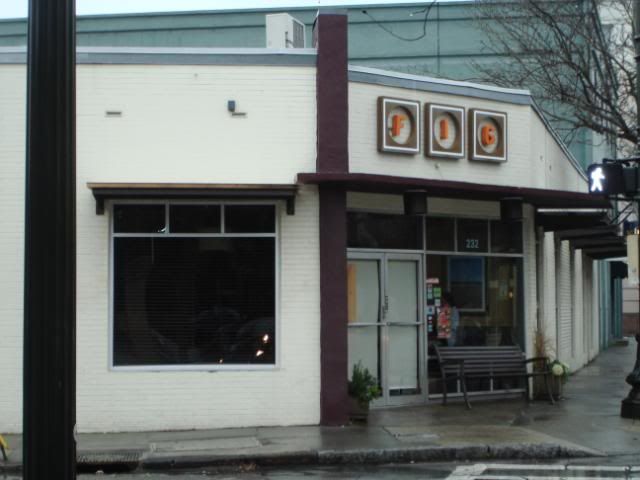 Adding to the large amount of posts, comments, yelps, etc. about this acclaimed restaurant almost seems unnecessary, because pretty much everyone who has been to Charleston has probably been to this restaurant, or has heard of it. And what is there not to like about it? First off, the name is simple, but whimsical - FIG stands for Food Is Good - after I saw that on the restaurant's website, I was pretty much sold without even looking at their menu, so amused I was by the name, as well as completely in agreement with the owners of FIG about the phrase (I wish I had though of that name for my blog!). Second, they are completely committed to local, sustainable sources for their foods, which is always great. Third, there are a ton of positive comments, rave reviews, etc. about it.
So why did I even bother with this post? Well, after going to FIG, my general feeling about this restaurant is: YMMV. I have absolutely no complaints about the food at FIG - all the ingredients were incredibly fresh, the flavors were light, flavorful, and served as a good accompaniment to the food without overwhelming the freshness of the food, the dishes were plated well, there was a lot of variety to choose from on the menu, and the restaurant's design was clean and modern (a little crowded though, and also kind of dark, which made my photos come out bad, apologies for that). But, while everything was good, nothing about the food or the restaurant was particularly great or memorable to me...hence, no comments about each individual dish from me for this post. And my friends and I tried a pretty fair portion of the menu. I'm completely glad I went to try FIG, but there are other restaurants in Charleston that I've enjoyed more (offhand, Cypress, Justine's Kitchen, Bowen's Island, and most of all McCrady's are in my personal tops, all of which I will post about when I can).
So, with all that being said, YMMV. Maybe you'll have an absolutely great meal, like a lot of people other than me have experienced. Or maybe you will be like me, and get a really good, but not memorable meal (maybe my expectations were too high?). Anyway, I've been writing too many of my random thoughts about the restaurant without showing the food, so without further ado...
P.S. At least for my own purposes, this is more of an "American fusion" kind of restaurant (i.e. a restaurant that incorporates a lot of different flavors from different cuisines), rather than a restaurant that serves Southern food. I have a feeling that most Southern restaurants don't generally have a mezzeluna knife to make their pasta with. ;)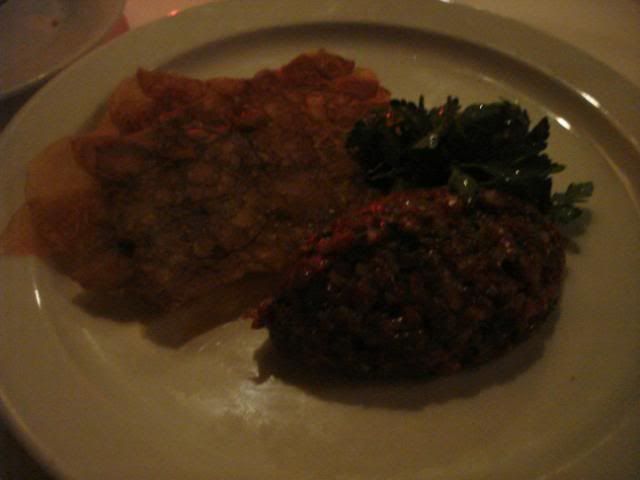 The first of five appetizers we ordered to share for the table - a kobe-style wagyu beef tartare, served with a parsley salad and potato wafers.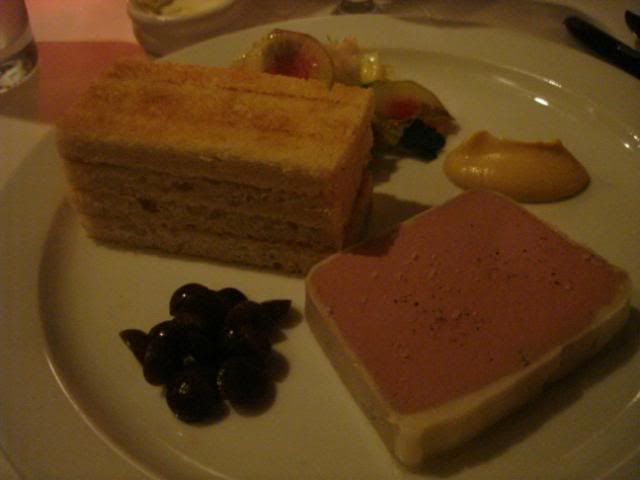 Second, chicken liver pate, served with pickled grapes and toasted brioche. In keeping with their sustainable cuisine philosophy, the chicken liver was provided from a local farm, Keegan-Filion Farms.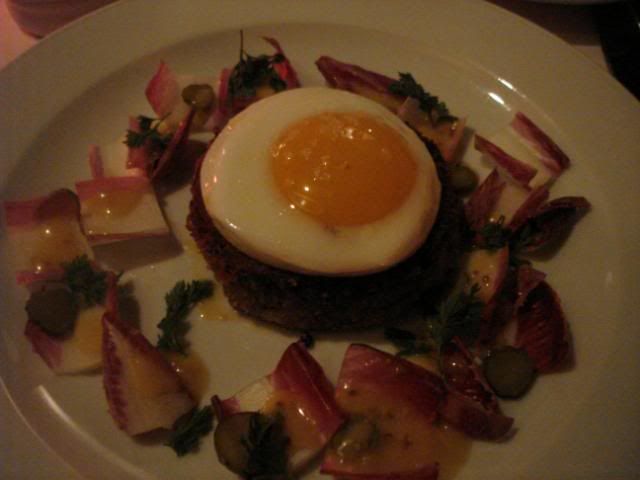 The third of the appetizers, crispy pork trotters from Caw Caw Creek (another local farm), served with a sunny side up farm egg, endive leaves, and a mustard vinaigrette. I do have a distinct memory about this dish, but not a good one - the fried pork trotters, while beautifully presented, were also kind of greasy =P.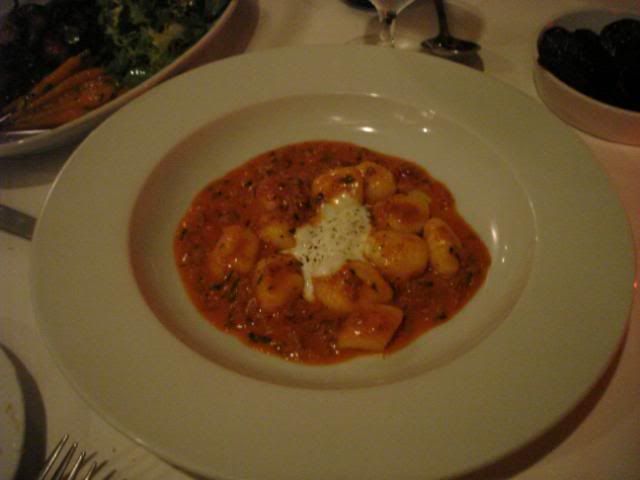 The fourth of the appetizers, a sheep's milk ricotta gnocchi bolognese.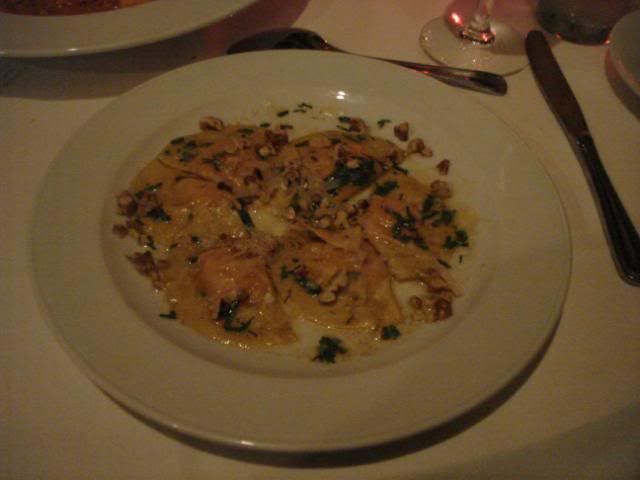 The last of our appetizers, a sweet potato mezzeluna, with pecans from John's Island (really local, John's Island is approximately 15 minutes away from downtown Charleston), sage, and parmesan.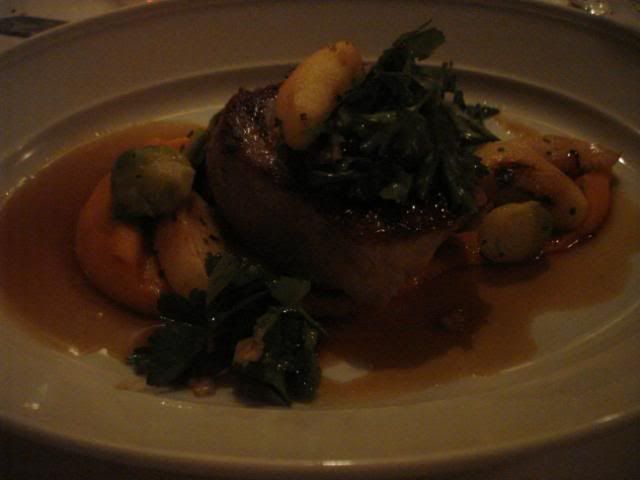 The first of two entrées, an Eden Farms boneless pork chop, with a sweet potato puree, brussel sprouts, and pink lady apples.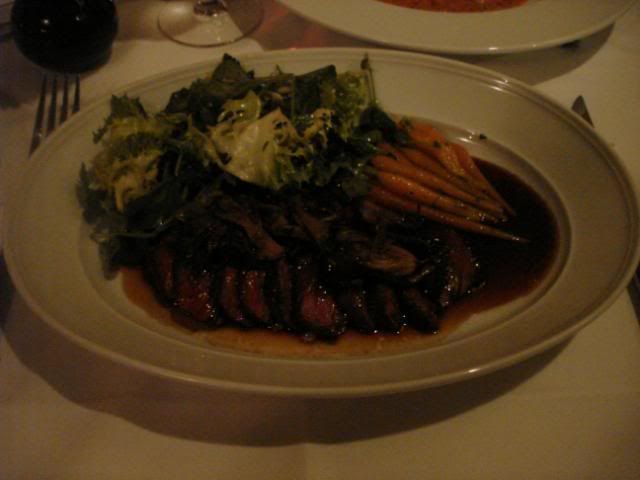 The second of our entrees, Strube Ranch wagyu bistro steak, with hen-of-the-woods mushrooms, salade verte, and a sauce agrodolce.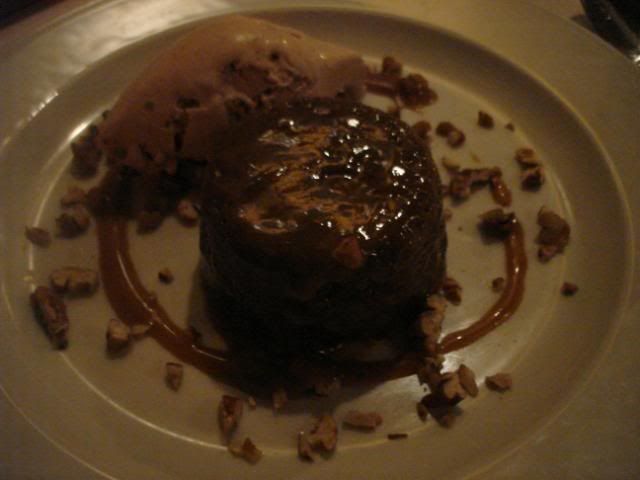 For dessert: a sticky sorgum pudding, with pecan ice cream.